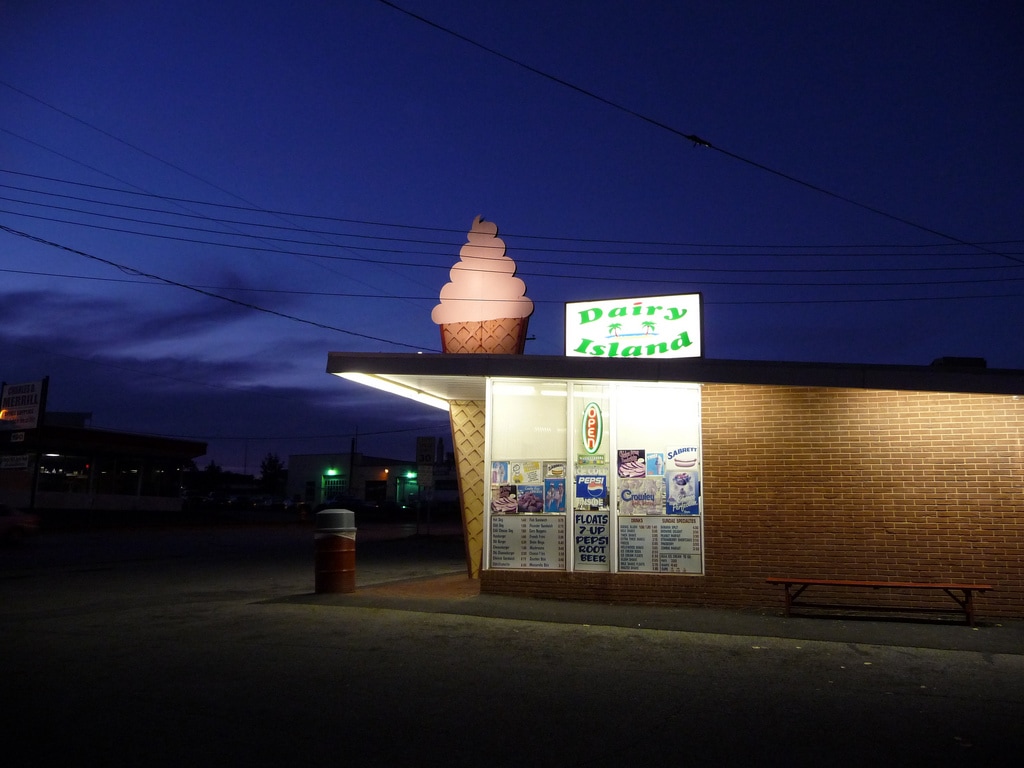 I am woefully behind on everything right now, from emails I need to write to blog reading (according to Google Reader, I have 261 posts to catch up on…) to blog writing to painting to patching to sanding to sewing to working on book covers to sleeping to breathing. I'm desperately looking for a spare day somewhere that I can use to dig myself out. I hate this feeling; it reminds me of being in school. (In a bad way.)
Little pockets of time irresponsibly spent doing things like eating ice cream are saving me from going crazy. One of my favorite things in Newburgh is Dairy Island, an old-school ice cream joint in an area that's still comprised mostly of industrial buildings (some occupied, others not) and empty lots. It's less than a mile from our house, but we didn't discover it until this past summer—we were experimenting with shortcuts, and there it was.
There are disadvantages to living in a city that has fallen many years behind economically, but the upside is that there are still places like this (we have a bunch of old hot dog counters, too) hanging around. Dairy Island feels like an endangered symbol of everything that is good about America. With so much to be worried about in this country right now, it is a relief to feel a sense of patriotism and trust over something as simple as an ice cream cone.
p.s. Dairy Island somehow has access to the freshest Oreos ever. It's like Nabisco rolls them off the production line directly into their kitchen. If you go, get vanilla soft serve with Oreos (I like it with warm butterscotch, too, but that's optional). Trust me on this. They also have great counter people who make you feel like a regular after just one visit.