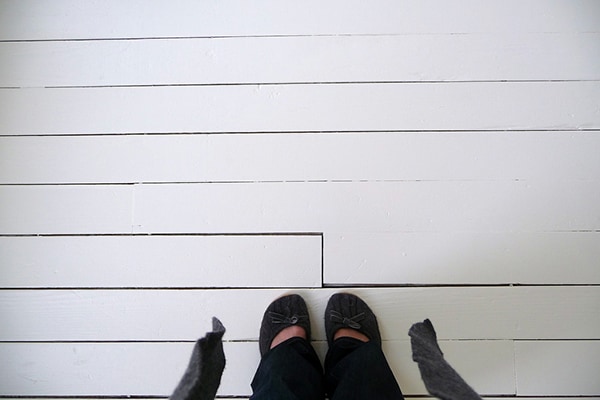 The floor in the back room is finished, and it is beautiful. I couldn't be happier. What used to be the dirtiest, most neglected and depressing room in the house is now unbelievably peaceful, clean, and fresh. I saw the floor in the daylight for the first time on Saturday, and it was like one of those dreams you have where you discover a room in your house that you never knew was there before. Amazing.
This is the wall that I'll be using the black-on-black Fir Tree wallpaper on.
I'm still not sure what this room will be used for (our bedroom, maybe?). Part of me wants to just leave it empty, but I know that's ridiculous. I will say, though, that after living in our house for three years with this room essentially being dead space, I feel very pressured now to figure out exactly what purpose each of the four upstairs rooms should serve. In many ways, I found it much easier to manage space properly in a 600sf apartment than I do in a 2000sf house. I don't want to waste!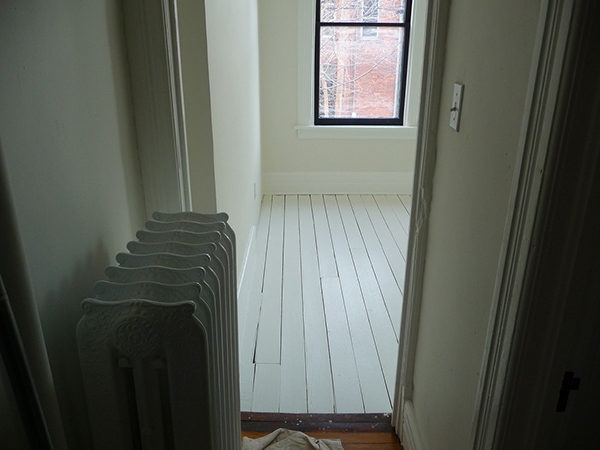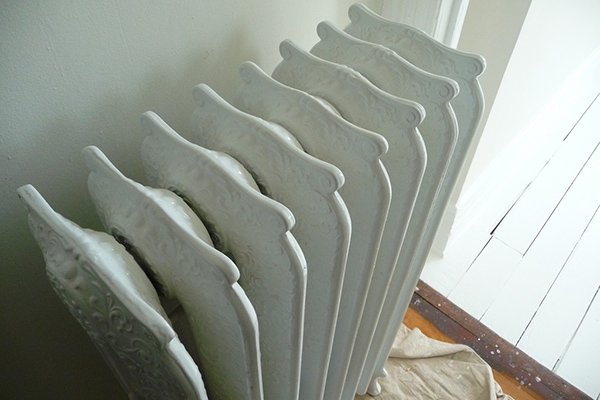 Now we're ready to have our radiator (which we had sandblasted and powdercoated back in June) reinstalled. It will go between the windows—that's what the pipe sticking up out of the floor is for. I can't wait to have ALL of the radiators in the house refinished! I'm so tired of peeling silver paint and rust.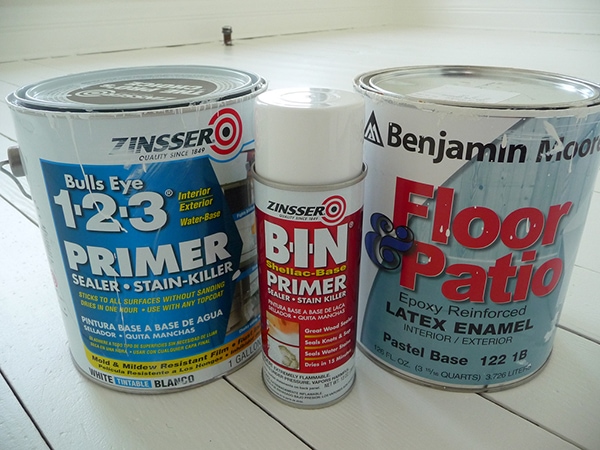 For those of you wondering what I used to paint the floor, this is the product lineup, and these are the steps I followed:
(1) Pull all carpet tacks, staples, etc. from floor. Use nail set to recess any protruding nails.
(2) Patch all holes with wood filler. I like Zinsser Ready Patch.
(3) Dig out all rotted areas of floorboards (there was a significant amount of old water damage along the wall abutting the bathroom) and repair with a 2-part epoxy consolidant. There is a good description of that process here (I have used this method to repair rotted trim and window sashes throughout the house with great success).
(4) Sand floor. Because this is a small room and this floor had no existing finish on it, I used a hand sander. I have a Bosch 5-inch Random Orbit Sander, and I'm very happy with it. I started with a medium-grit paper, then did another pass with a finer grit. (Hang a tarp over the door and wear a mask. Sanding floors is very dusty!)
(5) Install shoe molding at baseboard. I generally am not a fan of quarter-round in old houses, but the gap between the baseboard moldings and the floor was too large to caulk effectively.
(6) Vacuum well (I did a first pass with a ShopVac, then finished with an Electrolux with a HEPA filter), and clean all surfaces very well with TSP substitute.
(7) Apply primer. I used two coats (applied with a roller), since this floor had a lot of staining and had never been sealed before. Throughout the house, I have used Zinsser Bulls Eye 1-2-3 to prime EVERYTHING. It's wonderful stuff if you have a lot of imperfect surfaces to cover. The gripping/sealing power is amazing. I highly recommend all of Zinsser's products.
(8) Apply a shellac-based spray to any knot holes, etc., still showing through the primer.
(9) Apply three coats of paint. I used a brush, because I sometimes find I don't like the finish of roller-applied paint on wood surfaces. I like Benjamin Moore paints and have used them throughout the house. I didn't want to deal with oil paint, so I went with their latex-based, epoxy-reinforced Floor & Patio paint, waiting 24 hours between coats. Two coats might have been enough, but since I noticed a couple of areas that seemed a little thin, I went ahead and did a third to be on the safe side. The consistency of floor paint is quite different from wall or trim paint—it's very thin, so it goes down smoothly and quickly without any brush marks.
I opted not to fill the gaps between the boards. I like the lines the gaps create, and I've noticed that in almost every photo of a white-painted floor that I'm drawn to, the gaps are visible. I'm happy to see the imperfections of this old floor!