Huh. I started putting this post together 4 or 5 days ago, and I guess I thought I had already finished it? I have no idea. It's been a weird week. I spent about 8 solid hours priming and caulking doors on Sunday. It's amazing how an entire day can be devoured by a single, simple task like that. Job-work has been busy but unusually productive, and evenings have consisted of painting doors, eating sushi, getting my hair cut, and sleeping through my stop on the train.
Anyway, this post is about windows! Well, one window in particular, the 42″ wide one in our (future) guest bedroom.

Yeah, it was looking pretty funky. Click to enlarge . . . if you dare!
I wanted to share these detailed "before" pictures to give an idea of just how bad an old sash window can LOOK while still being perfectly salvageable. It makes me sad that so many buyers of old houses will immediately have the original windows ripped out and replaced! ALL of the 15 windows in our house are original, including nearly every pane of gorgeous, wavy glass. I consider the old windows an asset that add to the value of the house as an historic structure.
The parts that comprise a traditional sash window are incredibly simple, making them easy to repair. There are no plastic parts, no fragile bits to snap or break, the wood is old-growth and rock-solid, and if you take care of them, they truly will last for hundreds (!) of years. Replacement windows, on the other hand, seldom have a life span beyond 10-25 years. With proper insulation and a good storm window in place, old windows are very nearly as energy-efficient as new ones, too. We have seen a HUGE difference in our energy costs since I started repairing the windows last summer.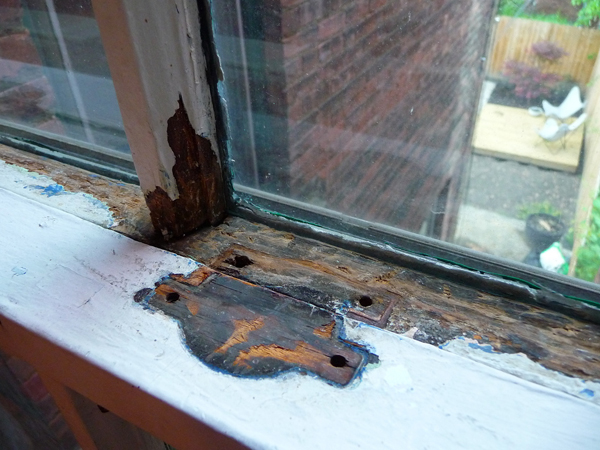 I won't bore you with a bunch of "during" shots, but i wanted to share this one so you can see what a huge improvement just removing all of the gunked-up old caulk and peeling paint can make. It's tedious work, to be sure, but it's also very satisfying.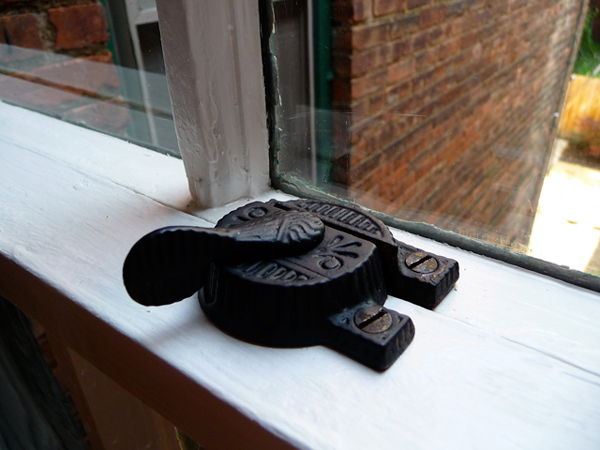 Here's the finished window! Amazing difference, right? Eventually I'll have to access it from the outside to properly insulate around the frame (and to repaint the exterior side, which is a whole OTHER project), but for now, it's like a new (old) window.
There are so many resources on the internet for learning how to restore old windows, so I don't see the point in getting TOO in-depth with the details here, but I will give you a list of links to check out if you're interested:
→ How to Restore Sash Windows
→ Making Old Windows Energy Efficient
→ Fixing Rotted Wood with Epoxy
→ The Repair of Historic Wooden Windows
→ How to Replace Window Sash Cords (video)
→ Sash Repair Hardware