This is one of those DIY projects that kind of makes you feel like a jerk while you're planning it, but the end result is so good that the shame is worth it. I'm really not a fan of knockoffs for a variety of reasons, but I just couldn't resist.
It's not exactly a secret that the design of IKEA's $12.99 FROSTA stool is, um, heavily "influenced" by Alvar Aalto's Stool 60, designed in 1933 (and currently retailing in the US for $250–300, depending on options). The materials and construction are virtually identical, with the primary differences lying in the curvature of the legs (admittedly more elegant on the original) and the color of the finish—the Aalto stool is available in a variety of colors and with laminated tops. (Yes, the Aalto stool is also available with four legs, just like the FROSTA!)
Anyway, blah blah blah, I decided to nudge our two FROSTA stools just a wee bit closer to looking like the real thing. I mean, why not, right?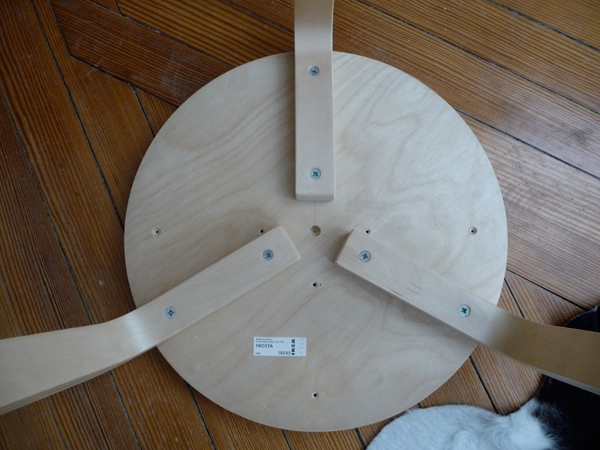 The first thing I did was convert them from four legs to three. One leg from each got discarded (I may use them as shelf brackets at some point), and the other two were repositioned. I haven't owned a protractor since 8th grade, so I did what you'd expect a graphic designer to do in this kind of situation and figured out the measurements by making a pie chart in Illustrator! (I could have saved myself some time by reading Martha's post on the subject, though.) I didn't use glue or do anything fancy, I just drilled a tiny pilot holes and screwed the legs in place. Totally easy, anyone can do it.
The final step was painting the top of the stools black. I bagged the legs as I did here, then taped off the edges of the top very, very carefully. I like the Delicate Surfaces painter's tape for things like this since it's thin and allows for a really tight fit to curves. Two light coats of my favorite Rust-Oleum's Painter Touch Ultra Cover 2x (this is the semi-gloss finish), and the stools were done!