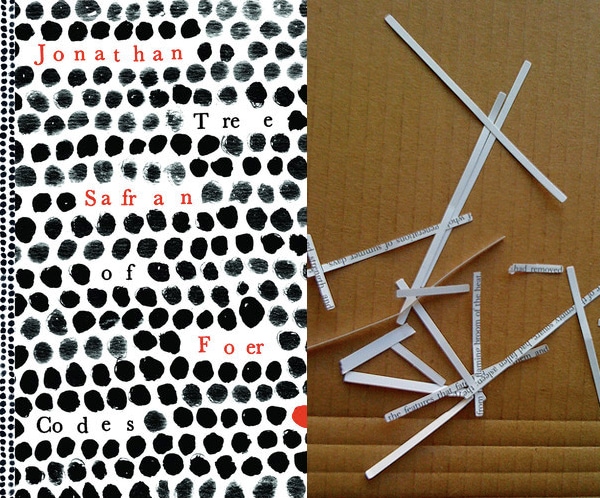 I get asked a lot about eBooks and how the prospect of a shift toward the digital publication of books that would normally be printed on paper makes me feel, and my reaction tends to be about 98% negative. There is a tiny part of me that thinks, Well, maybe if it's a college textbook…, or as long as it helps the publishing industry to survive, but the rest of me inwardly breaks out in hives and outwardly does a long, serious eye roll.
As a book cover designer and as a lover of books and an avid reader, I don't see the act of reading as a purely word-based experience. Reading is also tactile. Reading should involve interaction between you and the text in your hands. The speed at which you turn to the next page (or flip back to the one before) matters. That accidental glimpse you got of page 273 (while still only on page 32) while fishing around for your bookmark matters. The weight of the book in your bag—that subtle reminder that it's waiting for you—matters. The paper stock matters! The font, the letter-spacing, the margin width! It all matters! You know what else matters? The COVER. Yes, I'm biased, but how many times have you caught a glimpse of a book in someone else's hands from across the subway and become curious about it just because of the cover? It happens to me all the time! Bah. And don't even get me started on the smell of old paper and fresh ink! Even when you've finished reading a book, its presence on a shelf in your home matters.
(And by the way, the notion that eBooks will somehow cut down on environmental waste is nonsense. Where do you think all of those electronic devices will wind up when consumers feel the need to "upgrade" to a newer model every 18 months or so? What exactly are we trying to preserve?)
But I digress.
As I've mentioned, Jonathan Safran Foer is one of my most favorite contemporary authors. If you've read any of his books, you know that the textual experience is as visual as it is verbal. He plays with spacing and scale and size and elimination on the page, and obviously has an interest in the roles of graphic design and typography in communicating a particular mood or idea. With his latest book, Tree of Codes, he's gone one step further. Or maybe ten steps further.
Here, I'll let him tell you a little bit about the book himself: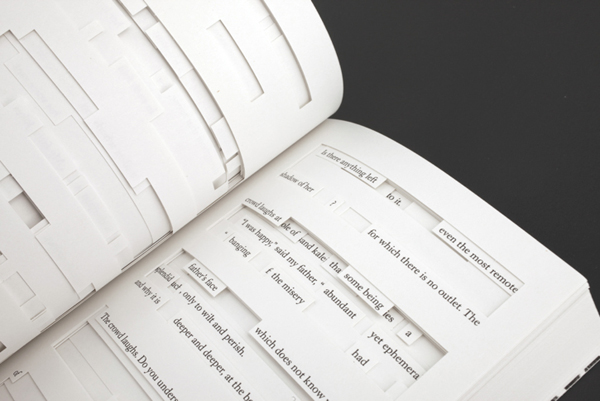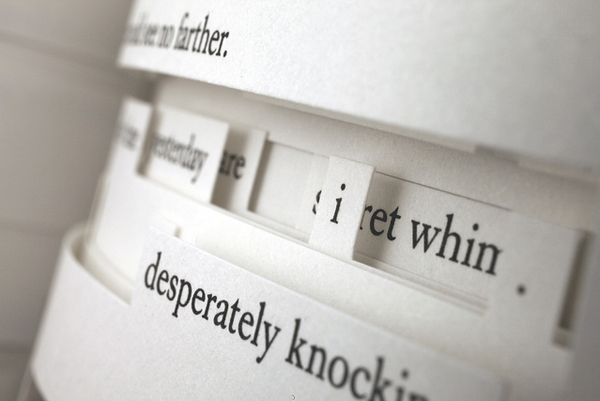 Starting with Polish artist and writer Bruno Schulz's book The Street of Crocodiles as a source, Foer cut away at portions of the text to create an entirely new story to be read through layers upon layers of windows within pages.
Working with London-based publisher Visual Editions, Foer was able (after a very long search and many rejections) to find an ambitious printing company in Belgium, die Keure, who were willing to take on the task of printing the book in large quantities. It took them a solid year of preparation and prototyping to actually produce the finished book. After all, it's one thing to create a book like this in an edition of 5 or 10, and a whole other thing to mass-produce it! You can watch a short video of the die-cutting process.
What's even more exciting than the creation of the book, though is the reaction of people upon holding it in their hands and looking at it for the first time:
Oh, the joy of (printed) books! There's nothing else like it. I've ordered my copy, and I can't wait to read it (and look at it, and hold it).
As with all of Jonathan Safran Foer's previous books, the cover was designed by Jon Gray / gray318. The interior design is by Sara De Bondt studio.
Thanks, Evan, for telling me about the book!