I love my job a whole lot. Designing stuff is what I do for a living, but it's also what I do because I love to do it. Lately I've had the opportunity to do my job alongside a few friends who also love what they do, which makes work extra-fun.
Earlier today, I flicked the switch on the redesign of sfgirlbybay that I've been working on for the past couple of months. Victoria is not only one of my favorite bloggers, but she's also one of my favorite people. Having the opportunity to work on her blog was a dream come true! Making the project even sweeter was getting to design a site around the new logo artist Shanna Murray created for Victoria. I hope you'll stop over and take a look if you haven't already. I think what we came up with just suits Victoria's style and personality so well.
This was a very, very special project for me. I'm just so happy Victoria trusted her amazing blog in my hands!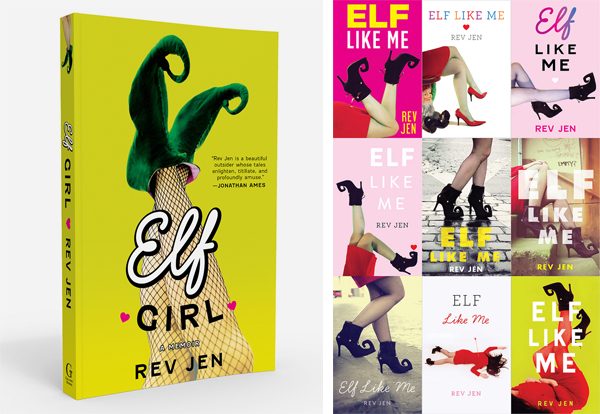 I've known Nubby Twiglet for years, and during that time I've watched her grow into an incredible designer with a style that's unmistakably her own. Nubby has a clear vision when it comes to fashion and photography as well, and as soon as I found out I'd be designing the cover for Rev Jen's new book, Elf Girl (previously titled Elf Like Me), I knew she was the person to go to for the right cover shot. I'm pretty sure the first question I asked her was, "Hey, do you have any elf shoes?"
Nubby was a perfect collaborator—she took my art direction perfectly, and understood exactly what I needed. Her shots and styling were so perfect that I was able to come up with 10 cover concepts in a single afternoon! Very satisfying. The final cover is on the left (the book is out in October), and you can see some of the unused designs in the right.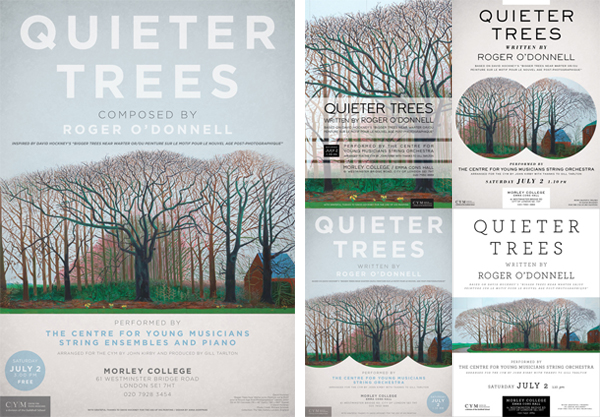 This poster marked the second time I've worked with musician Roger O'Donnell. The first was about six years ago on a CD jacket, and it was really quite nice to do it again. I've known Roger since I was just starting out as a designer in my early 20s, so to know that he respects my work well enough to ask me to create something for him—this time a poster announcing a performance of his work—is a truly great feeling.
Last year, Roger musically recreated the David Hockney painting Bigger Trees Near Warter Or/Ou Peinture Sur Le Motif Pour Le Nouvel Age Post-Photographique, and in July of this year, the piece was performed by an orchestra of young musicians at the Guildhall School of Music. You can read about the entire process as well as watch video diaries and download demos here.
Thank you, friends. It's been a pleasure.