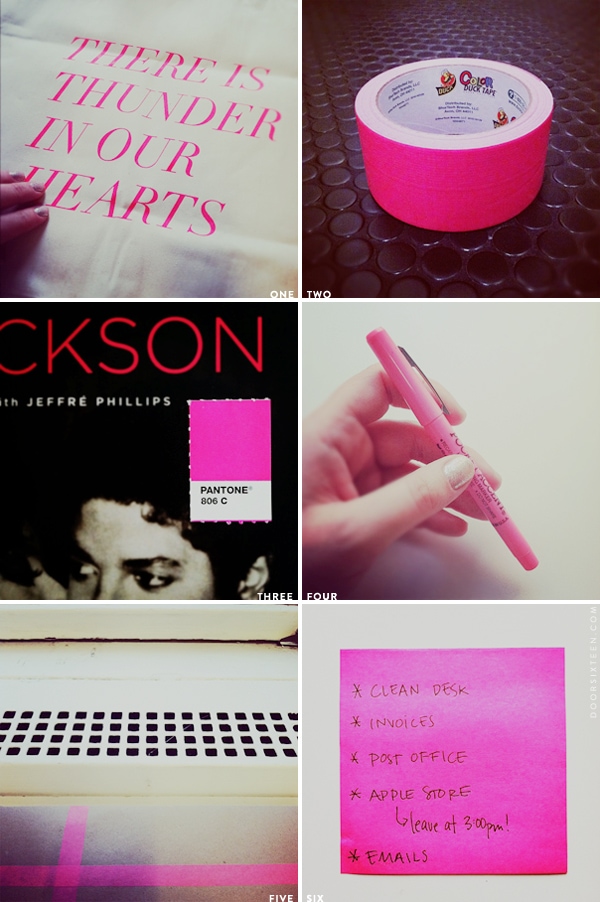 My love for neon-hot pink continues to abound. I've noticed it creeping into my Instagram photos a lot over the past couple of weeks.
ONE ♡ I finally ordered a THERE IS THUNDER IN OUR HEARTS tote bag from Fieldguided, and of course I opted for the fluoro pink version. I lovelovelove Kate Bush, by the way. Her new album, 50 Words For Snow, is out next week—but it's streaming now on NPR.
TWO ♡ Why exactly did I buy neon pink duct tape? You got me, but I was at Target and there it was, so home with me it went. I'm presently hoping for something to require duct-taping in the near future. I keep thinking about Bertjan Pot's duct tape rug, too…
THREE ♡ I used neon orange ink for the hardcover edition of this book, but for the paperback (out next June), I went with Pantone 806—my favorite chip in the book, and the hottest neon pink imaginable. It's not a color I get to use often in printed work, so I seized the opportunity!
FOUR ♡ I've been working my way through the same bulk package of neon pink highlighters for about 10 years now, and as of yesterday, I'm down to my last one. As Charlie pointed out, the classic Sanford Pocket Accent doesn't even look like this anymore—in fact, they've dropped the Sanford name completely, and are now just branded as Sharpies. Apparently I've been doing a highlighter time-warp for the past decade.
FIVE ♡ Is there anything that doesn't look better with neon pink washi tape on it? If there is, I haven't discovered it yet. Lately I've been using it to wrap around packages in lieu of ribbon or string, and as decoration on top of utilitarian packing tape when putting something wrapped in brown paper in the mail.
SIX ♡ Despite the fact that my iPhone is basically glued to my side at all times, I still can't give up my neon Post-it Notes. I always use the pink ones first and hope someone else will take the others! I write everything on Post-Its. I even stick them to my iPhone! And to my wallet. And to the cash inside my wallet. And all over my computer monitor. Like I've said before, I've gotta write stuff down.