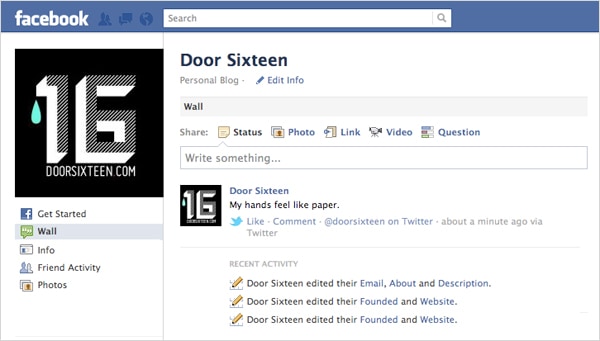 I swore I wouldn't do it, but I did it—Door Sixteen is now on Facebook. I've had a personal Facebook account for years, but I really only use it to stay in touch with my family and a few friends. I am a huge (probably too huge) fan of Twitter, and, if you follow me there, you already know I'm quite prolific throughout the day! I love to reply to discuss and share, and it's all good fun. I know not everyone is a Twitter-lover, though, so I thought I'd set up a little Facebook page for those of you who prefer that environment.
My Tweets will feed through automatically to Facebook (not all of my Tweet-replies, though—that would make everyone insane!), so now you'll be able to find out fascinating news about my life as it breaks! For example, previously the information that "my hands feel like paper" would only have been available to those following me on Twitter, but now Facebook users will be kept abreast of these developments as they happen as well! (I'm really selling this well, aren't I?)
The other nice thing is that my Instagram photos will also appear automagically on Facebook. Neat!
And for those of you who prefer to stay away from Twitter and Facebook altogether, well…you'll just have to remain in the dark about the condition of my cuticles and photos of the coffees I've consumed. Hee!