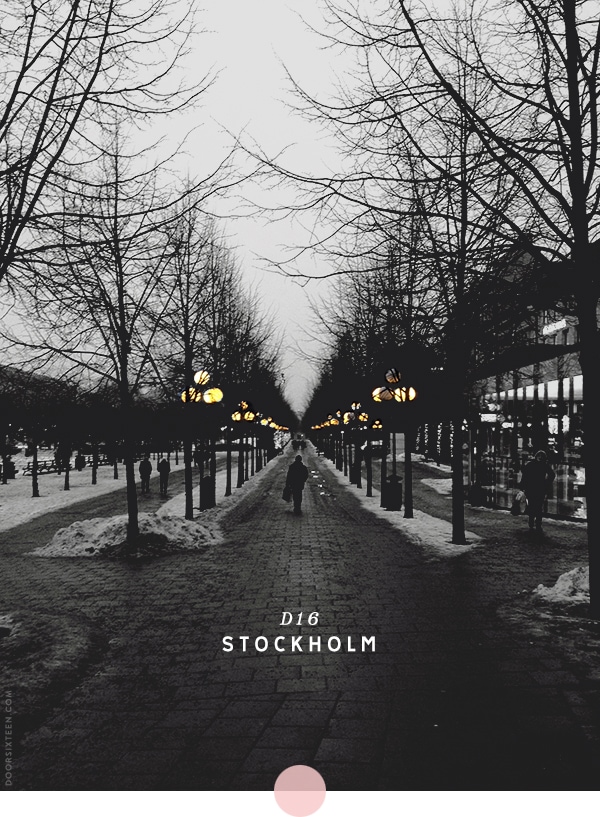 YAY, I'm finally writing my first Stockholm post! I got back from my trip a week ago, but I've been scrambling to recuperate/catch up since then. If you follow me on Instagram then you've seen a bunch of snapshots, but holy mackerel (holy lutfisk?)…I took a lot of photos with my camera-camera. I kind of don't even know where to start.
WHAT A TRIP. I left for Stockholm the evening of Saturday the 1st, lost an entire night of sleep to the 6-hour time change and the 9 hours of traveling, then arrived at noon-ish local time on Sunday. I can't sleep on planes no matter how hard I try or don't try, so I was a mess by the time I got to the hotel. I pulled myself together and met up with my aunt and cousin (who was at work 5 minutes from my hotel) for lunch, though, which was really fun! I'd never spent time with my aunt apart from my mother before, and in her absence I felt very moved by how similar they are. They may live thousands of miles apart, but they are sisters to the bone—and I love knowing that there's another person in the world who reminds me of my mother. (I feel more than a little choked up writing this…)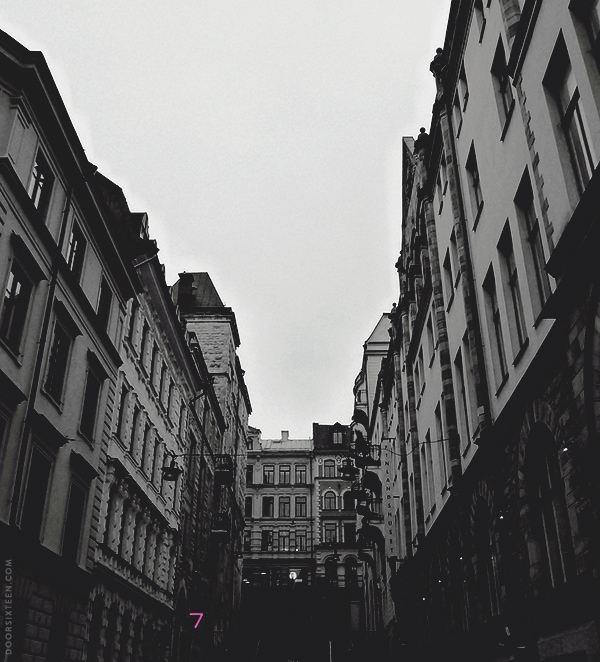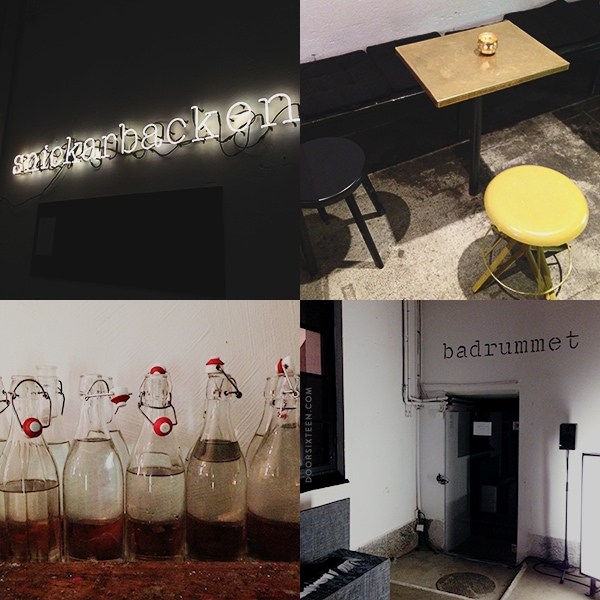 From there I met up with Emma, who very kindly took me around to some of her favorite shops in the area despite the icy rain that was falling. Unfortunately a lot of stores are closed on Sunday (or because it gets dark at 4:00 in the afternoon!), so we were a bit limited, but I still managed to take in some of the city and squeeze in fika time at Snickarbacken 7. Mostly it was just so nice to spend time with Emma! We've known each other through blogging for years now, but we'd never met in person before. I felt instantly comfortable being with her.
Side note: I love saying "snickarbacken." Google translate tells me it means "carpenter hill," but I prefer to imagine it having something to do with peanuts and caramel and maybe a graham cracker crust.
I stayed at the incredibly fancy Nobis Hotel (more on that later), which is in what travelers call an "ideal" location, but it's really a very touristy/business-y part of the city. I still don't really have a great sense of Stockholm geography, but I've learned that next time I probably want to stay in Södermalm, which I repeatedly heard referred to as "the Brooklyn of Stockholm" and "the Williamsburg of Stockholm." As a transplanted Brooklynite, I understand what that means (nope, I'm not going to use the H-word)…so, noted!
Anyway, despite being a bit restricted by location, Emma and I had an amazing dinner out at Riche. Their menu is decidedly un-vegan, but the chef was MORE than happy (I'd say he was excited, even) to prepare a special vegan meal on the fly for me. I don't even remember everything that was on my plate because I was so tired and I wasn't thinking about foodstagrams, but I do know that there was a vegan risotto, a fennel salad and something with hazelnuts. Whatever it all was, it was DELICIOUS. Such a nice place to sit and talk, too.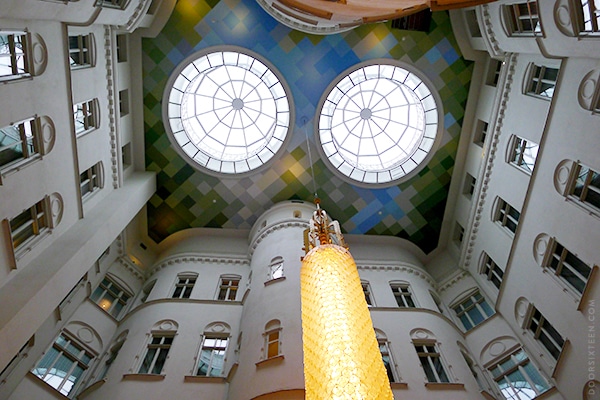 Even though my photos of it aren't great, I need to mention the Nobis Hotel, who put me up for the three nights I was in Stockholm. The Nobis is by far the fanciest hotel I've ever stayed in (though to be fair, it's competing mostly with fleabag roadside joints—I don't have much fancy hotel experience). It's located in a former bank—a very famous bank, in fact—the one where the Norrmalmstorg robbery took place in 1973, and where the term "Stockholm syndrome" comes from. It's a gorgeous building, with its protected late-1800s interior layout and architecture preserved yet made contemporary by the Swedish firm Claesson Koivisto Rune in 2010. The picture above is of the ceiling over the atrium that houses a lounge area.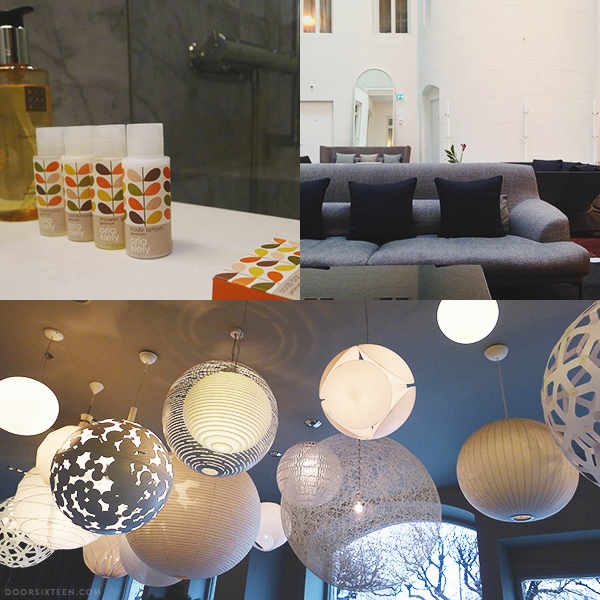 Orla Kiely toiletries, Scandinavian design everywhere, and a collection of great lamps from all over the world in the lobby. I wish I'd taken more photos, but I didn't have much time at the Nobis during daylight hours. Here's a really nice collection of both the common areas and the rooms, if you're interested to see more. So. Damn. Fancy. (Also, the mattress and pillows? They're making me rethink my entire approach to sleeping at home, where my bed now feels like a pile of rocks in comparison.)
After that first afternoon in Stockholm, I basically had NO free time whatsoever to do anything on my own. There were media events (and the Furniture Fair, of course) scheduled from early morning until late at night, so no time to go to shops or museums or restaurants that weren't part of the Design Week tour. So Monday and Tuesday were jam-packed, and then I left for New York very early Wednesday morning. Talk about a whirlwind! My sleep schedule was completely crushed, and I brought home a nasty cold and a whole lot of exhaustion with me. It was a amazing trip, yes, but I really wish I could have added on a couple of extra days just to be able to breathe a little and get out to explore Stockholm. Next time.
I have SO MUCH MORE to talk about and share from my trip, but it's too much for one post—I think it might be more like a dozen posts! Next up, lots of studio visits. For now, I leave you with a collection of Instagrams from Stocklhom…a little taste of what's to come.