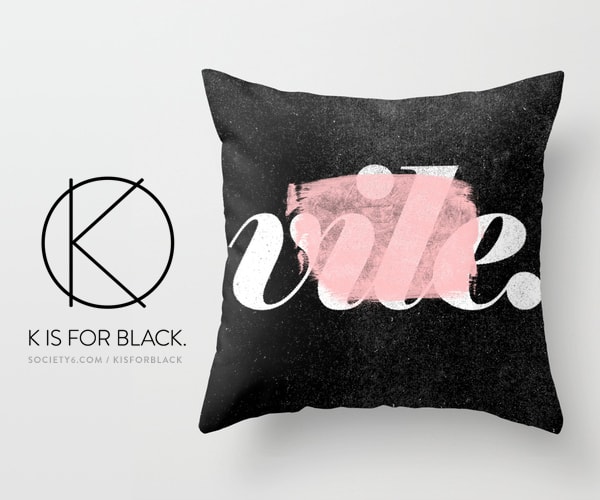 Generally speaking, the time span between when I decide I might want to do something and the time when I actually do something is pretty long. I first started thinking about listing some designs on Society6 a couple of years ago, but after a disappointing experience with one of their iPhone cases, I shelved the thought for a while. I took my time buying numerous prints from other artists, checking out the textiles, and even ordering a new (and greatly improved) iPhone case back in July. I've been really impressed by the quality of everything I've seen, so after a lot of hesitation, I finally gave myself permission to go ahead and list a few things.
I am very pleased to announce my new little shop, K is for Black!
There are a number of Giclée prints for sale (which, according to Society6's specs, are printed on natural white, matte, ultra smooth, 100% cotton rag, acid and lignin free archival paper using Epson K3 archival inks), as well as stretched canvases, iPhone cases, tote bags (!!!) and throw pillows. Woo hoo! Not every design is available in every format, because some stuff just doesn't lend itself to certain applications. Eventually I'll add some mugs and hoodies, too.
I have to admit that this is all very self-serving: I'm really just making the things that I want to own. You just get to the point where you accept that if you want a throw pillow that says "vile" on it, you're going to have to take matters into your own hands. I wanted one, so I made one. Done! It's fun being your own client sometimes.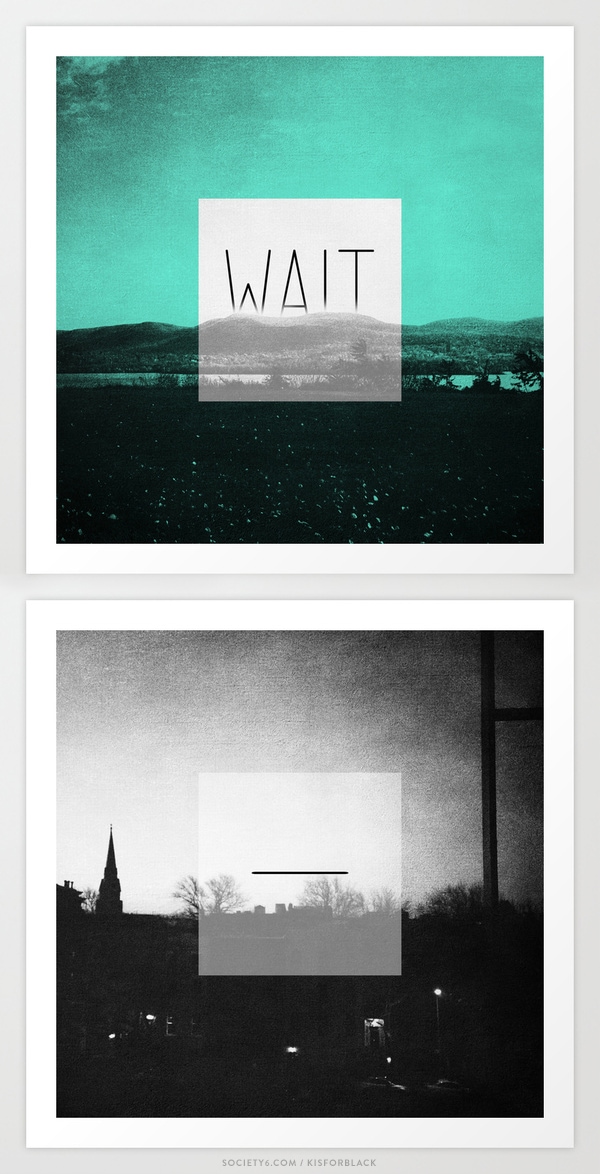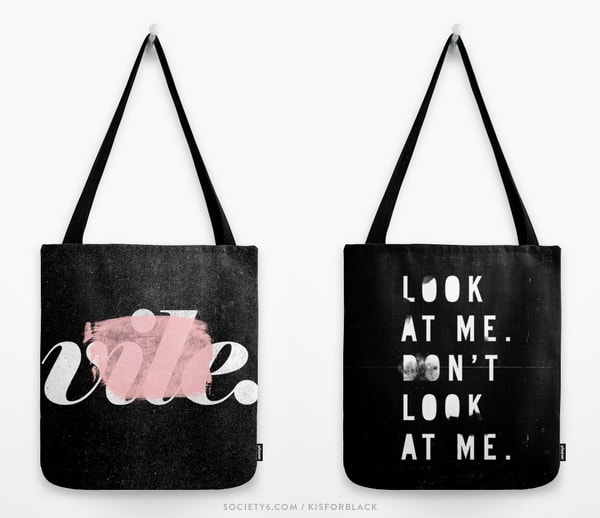 I suffer from what I like to call "LOOK AT ME, DON'T LOOK AT ME" syndrome. I want attention (hello, internet), but once I get it I want everyone to stop looking at me. Or at least only look at me in really good lighting. Now, thanks to the magic of on-demand printing, I can let a tote bag tell the world to simultaneously leave me alone but stop ignoring me. How fun!!!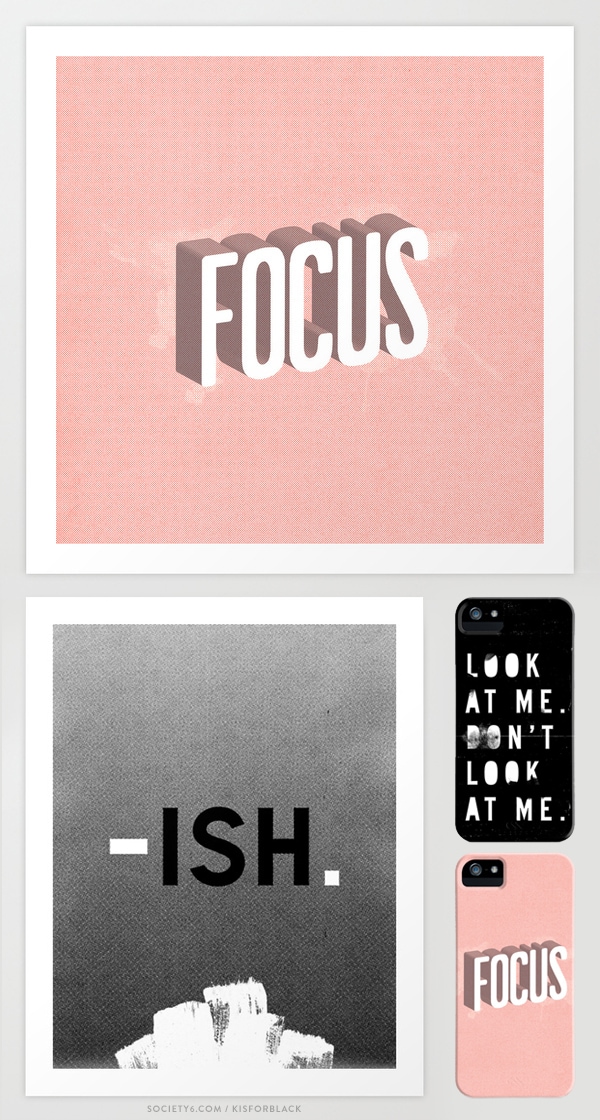 Victoria said she wanted a print with the word "focus" on it, so I designed one for her. (Yes, I'll consider requests!) I have an annoying habit of putting the suffix "-ish" on everything I'm unsure about (6:00-ish, casual-ish, cold-ish, Jewish…you get the idea), so that got the poster treatment, too. That one is going up in the stairwell of my apartment.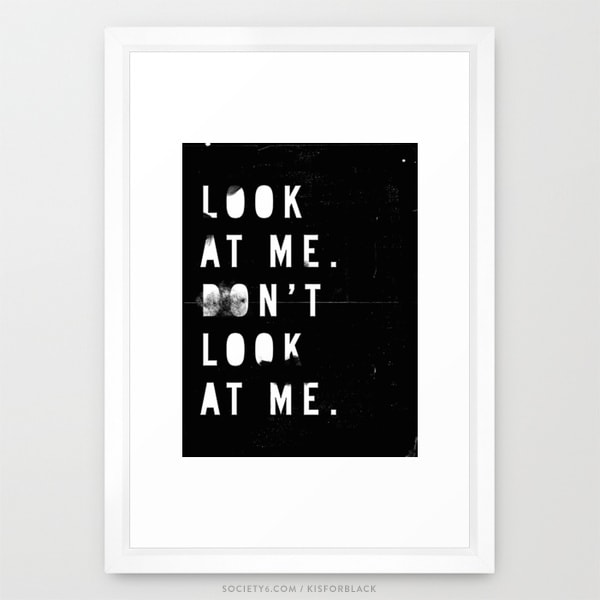 Oh, and you can have stuff framed! I haven't seen the frames in person, but after reading a few reviews (like this very thorough one), I'm going to go ahead and give them a shot. I'll let you know how it goes.
There is always going to be some concern on my part about having another company handle virtually every aspect of the production and shipping of my designs, but if I'm being honest with myself, I know I can't handle that side of things. As much as I want to be the person who screen prints, sews and ships my own pillows, I am not that person. Maybe someday I will be, but for now I'm really excited and happy to be putting some stuff out there and making it possible to share it with other people.
I hope you see something you like! New designs will be added frequently, so please do check back. Yay!