For the 7th year running, I have made a personal commitment to buy gifts for my friends and family from local and independent artists, designers and crafters this holiday season. As I have done in previous years, I'd like to invite independent hand-makers to post links to their shops in the comments. Please refer to the guidelines below before sharing your link. Thank you!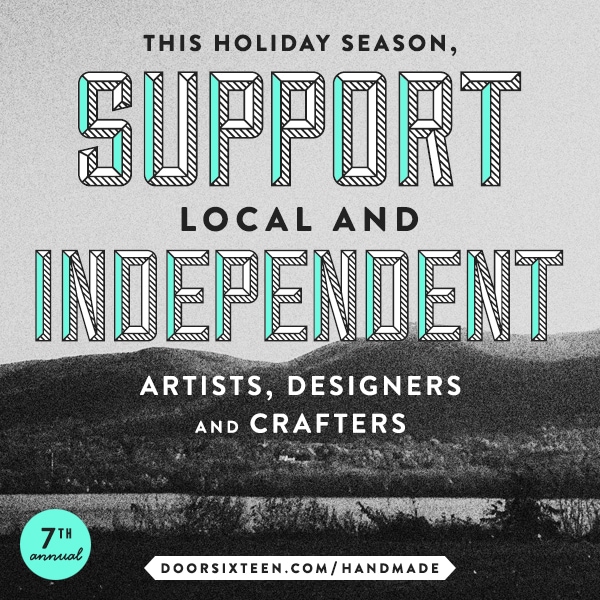 Share your shop link:
Please keep all links limited to the spirit of handmade goods from independently-run businesses.
To make things a little more streamlined this year, please follow this format:
✚ NAME: Your shop's name
✚ URL: Your shop's address
✚ DESCRIPTION: Briefly tell us what kind of goods you sell
✚ DISCOUNT CODE (if applicable): If you are running any kind of promotion (discount, free shipping, etc.) for the holidays, please include the details and discount code. Codes specific to Door Sixteen readers are welcome.
(If I don't approve your comment right away, that probably means I'm away from the computer. Don't fret!)
Share this page with others:
✚ You are welcome to share the above graphic on your blog, Instagram, Facebook, Twitter, Pinterest or elsewhere, but please do not alter it in any way. Links should point to doorsixteen.com/handmade, which will automatically redirect to this page. Using a redirect URL will prevent any links from becoming outdated in future years.
✚ If you would prefer to have a smaller button to display in your sidebar, here you go!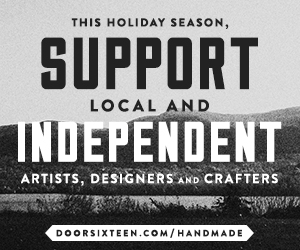 Small Print: Door Sixteen/Anna Dorfman does not personally endorse any of the shops linked to the comments section of this post. Links have been tested for functionality and to ensure that the goods for sale are in keeping with the spirit of handmade goods from independently-run businesses, but beyond that no verification or endorsement is implied. All comments are moderated. Comments containing faulty URLs or which are not in compliance with stated guidelines will not be published.