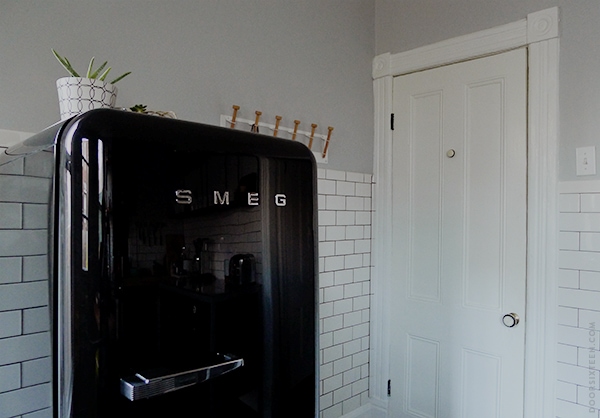 So…how about THAT! If you follow me on Instagram, then you may already know that there is now a cute little black SMEG refrigerator living in our house. It was part of the original kitchen plan I made last year, and we felt pretty strongly about making it happen, so here it is. A mere 11 months later! Hah. And yeah, I know, it's sort of the whole $289 trash can thing again, but that's why we do our own renovation work and why we only spent $140 on a new floor and slightly more than that for four walls of tile…you get the idea. It evens out, and everything is still under budget.
AND IT LOOKS SO MUCH BETTER. The old refrigerator (still in great shape — it went to live in Kingston with Daniel and Max) was way too big for our kitchen, and it was never full to more than 1/3 capacity.
Somehow I managed to not take a decent full-length photo of the fridge over the weekend, but to answer the two big questions:
✚ Nope, I'm not worried about the bad reviews online. Everyone I know who has a SMEG loves it. I'll take my chances. If it turns out to be a disaster, I'll let you know.
✚ It's not too small for us. Not even the freezer. We're only two people and the most we ever freeze is a tray of ice cubes and a box or two of veggie burgers. The capacity of the fridge is greater than it looks like from the outside — there's really plenty of room for everything we typically have on-hand.
Anyway, this is by no means the big reveal, but while I wait on my own indecisiveness before finishing the kitchen for real (LIGHTING!!! and that door, and…), I thought it would be fun to post some then-and-now photos taken from the same positions. Unfortunately the "then" photos are really awful, mostly because they were taken almost as an afterthought during our walk-through on closing day. I have so much regret about not taking better photos before we started in on our seemingly never ending renovation plan, but what can you do? Oh well.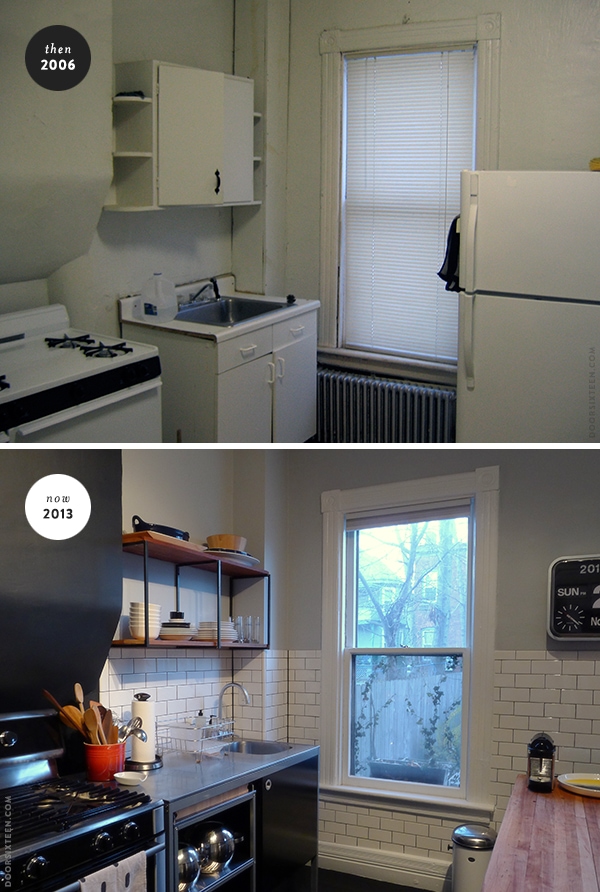 If anything about the 2006 photos makes some part of the old kitchen look salvageable, it's just a fault of the lack of detail in the photos. It was disgusting. No debate.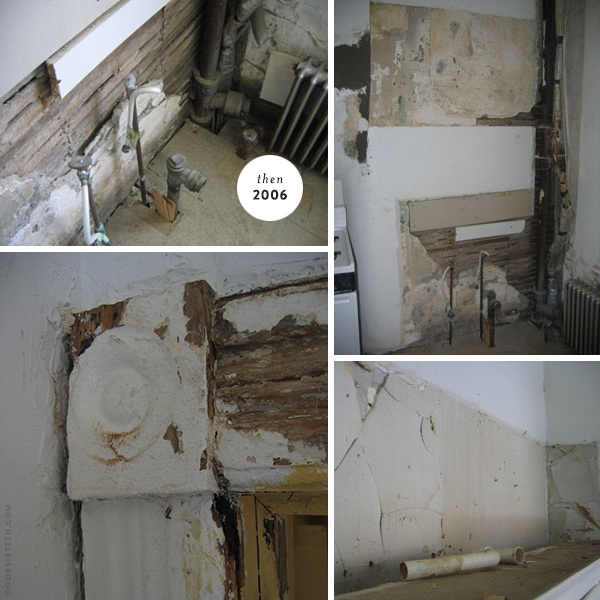 These photos were all taken on Day One of our kitchen renovation, which was almost eight years ago. All we'd done at that point was take out the old cabinets and the remove the boards that had been nailed into the corner to hide pipes. This was also the first time either Evan or I had been involved in anything resembling a home renovation project, and we were horrified. We were so, so lucky to have had a couple of family members and friends who knew what they were doing and were generous enough to lend a hand. Two hands, even, and for many days. It took quite a while for us to feel like we could do anything by ourselves.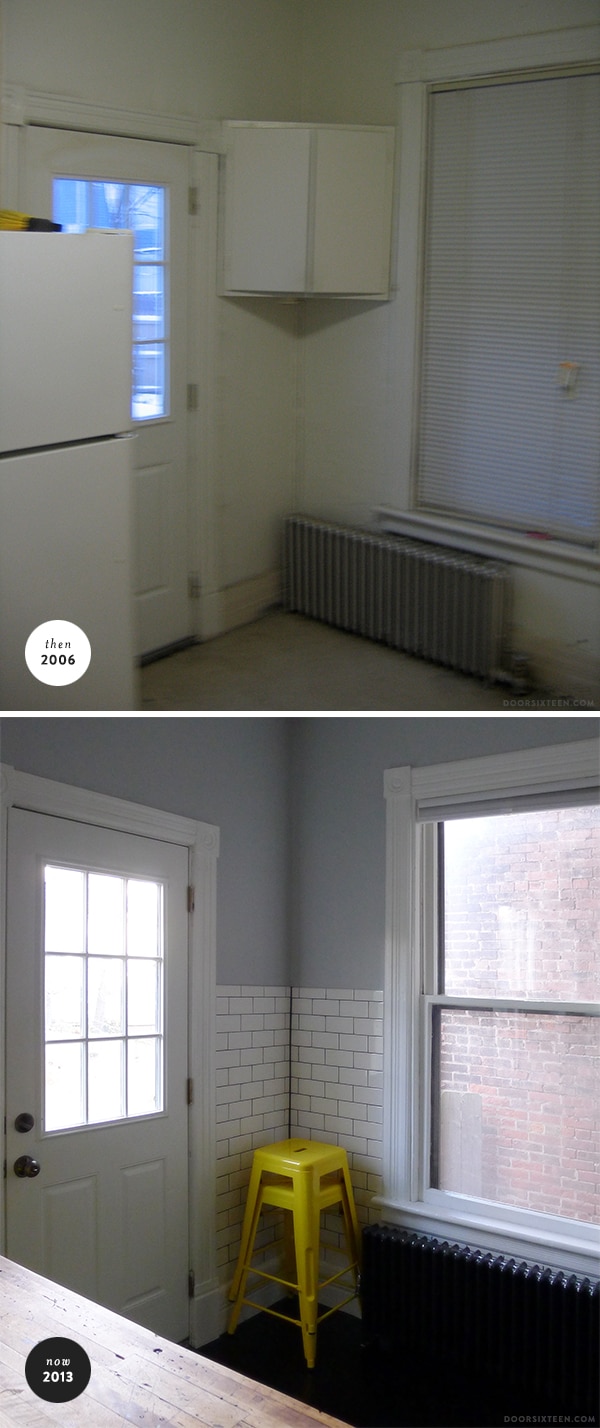 OK, I still hate the door (we're planning to replace it next summer), but aside from that? I think this is a perfect corner. I'm so glad we decided to hire a plumber to move the supply line for the radiator over to the right a couple of feet. I know it seems like a minor thing, but having the radiator centered under the window makes an enormous difference in the overall balance of the room. It feels right now.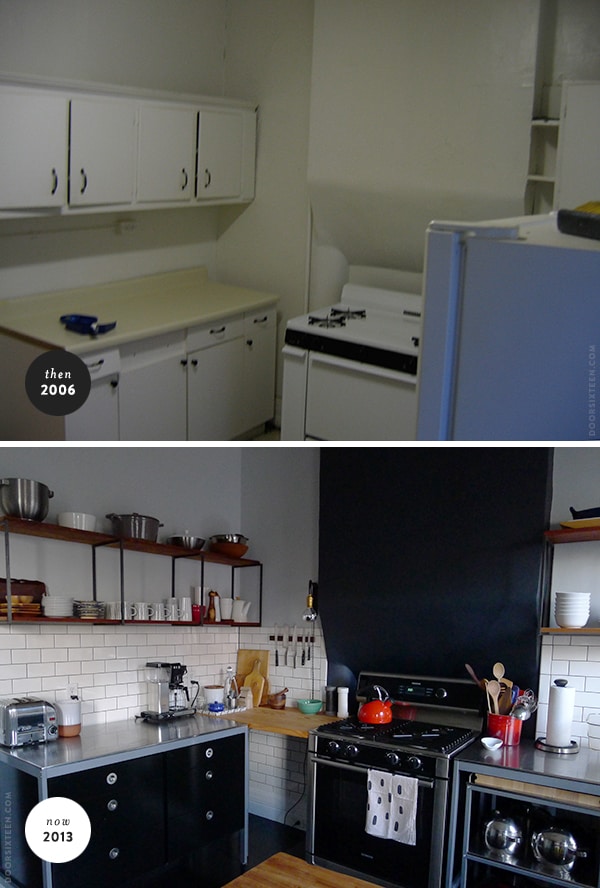 I keep scrolling up and down to compare these two photos. We didn't take down or move any walls in the kitchen (or elsewhere in our house), but it really does look like a different kitchen entirely. This is a small room with three doorways, two huge windows and a huge, protruding (and receding!) hearth, and that meant that we couldn't go with a traditional layout or standard cabinetry. It was frustrating initially because I was trying to make the challenging aspects of the room less obvious, but once I gave in started turning those things into features — like painting the entire hearth black — it all came together. This is why I love old houses! If you listen to them, they tell you what to do.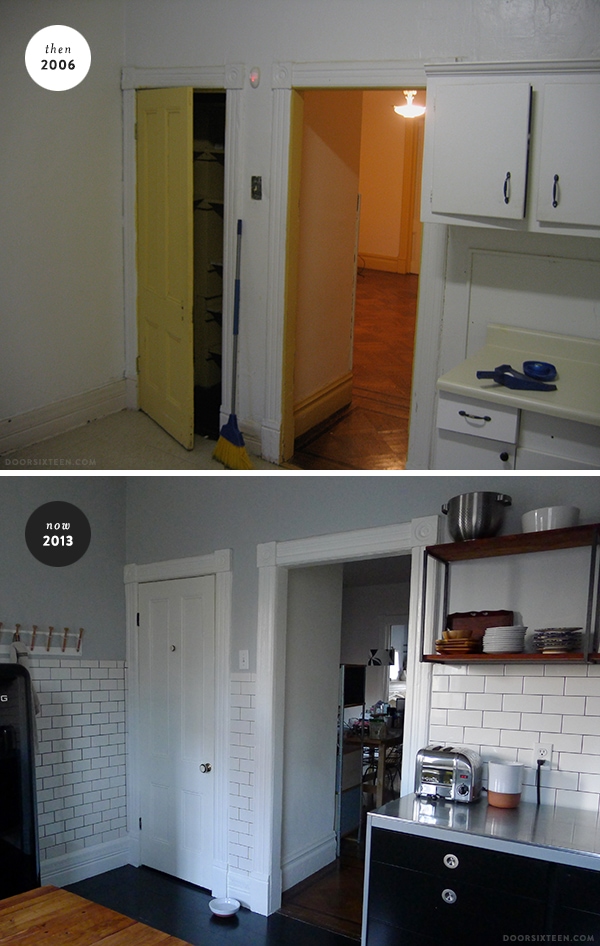 OK, that's weird cropping, but I wanted to match the original photo! Just ignore the mess in the dining room, too…the table is covered with unneeded kitchen stuff we need to donate. If I back up a bit, though, you can see this corner of the room a little more…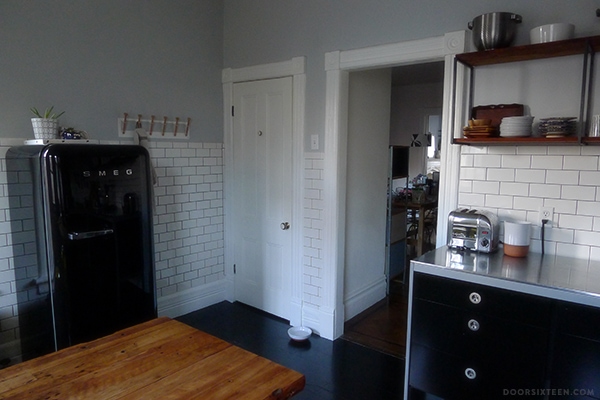 So much better! The closed door on the left leads to a pantry. The contents have changed (we use it to store food now), but here's an old post about the pantry renovation. It's very cute, I must say.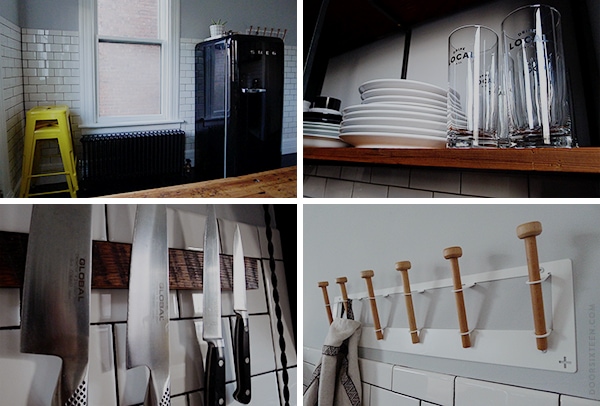 A few details from around the room, clockwise: Yellow Marais-style stools from Industry West, Drink Local glasses from West Elm Market, wall hooks from Pedersen + Lennard, reclaimed wood knife rack from Furnished Modern.
So that's the kitchen, for now. It's still not finished, but the remaining projects are going to take a while. When it's DONE-done, I'll take lots of nice photos and break everything down cost-wise as best as I can.