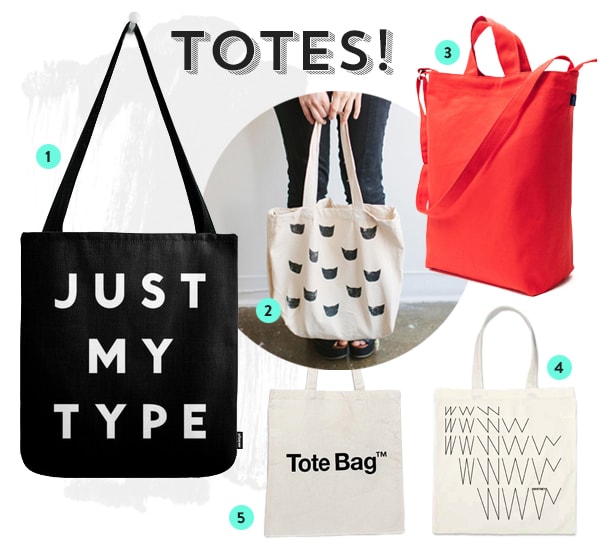 1. K IS FOR BLACK / Just My Type tote
2. Leah Goren / Black Cat tote
3. Baggu / Duck Bag
4. Whitney Museum / New Identity tote
5. Andrew Neyer / Tote Bag™
Last night I went to dinner with Evan and our very cool friend Rena, and we were discussing (in the context of Evan's guitars) at what point a "collection" becomes a "situation." I believe the number Rena proposed was 12, which means that I have indeed surpassed the point of having a tote bag collection and amassed (several times over) what really can only be described as a tote bag situation. I'm not sure how this happened, exactly. It definitely wasn't intentional. As someone who pretty much always prefers the un-fancy things in life when it comes to wearables, tote bags just always seem to be the right answer. It's easy to double (or triple) up if you need to, they're perfect for carrying manuscripts on the subway, they don't add extra weight to your load, and you can toss them in the wash when they get grimy. They also satisfy that ancient desire to silently express oneself to strangers through printed slogans, something I otherwise miss out on as a non-wearer of tee shirts.
A question for the ages for those of you with tote bag situations: How do you store them? I presently have five or six tote bags hanging from coat hooks and door knobs at any given time, and the rest are folded in half and stashed in a bin in the closet. This isn't ideal, though, since I can't easily access the ones on the bottom and many go forgotten and unused as a result. My tote bag-loving friend Lisa keeps hers on a long, horizontal hook, which seems pretty smart to me (I'd need several several hooks, though…)! I wonder if there's not an even more practical solution I'm not thinking of, though. Any ideas?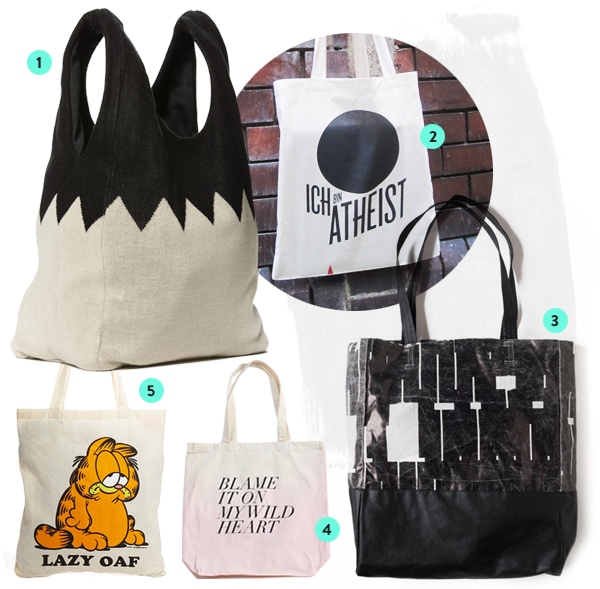 1. Hansel From Basel / Zig Zag shopper bag
2. Atheist Shoes / Ich Bin Atheist tote
3. Lee Coren / Black screen-printed tote
4. Fieldguided for Summerland / Wild Heart tote
5. Lazy Oaf / Garfield tote