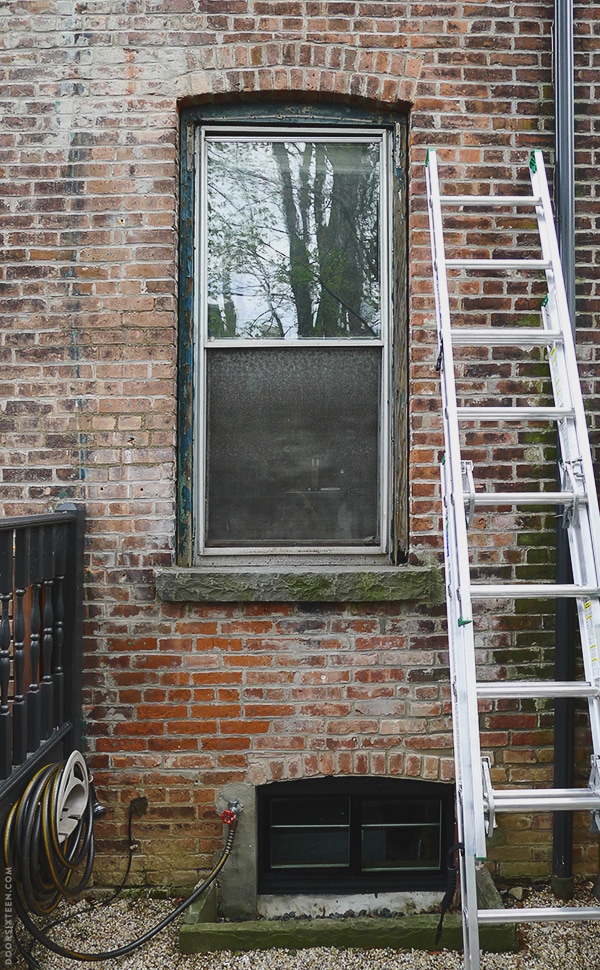 I continued with my ambitious back-garden to-do list over the weekend. The last project I tackled was painting the vinyl basement window, and now I've moved on to the much more complex, fun, and slightly overwhelming task of repairing and restoring the original wood sash window above it. Window repair is something I've talked about before when I showed off the guest bedroom window and the work I did with the three in the living room, but this multi-part project is going to be a little bit different as it concerns the outside of the house. While all but four of our windows look pretty good from the inside at this point, NONE of the windows (or their casings) have been touched on the outside—and they're all in pretty rough shape.
In an ideal restoration situation, a window and its components would be repaired on all sides at the same time. Because our house is in an historic district, any alterations made to the exterior of the house need to be approved in advance by the Architectural Review Commission. We couldn't afford to take on the major exterior renovation work our house needed (like repointing the brick, repairing the cornice, and rebuilding the porch roof) when we first became homeowners, so it didn't make sense to go through the approval process (and pay the $100 fee) just to be able to paint the windows. Also, time is always as much of an issue as money, and with only two days a week to devote to fixing stuff, we've tended to make the inside more of a priority than the outside.
Anyway, back to the window repair! The first thing I did was take care of the aluminum storm window. As much as I would LOVE to ditch them and bask in the beauty of exposed sash windows, the reality is that we need them. Our house has 125-year-old single-pane windows and no insulation, and we get a lot of precipitation in the Northeast. For the sake of our comfort, our wallets, and the health of our windows, we need them to be protected. I would LOVE to have custom hanging-style wood storm windows made (like the ones from SpencerWorks…so nice), but that's beyond our tiny budget, so I gotta make the aluminum ones work for now.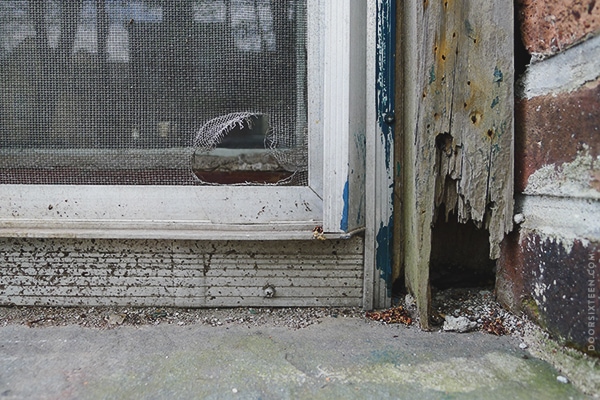 Not so pretty! The worst thing about bare aluminum storm windows is, well, the aluminum. It's prone to pitting and oxidation, and even on its best day it looks drab. Time for paint! Assuming the aluminum doesn't have any kind of coating on it and the finish isn't high gloss, it's very easy to paint. You do need to clean it well, though. I don't like to use steel wool on aluminum because of the risk of galvanic corrosion (yes, I had to look that up), so I cleaned all of the parts of the storm window first with a Scotch-Brite scouring pad and dish detergent/water, and then again with TSP substitute. I left everything in the sun until it was completely dry, then got my tarp set up.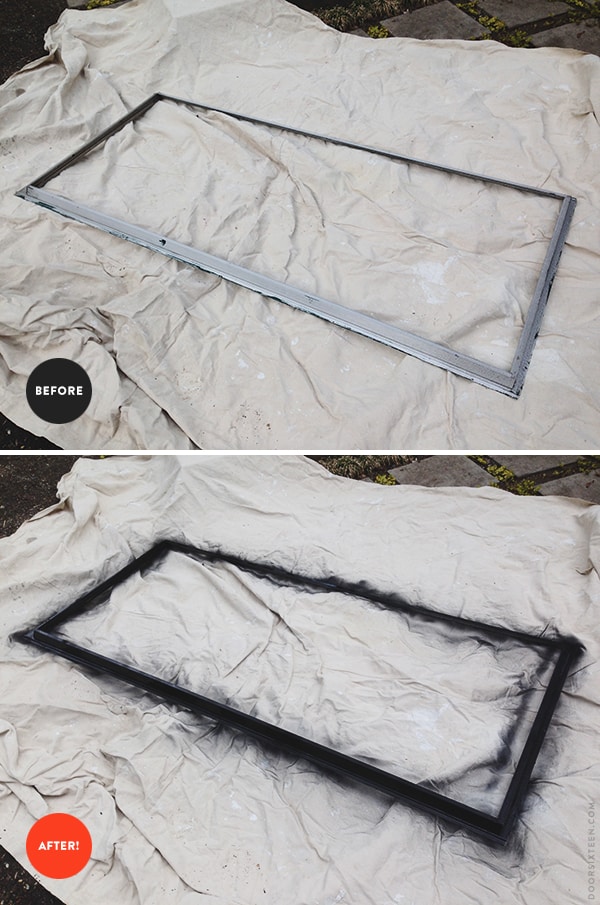 Not the most exciting set of before and after pictures, but the difference in person is pretty remarkable. I used my old favorite Rust-Oleum Rust Reformer spray paint (aluminum doesn't rust, of course, I just love the finish of this spray paint when I need a durable, matte black surface), and the aluminum took it beautifully. I should note that I only painted the exterior side of the frame and the bottom the inside—I didn't want to paint inside of the tracks themselves since that's a high-friction area.
You don't have to use spray paint, by the way! You can use the same exterior paint that's on the rest of your house. I'd suggest using a good spray primer to make life easier, then apply your finish paint with a small foam roller.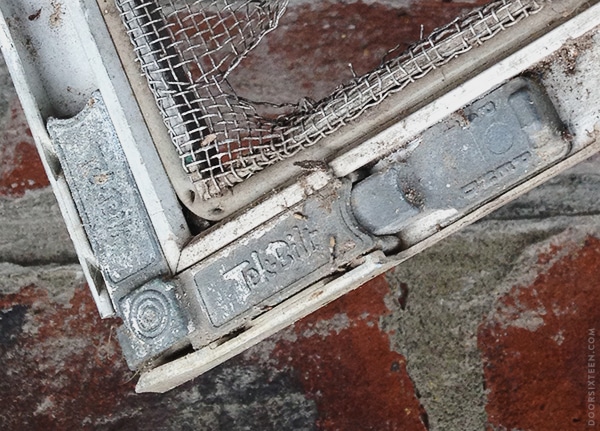 I also gave the screen inserts a full makeover! I did a little research into the Tek-Bilt brand, and as far as I can conclude, our storm windows are about 60 years old. Kind of crazy, right? I think of them as being new and ugly because they're newer than the house, but no, they're old and ugly (still half the age of the windows they're protecting, though!). Aside from the holes, the metal screening has gotten pretty oxidized, which looks crappy from the outside and obstructs the view from inside.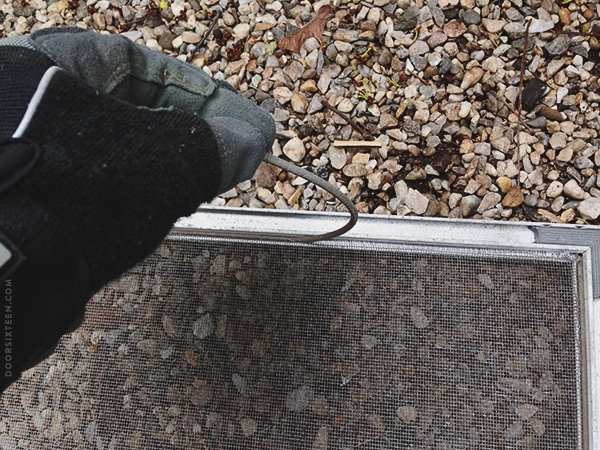 Removing the screening is really easy. Find the end of the rubber cord (it's called "spline") that holds it in place, use a screwdriver to get it started, then pull the whole mess out. It makes sense to do this before you paint, obviously! If the spline is in good condition, save it. Mine was pretty dry and brittle, so I tossed it. TIP: Bring a little piece of the old spline with you when you go buy more. I didn't realize spline comes in different diameters until I was at Lowe's looking at a WALL OF SPLINE and trying to guess which size I needed. (I guessed wrong. Womp.)
Supplies! Here's what you need: Scissors (not pictured), spline, a spline roller, a flat-head screwdriver, a utility knife, and a 5-in-1 tool (totally optional, I just like to have mine handy for most projects). Oh! And screening, of course! I went with charcoal fiberglass screening, which is nearly invisible—and very affordable. If I had buckets of cash lying around I'd go with bronze screening, but you can't have everything. Charcoal fiberglass is just fine for me.
(Actually NO, if I had buckets of cash I most definitely would NOT being using it to put bronze screening in my 60-year-old aluminum storm windows. I'd use it to have custom wood storms made. DUH.)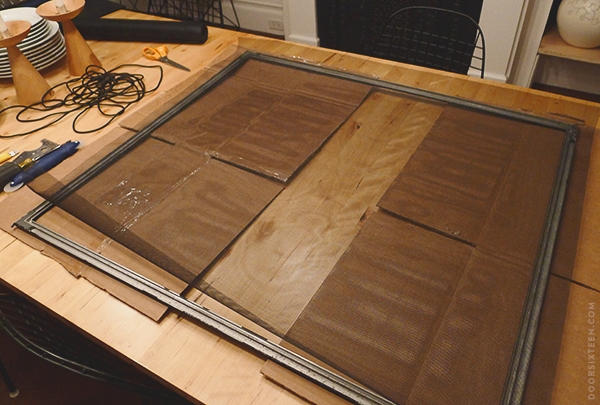 Do a rough cut of your screening, leaving about 1.5–2″ of overhang on all sides. Fiberglass is easy to cut with just scissors, it's like cutting cloth. You don't need it to be perfect, so there's no need to use a straight edge or anything like that.
Use the convex side of the spline roller to press the screening into the channel on the frame, then use the concave side to roll in the spline. When you get to the corner, use your screwdriver to make the turn. I found it easiest to do one side at at time: Press, roll, turn. Repeat! When you're all done and the screening feels nice and snug, trim off the excess with your utility knife.
It did take some finessing and re-doing a couple of times to get the screen to fit smoothly and snugly, but it's not rocket science. This was the first time I've rescreened a whole window, and I didn't find it difficult. Next time, it'll go even faster!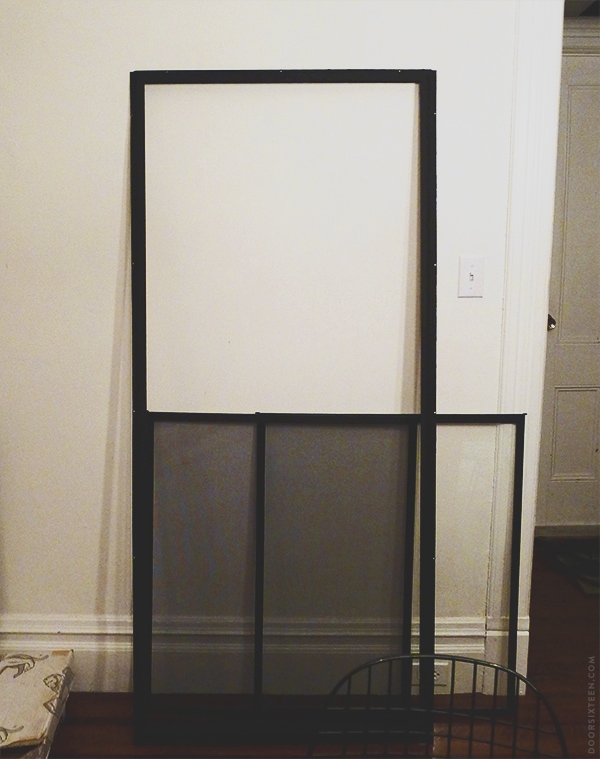 Here's a terrible picture of the end result! I can't show you what it looks like on the house yet because I still have several weekends' worth of work left on the window itself before I can reinstall it, but you get the idea. It's going to be a HUGE improvement, from both inside and outside the house.
Next up…sash window repair and painting!! Yayyy!