I know, I know. Actually, I don't know. I don't know how people manage to keep themselves together and get things done when they're overwhelmed. It's been more than a month (!!) since my last post, which is totally absurd. I don't know what happened to the month of May. It just…disappeared. And now it's the middle of June? 2014????? I can't keep up.
The past month has been tough. A lot of special people in my life—friends and family—have been going through bad stuff, and I've been trying to cope with some ongoing health problems and trying to figure out how make things better. I wish I felt like writing when that kind of thing is going on, but it always seems totally impossible—not so much because of time, but because slowing down enough to collect my thoughts feels way too overwhelming. Everything feels too overwhelming.
One thing I noticed this past month is that I've really come to rely on Instagram as a visual diary and not just a collection of images. So many of the photos I take are connected to moments in ways that don't make it into the captions—but that shot of cracked floor tile is enough for me to remember where I was and why I was doing whatever I was doing when I took the picture. I'm so glad to have that. Pre-iPhone, I never felt inclined to record memories that way. For someone who sometimes has a hard time finding the happy medium between wanting to document everything and never wanting to commit anything to paper/screen again, it's exactly the right solution.
Anyway. I'm putting this here mostly for me, because I know when I look back on May–June 2014 sometime in the future I'm not going to want to face a void. I'll be back with a real post tomorrow next week. Until then, thanks for indulging me.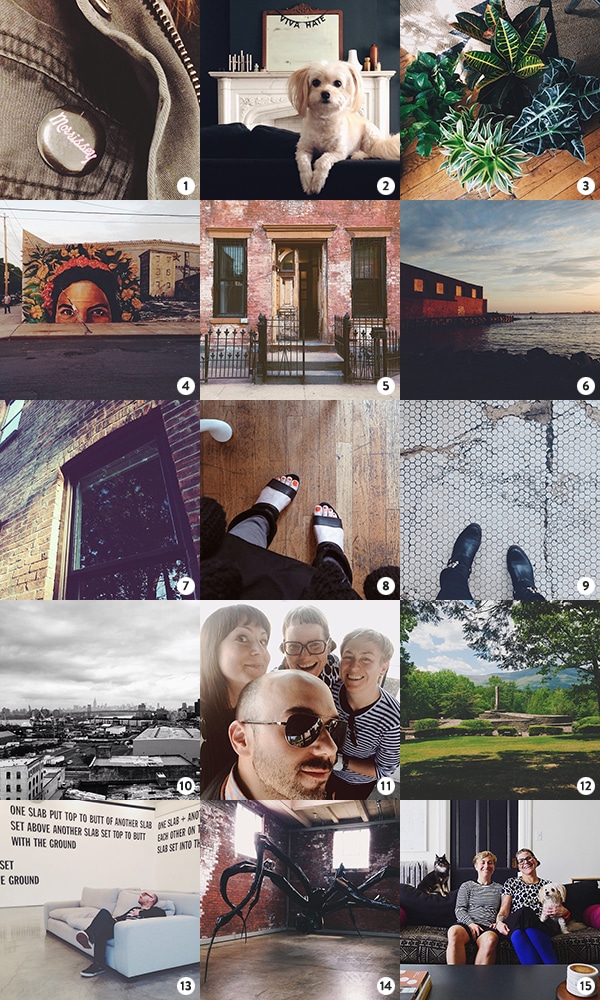 1. Morrissey's US tour started. 2. Bruno!! 3. I bought a bunch of '70s-looking plants for the apartment (still haven't potted them, though). 4., 5., 6. I spent a lot of time in Red Hook. 7. I finished fixing a window! Still gotta blog about that. 8. Summer kinda arrived and I kinda put on summery shoes. 9. I checked out the Navy Yard/Wallabout neighborhood in Clinton Hill, and went to Brooklyn Roasting Company while I was there. 10. I first moved to Brooklyn 17 years ago, and I'm still totally in love. 11., 15. My friends Lisa and Clay came to visit, and we had a great time. 12. We went to Opus 40, one of my most favorite places in the world. 13., 14. We went to dia:Beacon, too—another of my most favorite places!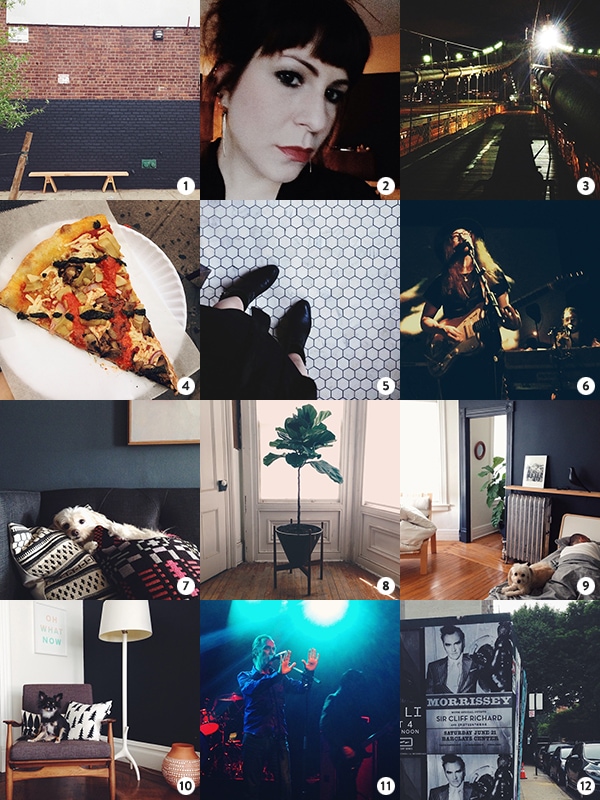 1. I really like Red Hook. I wish I'd appreciated it more when I lived there. 2. Evan and I got dressed up for Tina's 1992-themed prom. This is pretty much exactly what I looked like at my actual prom in 1992. It was fun to wear that much eyeliner and to bust out the rat-tail comb again. 3. My subway went out of service, so I walked home across the Brooklyn Bridge at midnight. 4. I went to Makeshift Society's Brooklyn launch party, but I was so riddled with anxiety from being surrounded by strangers that I left and ate pizza alone instead. 5. The honed marble hex tiles at One Mile House are very beautiful. 6. We went to see Sean Lennon and his band, Ghost of a Saber Tooth Tiger. It was a great show! Yoko was there, too. We didn't hang out. 7. Bruno!! 8. We went up to Kingston to visit Daniel and Max. Their house is so beautiful…even the parts they haven't fixed up yet. 9. I'm always the first one up. Always. 10. Fritz!! 11. We went to see Peter Murphy again! Wonderful as always. If you can go, go. 12. Alas, we did not and will not go to see Morrissey this time around. I took that photo the morning the inevitable sadly happened, hoping beyond hope that I would be proven wrong. Get well, Moz. See you again when you're ready.
Now that I've collected these pictures and gone through and captioned them all, I'm starting to question whether I was right when I said that Instagram serves as a visual diary. Maybe it doesn't…at least not accurately. Where is my angst? Where are the sleepless nights and the tears and the worry? Where is the uncertainty and anger? It all gets washed away in favor of aesthetics, I guess. Maybe that's a good thing. When I look at this list of events in my life from the past month, I feel like it's all going to be OK.
It's good to be back. xo