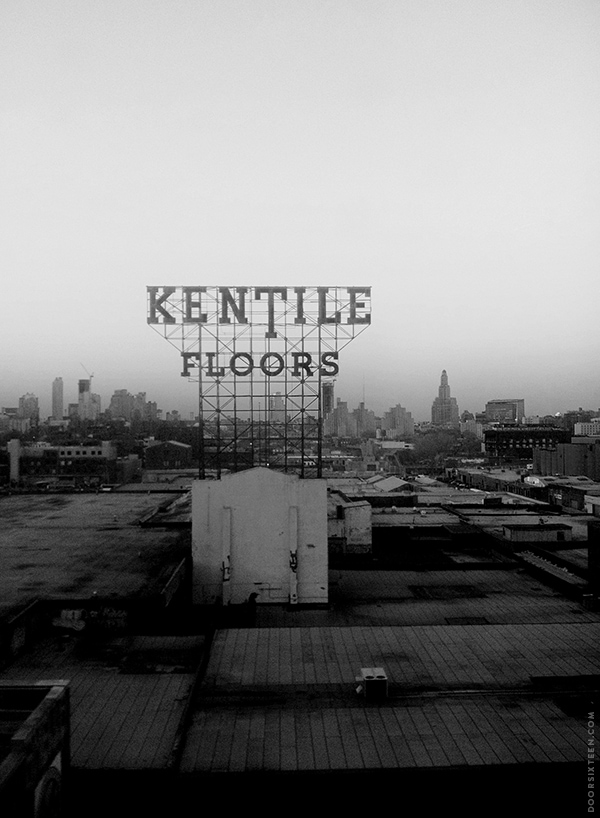 To the non-New Yorkers (non-Brooklynites, really) reading this, I apologize in advance. This is a location-specific lament and farewell that I don't expect to resonate with you. I'm writing this for myself, and for my Brooklyn neighbors—past and present.
Yesterday, workers started dismantling the Kentile Floors sign that has risen eight stories above the Brooklyn neighborhood of Gowanus for the past 65 years. The demise of the Kentile company itself in the mid-'90s is its own story, and this isn't about that. This is about that sign.
Seventeen years ago, I graduated from art school, got a job at a publishing company, and moved to Brooklyn. It was a love affair I tried to shake, but which was eventually rekindled. I love South Brooklyn, and for all the years I've lived here, the F has been my subway line—first in Cobble Hill, then in Carroll Gardens and Red Hook, then DUMBO…and then back to Cobble Hill. The F train, for all its problems, is great for me. It stops under my office building (literally—I don't even have to go outside to get to my desk), and it's a 7 minute walk from my apartment. It also makes stops in the West Village and on the Lower East Side! It's my favorite train line.
Just past my stop in Brooklyn, the F train goes above ground as it approaches the Smith & 9th station, the highest point in the entire NYC transit system. It runs above the Gowanus Canal, and, if you stay on it long enough, you'll eventually wind up in Coney Island. As someone with a tendency to fall asleep on any form of mass transit (except airplanes, annoyingly), being awakened by daylight suddenly flooding my subway car means one thing: I missed my stop. The upside of going a little too far is that I get to see the Kentile Floors sign, which is, if you pardon my many tangents, the subject of this post.
I've taken many, many photos of the Kentile sign (including the one at the top of this post) over the years, as has just about everyone else with a camera or phone who's found themselves in its presence. As hyperbolic as this might sound, it's a majestic sight. Brooklyn isn't as tall as Manhattan (though it's definitely getting taller), and when you look across the industrial landscape that is Gowanus, the Kentile sign lets you know you are in Brooklyn. You're home! It's a symbol of place. And yes, it's beautiful—those huge slab serifs, that extended T, the steel support grid that looks like a line drawing against the sky…
The Kentile Floors sign is going away. The owner of the warehouse beneath the sign believes that doing the work necessary to ensure its stability isn't worth the the cost, so he's getting rid of it. The DOB issued a permit, and that was that. Fortunately, the owner has agreed to donate the sign to the Gowanus Alliance, who have pledged to find a new location for it. Fingers crossed that it's visible from the F train.
There's a been some talk out there over the past couple of weeks about how the upset over the demise of the Kentile sign is nothing more than some kind of forced, misguided nostalgia for a time when Brooklyn factories made asbestos tiles that killed people. You know what? That's a bunch of nonsense. There is nostalgia involved, yes, but it's not about the Kentile company or about a yearning for the past. It's a very real sadness that an iconic part of the landscape of South Brooklyn is going away, and that our journeys home will never look the same. It's an aesthetic sadness, too, as we say goodbye to more and more of these giant steel and neon beauties every year. It hurts… and the world becomes a little less beautiful. I love old signs, and I've been documenting them for a couple of decades now. They are everyday examples of how design relates to environment. Signage is an enormously important part of the industrial history of this country, yes, but also of the changing aesthetics of commercial design.
Later tonight, my friend Jill and I are heading over to the Smith & 9th station for one last Kentile hurrah. Creative agency Vanderbilt Republic is going to project video onto the sign (what remains of it, at least—could they really not have waited one more day?), making it appear to be illuminated one last time. They did the same thing in the spring, and Barry Yanowitz made this great video.
Goodbye, Kentile Floors sign. Thanks for welcoming me to Brooklyn so many times. I hope I get to see you again someday, even if I have to sleep through my stop to do it.