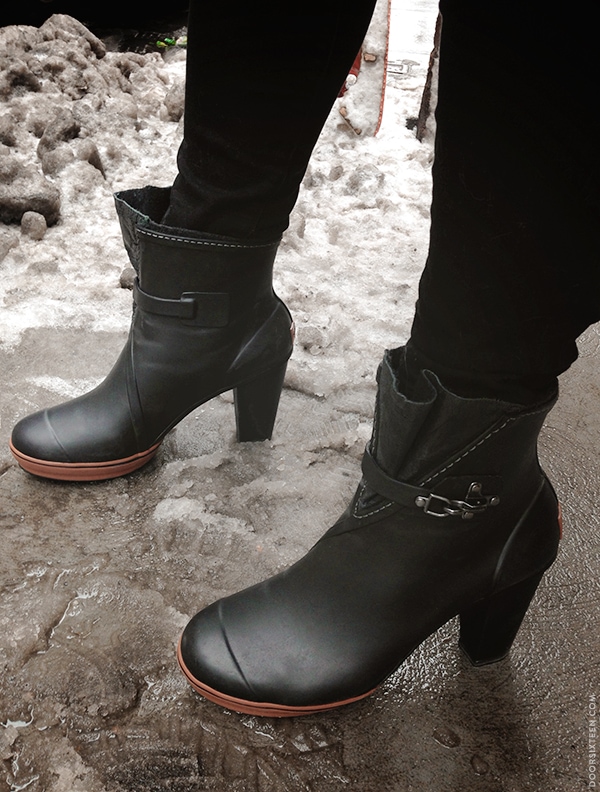 I swear I'm getting closer to having my second Stockholm post finished up (I edited my photos down from 2000+ to 66! Progress!), but in the mean time, here are some really stupid boots I bought! OK, they're actually not stupid at all, but since I can hear the creak of eyeballs rolling out of their sockets right now, I might as well acknowledge that they do appear to be the footwear choice of complete idiots.
If you (a) live in New York, (b) following someone who lives in New York on any form of social media, or (c) live in the US and own a computer or a television, then you are probably aware that we've had a whole lot of snowstorms here this winter. None of them have been devastatingly huge individually, but the sum total has been…well, it's been exhausting, even for an avowed snow-lover like myself. Sanitation trucks can't fit down the streets with alternate side parking suspended, so there are trash bags frozen to the sidewalk layered with snow and ice and more trash bags and snow with cigarettes and coffee cups on top (for garnish). Trash bag parfaits, if you will. It's disgusting. It's also tough to navigate the massive slush puddles* at every corner and the ice-encrusted streets, especially with wind and snow whipping at your cheeks and eyes.
*Bill Cunningham's photo essay of men attempting to jump slush puddles is fantastic.
Anyway, yesterday it hit 51°F, and all of these giant hills of snow started melting with a vengeance, creating rivers of salt-brine and filth. And you know what? I was PREPARED. I was prepared because last weekend, in a fit of madness after discovering that my decade-old, much-loved brown Frye boots were apparently starting to dissolve from constant exposure to salt and snow, I ordered a pair of rain boots. Super-ridiculous high-heeled rain boots, mind you—Sorel Medina Rain Heels, to be precise. Short review: They are AWESOME.
I have a pair of serious snow boots that I wear when I'm upstate, but wearing them in the city is kind of silly. They're overkill, and I wind up avoiding wearing them because my feet get hot and I don't feel like dealing with changing in and out of them at the office (and carrying shoes with me, etc.). I don't find regular rain boots comfortable enough to walk in for long distances, and again, I don't really want to sit around in them at work all day long. Basically, if I can't wear a pair of shoes from the time I leave my apartment to when I come home at night, they're just going to sit in the closet.
The difference with these Sorel boots is they look like regular footwear, yet are totally waterproof (aside from the gusset, they're completely rubber—even the heel is rubber-wrapped) and have excellent traction on the soles. I walked across patches of ice, went down slushy subway stairs, and stepped in deep puddles, and my feet and ankles felt steady and stable the whole time. No sliding, no slipping. (Funnily enough, the only time I had an issue was in my office, where the rubber soles skidded on the flat carpet and I almost tripped.) Because the shoe has a hidden platform, the heel height doesn't actually feel very high—it's comparable to walking around in my favorite boots in the whole world.* I've only walked about two sidewalk miles in them so far, but I don't doubt that I could spend a whole day on my feet in them, just like I can in my Leslies.
*For some horrible reason, Frye has discontinued the Leslie Zip Booties! Tragic. They are the best boots. You can still get them on sale in a few sizes on Amazon, though. Sigh.
I have no doubt that these guys are going to become my go-to footwear every time it's wet outside, regardless of the season. We get a lot of rain in New York, and I've gotta stop killing my leather boots—which I expect to have and wear for decades—by constantly subjecting them weather conditions they're not designed for. High-heeled rubber rain boots, welcome to my world. Let the people laugh at us, I don't care. I hope to get many years of use out of you!