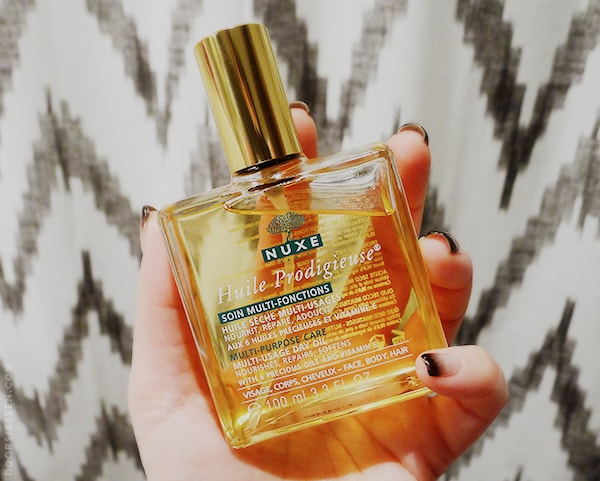 Last month, my lovely friend Ilenia told me about Huile Prodigieuse (literally "prodigious oil") from the French brand Nuxe, and I figured that since she's Italian she probably knows what she's talking about because popular culture tells me European women know everything about skin care. Right? So I took the next step toward what we beauty product-obsessed types like to call "lemming" (yes, used as a verb—I hate myself too, don't worry) something: Reading all of the 100+ reviews for it on Makeup Alley. 4.2 lippies and a 78% "would buy again" rating is high praise in that community. Commence lemming!
Completely positive that Huile Prodigieuse would, in fact, change my life, I committed myself to shelling out the $46 the large bottle sells for locally at Thompson Alchemists as soon as possible. Upon returning from London last Monday, I knew the time had come. Between the 12 hours spent on airplanes, a week of washing my face with hard water (which, by the way, made my hair look AMAZING…but my skin, not so much) and dropping temperatures, I looked like a floured potato roll. I made plans to have coffee with Ilenia the very next day, and after consuming four lattes between the two us, we headed over to the pharmacy.
Can I pause for a moment to recognize New York City's small pharmacies? Yes, there may be a Duane Reade on every other corner, but we also have lots of old-school, independent apothecaries here that sell just about every brand imaginable of cosmetics, skin care and toiletries from all over the world. My favorites are Avignone Chemists and Bigelow Apothecary (both Avignone and Bigelow opened in the 1830s—each claims to be the oldest apothecary in the United States), but I also love ogling the goods at New London Pharmacy and Thompson Alchemists. Yes, it usually costs a few dollars more to buy something locally than to order it from Amazon, but I'm OK with that if it means supporting a small business that's managed to survive for decades (or centuries!) in NYC.
Something happens to me when I walk into one of these pretty little pharmacies that's kind of trance-like. I realize it's pure escapism, that glassy-eyed state of being that sets in when there's a $30 bottle of French makeup remover at arm's reach. The packaging, the scents, the foreign languages…I fall for all of it. Apart from a bar of eucalyptus soap for Evan and about a million samples (that's the other benefit of shopping at these little stores—the salespeople love to give out samples), though, I managed to walk out with only a bottle Nuxe Huile Prodigieuse in my bag. Mission accomplished!
I've been using Huile Prodigieuse on my face and in my hair night and day for two weeks now, and it is SO GOOD. I have delicate skin that's prone to dryness and scaliness while also being annoyingly acne-prone. The Nuxe oil is just the right formulation (borage, St. John's wort, sweet almond, camellia, hazelnut and macadamia oils, plus vitamin E) for me, apparently, because my face feels softer and looks brighter than it has in years right now. I've tried using various combinations of oils (jojoba, olive, coconut, argan, etc.) on my face in the past, and I've never had results like this. I love that the oil goes on "dry," leaving absolutely no residue. Any redness in my skin is almost immediately abated, and dry flakes are gone overnight. It's also lovely to wear under makeup—I haven't had any issues with it altering the color of my face powder at all, something I've experienced with other facial oils. At night I use two spritzes in my palm smoothed over my entire face and neck, and in the morning one spritz is sufficient (I avoid putting it on my forehead in the mornings since bangs + oil = ugh).
I also like to rub a little oil into my hair, mostly at the ends. I usually just use whatever is remaining on my palms after putting it on my face—it's sufficient to smooth out any dryness or flyaways and to weigh down my hair a bit so it doesn't look "fluffy." If I'm wearing my hair wavy/natural, the oil provides a bit of separation and texture that I love. If there's still any oil left on my hands, I rub it into my cuticles. A little goes a very long way.
Oh, and did I mention the scent of Huile Prodigieuse? It's my dream fragrance. I don't even know what it smells like—it's somewhere between earthy and flowery; very very soft and warm. Every time I put it on I wish it would last all day and double as perfume, but the scent dissipates completely within a half hour or so. I did discover that Nuxe has just released Prodigieux le parfum—perfume based on the scent of the oil—in France, though, and that the fragrance will be available here by January. Wishlisted in advance! And I'm not even one of those people who really thinks about stuff like perfume.
What fancy European skin care products should I try next? Bioderma Crealine/Sensibio H2O and Caudalíe Beauty Elixer are on my short list…!