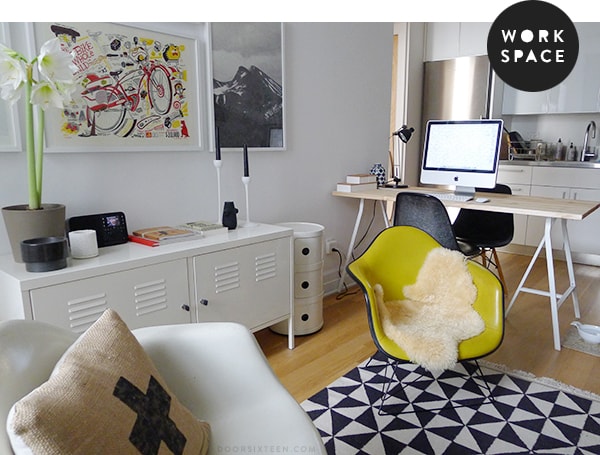 I realized last night (upon receiving lease renewal forms) that it's already been 10 months since we rented "the new apartment" in Brooklyn. Whaaaat?! I don't really understand how it's been almost a year already, but geez—I guess I should take some more pictures of it. A little while back I showed you one side of the main room, now here's another side. This room contains the kitchen, dining room, living room and office, all compressed into a surprisingly spacious-feeling 220 square feet.
When I was planning out this room, one thing I knew I wanted was a nice work surface. I don't like compact desks. I considered a few possibilities, and eventually arrived at a combination of two VIKA LERBERG trestles ($10 each) and a VIKA FURUSKOG table top (regularly $60, but I found it for 50% off), both from IKEA. That's a 60×30″ work surface for $50—not bad! The table is actually deep enough that Evan and I can both sit and work opposite each other at the same time if we need to.* Plus, if we slide the iMac to the end of the desk (or put it on the floor), the table is big enough to seat 4 people—really nice if we have friends over for dinner.**
*This has never happened. But it could!
**This has also never happened. I blame the lure of the roof deck.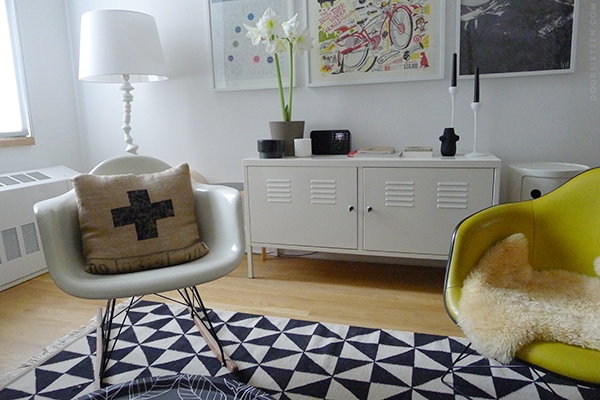 The IKEA PS cabinet holds everything…and then some. I was sad to have to give up the awesome fauxdenza from our old apartment (it's since been relocated to a closet at the house—more about that in another post!) because of space, but this guy really does an amazing job of storing way more stuff than it seems like it would be able to. All of our office supplies, tools, dog stuff, papers, and other things are in there, with room to spare. Our PS cabinet has been with us since 2003—almost a decade now. It's an IKEA classic at this point, and I really think it's one of their all-time best products.
Funny how much the (not) "new" apartment is starting to look like the old one, isn't it? I even hung all of the artwork in the exact same arrangement. I still don't think this place has the same kind of friendliness the old apartment did, but I am warming up to it! We definitely have a lot more visitors in DUMBO than we did in Washington Heights, that's for sure, and I do love being able to open my home to people from out of town. It's not big enough for overnight guests, but for hanging out for hours on end petting dogs and drinking coffee, it's perfect! Every time friends or family come over, it really does start to feel a little more like it's ours.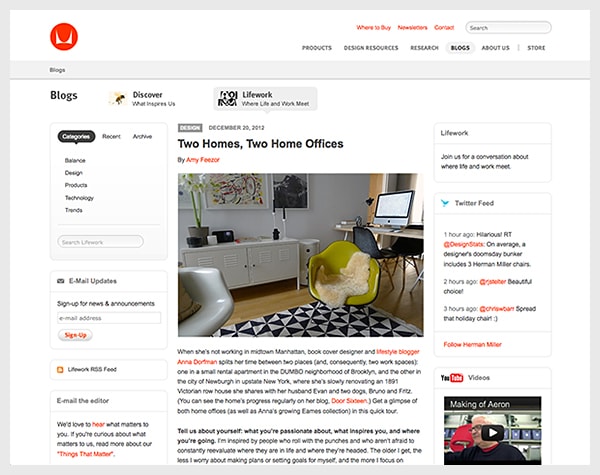 If you'd like to see a few more photos of this side of the apartment (as well as some new pictures of the office at the house!) and read a little interview with me about work spaces, head over to the Herman Miller blog. I'm so honored to have been asked to contribute to their Lifework blog! I think it's obvious to anyone who's seen any part of my house or apartment that I have a considerable number of Herman Miller products in my life, so this was a lot of fun to do. (Thanks for inviting me, Amy!)