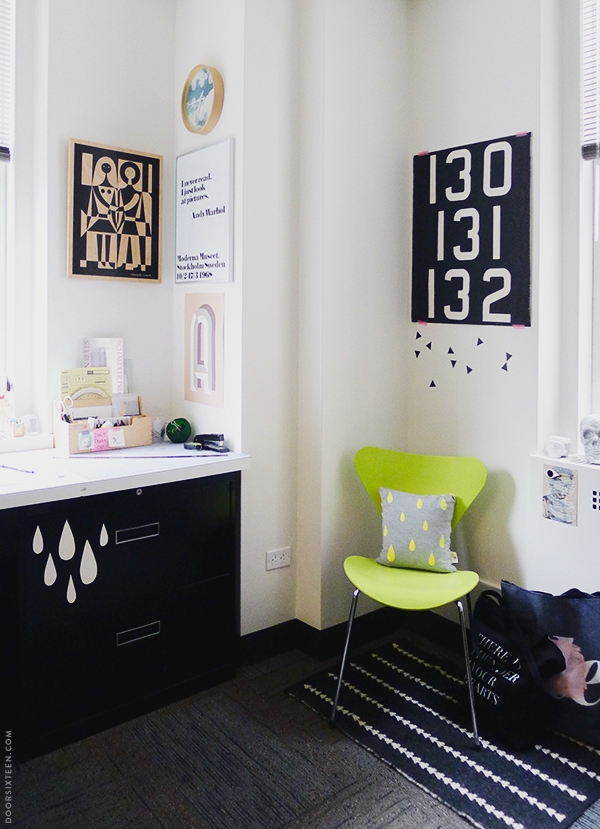 Considering how much of my life is spent at work, it's kind of funny that I've never done a post about what my office looks like. Whenever I'm invited by other sites to share my workspace, I feel a little bit disingenuous sending in pictures of my desks at the house and (former) apartment. I mean, truthfully: The "office" at the house has become Evan's music studio, and we don't even pretend to call anything at the current apartment an office, unless you're counting the sofa, which is where I do all of my blogging. No, my work happens in an office-office, one with bad industrial carpeting and a dropped acoustic ceiling and fluorescent lights and all of the other stuff nobody is particular interested in looking at pictures of.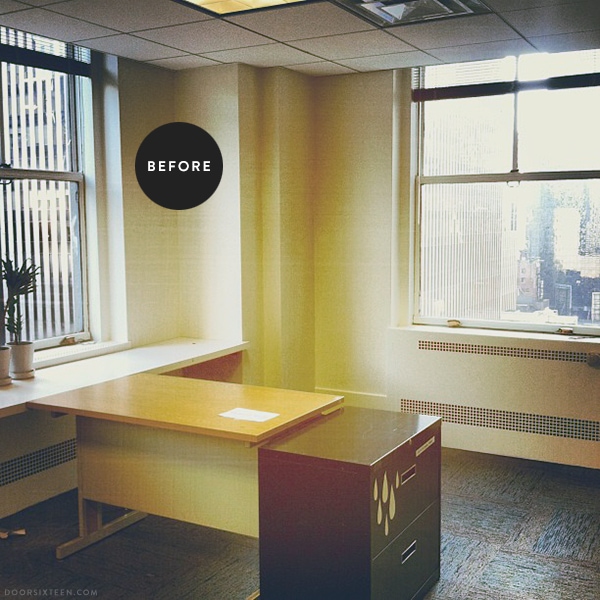 Last summer, after 15 years spent working in the same spot in the same building (with most of the same awesome people), the entire art department was moved up one floor. Same building, same corner, but 20 feet higher. Aside from the joy that came from sifting through 15 years of accumulated junk and throwing away 75% of it, I decided to commit myself to turning my new workspace into a place I like to walk into every day.
I don't have an office with walls. All of the designers in my department sit in a big, open room—that was our choice. We like to be able to talk, and we like to have tons of light. The light, of course, is the best thing about this office—it's a landmarked building (one of the original art deco Rockefeller Center structures, completed in 1939), and that includes the enormous, steel-framed windows. Windows that open, mind you, though I don't necessary recommend doing that on a windy day when you're 14 flights up!
Anyway, because I work in an open room with other people (and other people's stuff), It's a little tricky to take pictures that show all of my space. I promise I do actually have a computer and a chair and a phone…and a very full inbox.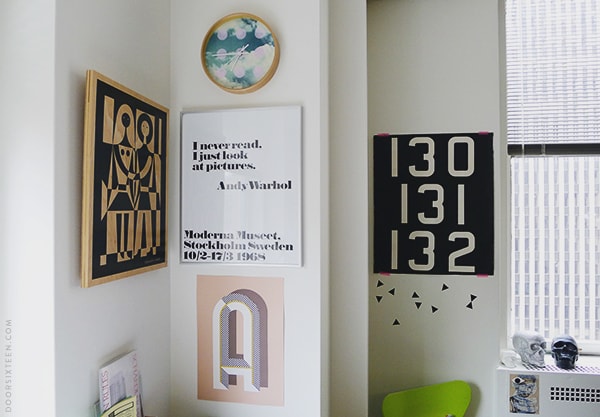 I don't think there's any way to fight generic office blah other than with bright colors and things that make you happy every time you look at them. "Elegance" is tough to pull off in this kind of environment, and I don't even bother trying.
Over in this corner, I have an Alexander Girard PLYprint (these were issued by Columbia Forest Products in 2009, and sadly discontinued very sooner after), a bent-plywood "Clouds" clock from my own K IS FOR BLACK shop, a bootleg Andy Warhol poster (more on that in a minute), a letter A print from Ferm Living, and a vintage bus roll that I found at Three Potato Four.
So yeah, the Andy Warhol poster! Hah. If you read Scandinavian design blogs and frequent Swedish real estate websites, then you know that these Warhol posters—part of a series of reprints from a 1968 exhibit at Moderna Museet—are apparently issued to all Swedes along with their birth certificates. In the US, however, it's next to impossible to get your mitts on one! I had dreams of buying one when I was in Stockholm, but the closest I was able to get to Moderna Museet was taking a longing photo from a window in a building next door.
So I decided to be a loser jerk and make my own. The real thing wouldn't have fit in this spot anyway, and since the sentiment is pretty much the most perfect thing to be on a book cover designer's wall, it had to happen. I knew what font they used for the poster, so…OK I'M ASHAMED. A little. But it's not like I'm going to sell them (and no, I won't send you the digital file), and if I ever do have the opportunity to buy a real, full-size one from Moderna Museet, I definitely will. Then I'll hang that one in in my house, and keep the bootleg miniature at work.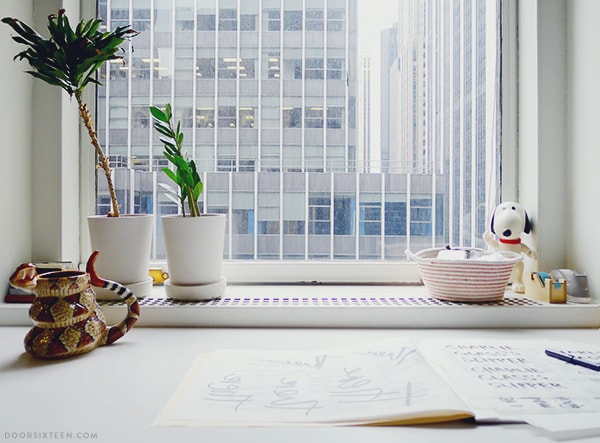 This part of my desk is usually completely covered with book cover comps, but I had to move them all out of frame since they're for titles that haven't been approved yet. The work you see there is what became the hand-lettering for this book (just approved yesterday, yay!). My vintage Snoopy came from Three Potato Four, and the snake mug…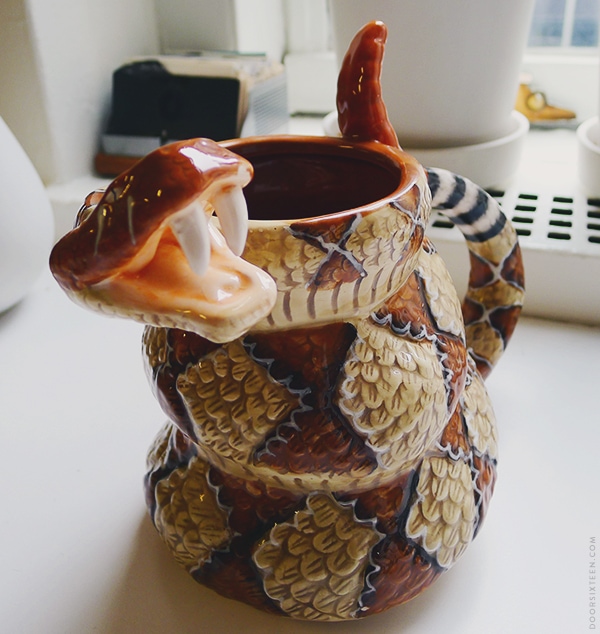 I LOVE MY SNAKE MUG!!! If you're a fan of Craig Ferguson (and you should be), then you know Craigy is never without his trusty rattlesnake mug. I bought mine on eBay, and it's identical to Craig's—with the exception of the gold tooth, of course, which is a Late Late Show props department customization. (Weirdly enough, the snake mug sold by the CBS store is clearly not the same one Craig uses, which confuses me—but I'll drop this subject now since I suspect it's not very interesting to anyone but me…)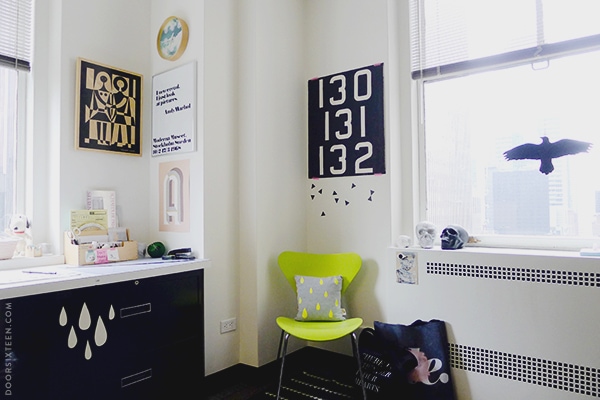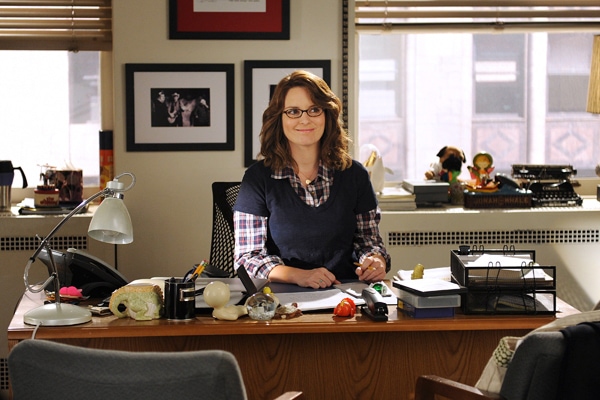 Photo by Ali Goldstein/NBC
In case you ever wondered if 30 Rock was filmed on location, the answer is…actually, I have no idea (Update: It's not—thanks, Bethany!), but if it's shot on a sound stage, someone did an amazing job with it. Every time they showed Liz Lemon's office, I had to smile at the 1930s radiator covers—the same ones are in every office throughout all of the old Rockefeller Center buildings. Same old windows, too.
I put those raindrops on my filing cabinet a few years ago, and they still make me happy. They're just cut out of white paper with adhesive on the back, nothing fancy. The chair is an Arne Jacobsen Series 7 in a discontinued, terrifying shade of acid green that I love. I found it in the hallway in a storage pile during a company-wide office cleanout years ago, and I grabbed it. It still belongs to the company, of course, but I like having it in my area. The cute raindrop pillow and the triangle wall stickers are from Ferm Living.
I suspect I may be the only person working here with their own rug. It's the same Nate Burkus Arrowhead rug (discontinued, alas) that I have in my dressing room, but in a smaller size. I would've gone bigger, but then my rolling chair would be getting caught on it. Office carpet is almost always a depressing thing, so it's nice to have a tiny corner of happy floor covering to take the edge off. The bird hanging in the window is an Icelandic Krummi (raven) coat hanger designed by Ingibjörg Hanna Bjarnadóttir.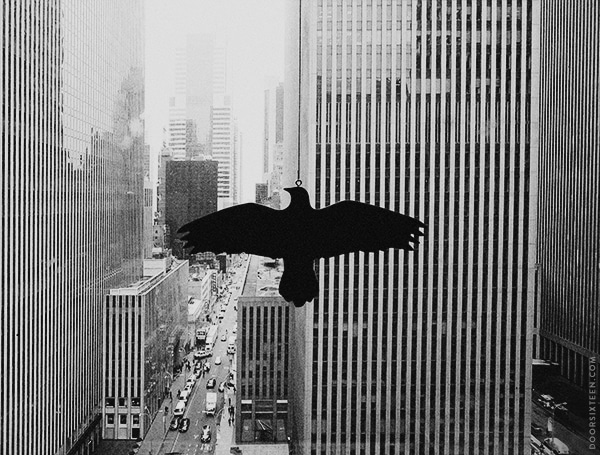 If you follow me on Instagram, then you've probably seen a lot of pictures of this view! My window overlooks 6th Avenue, and I've been documenting what I see out there during every season for the past 16 years. Here's a compilation of some from 2013…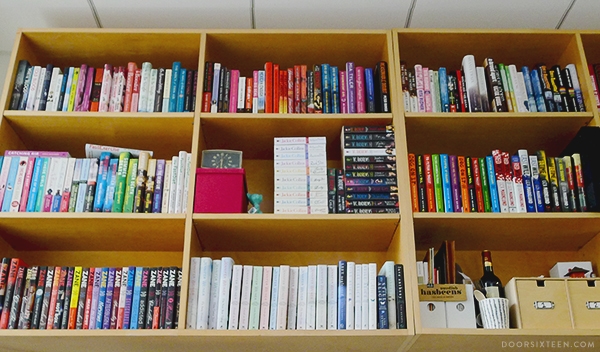 BOOKS! I can't keep every book I've designed, obviously, but I hang on to the ones that are in series—multiple titles by the same author—since I often need to refer back to them later. (If you're interested in seeing some of the covers I've worked on, I have a portfolio site.) Speaking of which, I have strict rules about books at this point. I don't take ANYTHING home with me from work unless I really, really want to read it. I've already read most of what I worked on when it was in the manuscript stage, and if I start taking home every book that catches my eye (and there really are books EVERYWHERE when you work at a publishing company—it's amazing), there will be no more room for people or dogs in my house. I cracked down about 10 years ago, and I'm glad. I love love love books, and (contrary to the Warhol quote) I really do love to read a whole lot, but there are limits.
And on that note, it's FRIDAY, and I'm outta here! Have a great weekend!