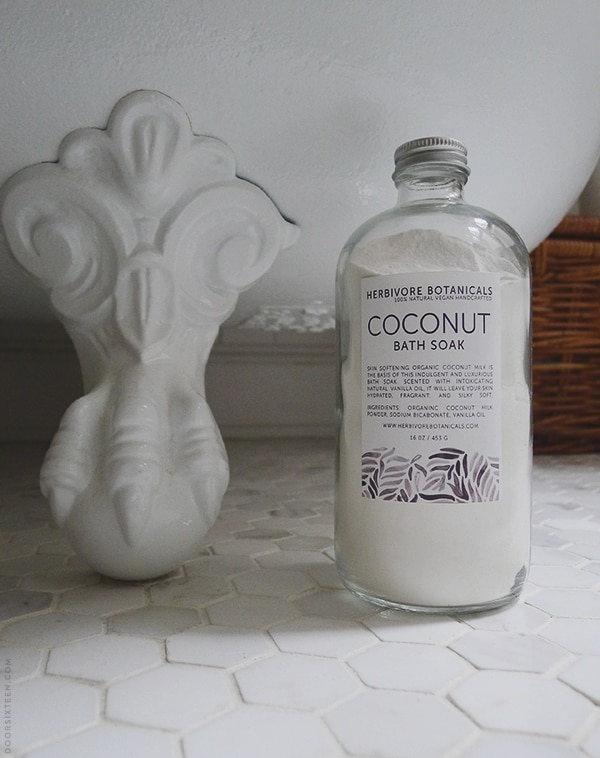 For much of my adolescence, I lived in a house without a shower. The house was built in 1820, and when indoor plumbing was added, a bathroom was built on the second floor. It had a toilet, a chrome-legged sink, and a cast iron pedestal tub. My mother, two of of my sisters and I took turns taking baths every morning. The tub didn't have a spray handle, so we kept a big plastic cup next to the tub for rinsing shampoo out of our hair with clean water. I'm not going to romanticize things: It sucked. It made getting ready in the mornings a huge hassle, and it sucked. I loved staying over at friends' houses so I could take a real SHOWER. (And also so I could eat microwave popcorn and watch cable TV.)
When I was 16 or so, we got one of those shower enclosure conversion things, and life immediately got better. Showers! Every! Day! So! Clean! And do you think I ever took a bath in that house again? HELL NO.
Anyway, that was in 1991. Fast forward 17 years to 2008, when we were renovating the downstairs bathroom. Taking that shower out of commission meant that we were limited to taking baths in the upstairs bathroom for however many months (six…) it took us to finish the renovation. Fortunately we do have a hand-held sprayer so no plastic rinsing cups were necessary, but let me tell you…taking daily baths as part of regular grooming and personal upkeep is one thing, but bathing after a long day of demolition and sweaty, dirty renovation work is quite another. One bath to get the grime off, another bath to get the dirty water off, and then a cleaning session to get the haze of grime off of the tub. There was no lazing about in mounds of bubbles while listening to Mets games on the radio with the window open. No, none of that. All business, no pleasure.
So, naturally, once the downstairs bathroom renovation was complete and the shower was back in order, I quit baths like a bad habit. Until last month, I think I'd taken a grand total of maybe five baths in the past five years. How pathetic is that? We put all of this hard work into renovating the bathroom and spent a bunch of money having the clawfoot tub refinished, and I'm not even taking baths in it?!?!
Well, that's all changing now, and you know what the incentive was? No, not a desire for relaxation, but packaging. Beautiful, minimal packaging from Herbivore Botanicals, who I first discovered via their Etsy shop. Seattle-based Julia and Alex started Herbivore Botanicals three years ago, and everything in the line is totally vegan and completely natural. Now, I don't want to stereotype too much here, but as someone who is increasingly doing a lot of shopping in health food stores' cosmetics aisles, I can tell you that "vegan" and "natural" are not usually words that I associate with incredible packaging design. And that stuff matters—it matters to me as someone who cares about design, and it matters when it comes to the perception of animal-friendly and natural products as being part of the world of luxury skin care.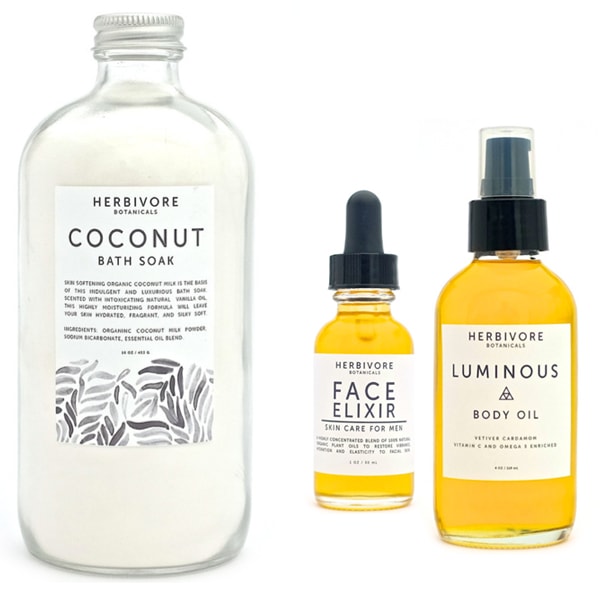 Let's talk about that Coconut Milk Bath Soak. It's amazing. It doesn't make bubbles or anything like that, it really is a soak. It has the most gentle, calming coconut/vanilla scent imaginable—not like one of those gross, chemical-y "birthday cake"-scented bubble baths. It doesn't make the tub (or you) weird colors. After getting out of the tub, my skin feels so super-soft…not coated or oily, just soft and fresh. There is a subtle fragrance that lingers, but it's nothing that would interfere with another perfume (if you're into stuff like that). The Coconut Milk Bath Soak has turned me into a bath devotee. I am committed to taking baths in the evenings on weekends now!
I bought a couple of other products at the same time as the bath soak—Vetiver Cardamom Luminous Body Oil for me, and Men's Face Elixir for Evan. We love them both! I use the body oil almost every day now, right after I get out of the shower (or bath). It's much more viscous than body oils I've used in the past, so I do need to apply it while my skin is still warm. It's done an incredible job of keeping my legs from turning into crocodile skin this winter. The cardamom vetiver scent does linger for a while, but it's exactly the kind of warm fragrance I love when it's cold out. When the weather gets warmer, I'll probably switch to the Neroli Blossom version. Evan really likes the Face Elixir! He uses it every night, and was able to give up the very unnatural nighttime moisturizer he'd been using previously.
I have to admit that after having struggled for so many years to find a facial skin care routine that really works for me I am hesitant to change anything about it. I don't think I can walk away from my prescription medications without my skin freaking out (the emotional distress of adult acne is something I've discussed before, I won't get into it again now…), but I am going to try to phase out the other products—and phase in more natural, animal-friendly ones. I'm going to start by ordering the Pink Clay Soap and see how it goes. My skin is far too dry and delicate for anything like the Bamboo Charcoal.
How about you? Are there any natural, vegan, non-irritating face washes you'd like to recommend I try? Preferably ones that work well with a Clarisonic (not all cleansers do)—and bonus points if the packaging is nice. Of course.