I dream in sofa, seriously. I've been obsessing over finding the perfect sofa for well over a year now, and I'm determined to settle on something before the end of 2007. I don't want to end up like David Segal in this episode of This American Life (Act 3, "Looking for Loveseats in all the Wrong Places"). The agonizing must end! (Opinions and suggestions welcome.)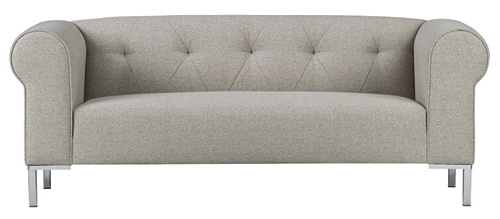 Chet from CB2 ($899)
Pro:
→ very inexpensive
→ nice seaming on the tufted back
Con:
→ have never seen/felt in person (CB2 doesn't open in NYC until next month)
→ smaller than I'd like
→ how good can the quality be on a sofa that costs $899?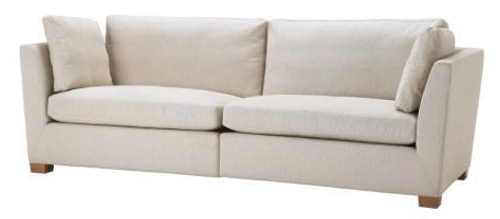 Stockholm from IKEA, Gammelbo Beige ($1299)
Pro:
→ extremely comfortable
→ the best construction I've seen on a sofa under $2000
→ big enough for 2 people to stretch out on
→ down-filled cushions
→ washable slipcover
→ perfect proportions (minus the legs)
Con:
→ the legs look stumpy
→ the fabric color is a bit warmer than I'd like it to be
André from Room & Board, Dilcrest Linen ($1599)
Pro:
→ tufting is cute, but not too cute
→ not too big, not too small
Con:
→ the legs are absolutely hideous
→ R&B is currently suffering some sort of fabric crisis as one of their suppliers closed, the result being a lot of discontinued fabrics and very, very long wait times for custom upholstery
→ quality is iffy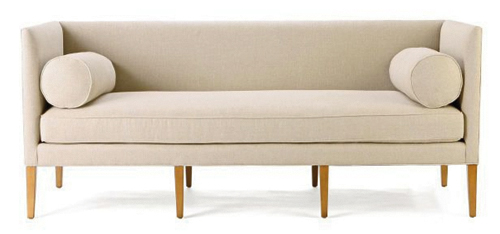 Ditte from Anthropologie, Linen Flax ($3498)
Pro:
→ perfect design, top to bottom
→ heavy-duty linen fabric
→ down-filled cushions
→ those legs!
Con:
→ that's a lot of money for us right now, especially considering the $300 shipping cost