My poor kitchen pantry! Just a few days ago it was looking cute, happily storing shelves of goods. Now it looks like this: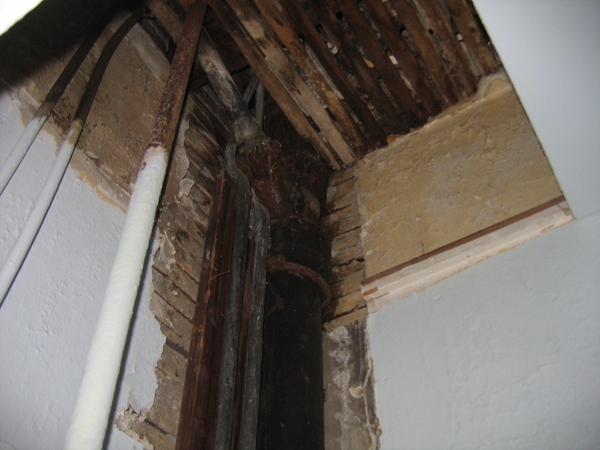 The old lead waste pipe (and all of the pipes, for that matter) coming from the upstairs bathroom (which still looks a lot like this) needs to be replaced, and because it runs through a chase in the back of the pantry (around which all of its shelving was built), it was necessary to demolish the entire pantry. Of course we will rebuild everything and make it more functional and space efficient than it was before, but right now it all feels a little bit sad.
Our plumber came by last night to assess the overall situation, go over our choices for bathroom fixtures, and formulate a game plan. He pointed out to us something we hadn't noticed—the lead drain pipe coming from the bathroom sink had been resting against the steam pipe leading to the bathroom radiator for many years, and over time the drain pipe had literally melted itself into a crescent shape wrapped around the steam pipe. Scary stuff! It's kind of amazing that there weren't leaks all over the place, but since we've never really used that bathroom, it's possible that we just never got a chance to have something horrible happen.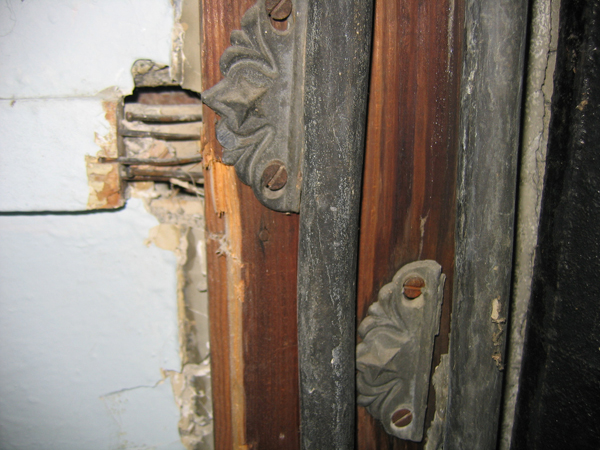 Some cool discoveries that came from our demolition are the decorative tin (?) brackets that were welded to the old lead supply lines to hold them in place. It's pretty wild to see the kind of details that were used in old houses for even the most mundane of behind-the-walls details!