A few days ago I was skimming through the Design House Stockholm website, and I came across these gorgeous "Bono" mugs designed by Catharina Kippel. Instantly overtaken by the perfection of the one with the droplet pattern in particular (I have a bit of an obsession with teardrop shapes), I grabbed the photo, posted it on Flickr, and started to agonize over the likely cost of shipping and VAT to get a set of these delivered to me in New York.
Shortly thereafter, Katie popped in to inform me that Crate & Barrel is selling all four of the Design House Stockholm mugs for a mere $10.95! HOORAY. Needless to say, I'll be stopping in to C&B tonight to pick up several.
More things that are making me happy today: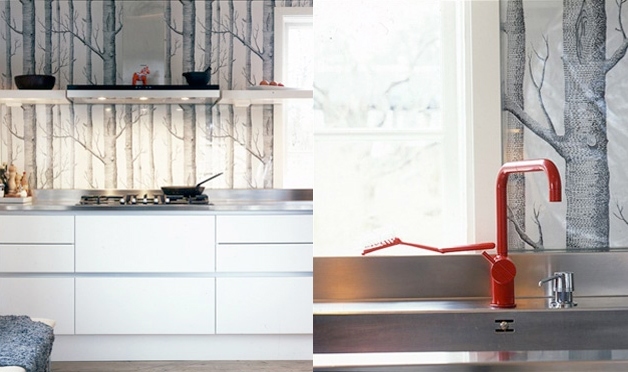 I love this kitchen by DAPStockholm (found via designsponge), with its red Arne Jacobsen faucet (part of the Vola line I love) and the Cole & Sons wallpaper (which I really expected to be tiring of by now, but I still love it). It reminds me of another favorite kitchen of mine.
I really do love red in the kitchen! Isn't it nice how everything starts to tie together after a while?
Also:
+ I've really been enjoying Alice's posts over at Peapods.
+ Camilla posted really beautiful photos of her morning walk yesterday.
+ It's almost the weekend!