A friend of mine asked me recently if I think that black walls are overdone at this point, having been featured in every décor magazine and interiors blog around the world for several years now. My answer was a resounding NO: I love a good black wall (I wrote about them a while back, too) and I'm not afraid to say it!
This is the black wall in my office. That's not paint, of course, it's Fir Tree wallpaper from Ferm Living.
From Scandinavian Style.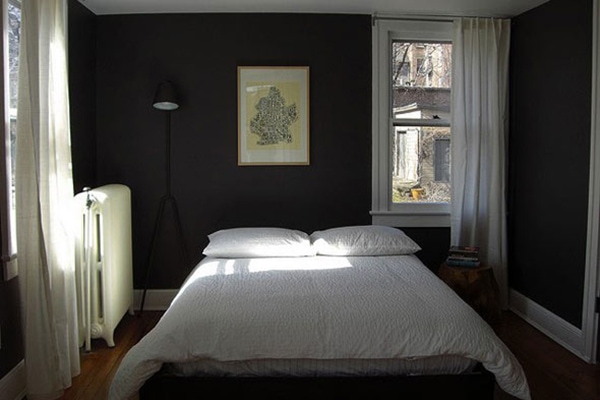 Photo by Heather McDonald. I love how the deep gray Mañana Lamp blends into the wall color.
At the Moormann Berge hotel in Germany (via Remodelista). PERFECT. Now, will someone please take the time to make that branch chandelier for me?
Black kitchen and bath at Harts Lane.
From LivingEtc. I wish I were brave enough to have an acid-green door in my life. Maybe in the apartment. Hmmm.
From LivingEtc. Will I ever get over the wonder that is Jenna Lyons' house? No, I won't.
L: Interior architecture and design by Philippe Harden; R: Home of Laura Aviva (via Design*Sponge).
Photo by Aaron Able at Apartment Therapy. Black paneling at Studio Aalto, Alvar Aalto's design office in Helsinki.
L: Source unknown (sorry!); R: From Sköna Hem.
From LivingEtc.
L: Interior by Rose Uniacke, photo by Andreas von Einsiedel (via Remodelista); R: Photo by Keller & Keller. That's actually a tall cabinet painted black on the left, but it reads as a full wall.
L: Ruthie Sommers' kitchen, from Domino magazine; R: Interior by Ilse Crawford.