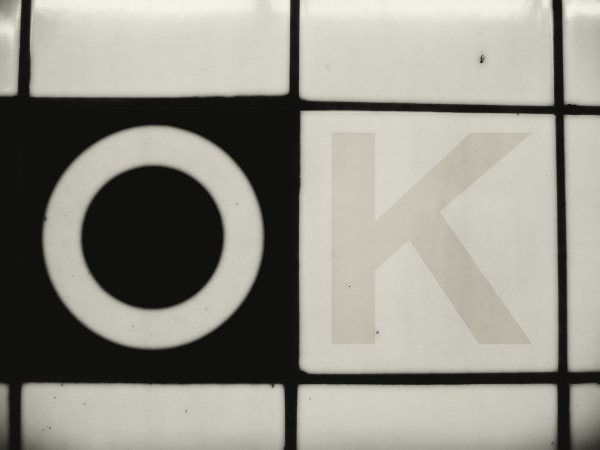 I've written before about the idea that at a certain point you have to accept that sometimes "good enough" is good enough when it comes to houses, but what about ourselves? What about our bodies? Is it OK to look at ourselves through the same kind of lens of reality and acceptance, or do we always have to strive for improvement?
I'm not one of those people who is super-comfortable talking about body image and weight and such, and I think my discomfort comes from not wanting to fall into that trap of narcissism and self-celebration that often follows those kinds of discussions—particularly among women. Honestly, I don't want to care about that stuff. I'd like to be above it. I wish I could just roll my eyes when I overhear women talking about their thighs or their weight or whatever and just get on with more important things.
The truth, though, is that I do care. I think most people do, even though some of us pretend not to.
The phrase "real women have curves" never fails to make me cringe. It's a horrible, demeaning thing to say, and the sad thing is that it seems to be used most often as a battle cry of solidarity among women who are, in fact, "curvy," and who believe that making this kind of proclamation is empowering. But what does it really mean? Does it mean that women who are thin or built with straight frames or have small breasts are somehow less "real"? The last time I checked, the qualification for being a woman is having two X chromosomes (and even that is up for debate, but that's another subject altogether).
Guess what? ALL women are "real" women. Even women with eating disorders or illnesses or glandular problems or fast metabolisms or depression or anything else than can change the shapes and sizes of our bodies in either direction. Making declarations about "curviness" being more "womanly" and telling thin women to "eat a burger/cookie/etc" (another phrase that makes me incredibly angry) does nothing other than further alienation and continue the cycle of making us all—regardless of size—more emotionally attached to the idea that our size determines our validity as human beings. In turn, it makes food, something meant to bring us pleasure and nourishment, into the deciding factor for whether or not we've met a certain standard of self-control.
So let's stop that, please.
I'm 5′6″, I weigh 150 pounds, and I usually wear a size 8 or 10. This is the size that I am when I am eating healthy, well-balanced foods in normal quantities. I have weighed as much as 40 pounds more when I was eating enormous portions of unhealthy, prepared foods, and I have weighed as little as 30 pounds less when I was meticulously measuring every morsel of food that entered my body and obsessing over calories and fat grams and fiber content to the point that I wound up not really getting much pleasure out of what I was eating. Neither option was healthy, but not because of my weight at either end of the spectrum—it was unhealthy because my body wasn't getting the things it needs in the right amounts to function properly.
Do I have to think about this every single morning when I get dressed, wondering if I've failed miserably at being exactly "perfect" in every way? Do I ever get to stop criticizing myself? Or is it maybe alright to trust the fact that I am smart enough to understand what it means to be truly healthy, and to prepare foods for myself and for Evan that are nutritious, satisfying, and enjoyable…without second-guessing myself the moment I step on a scale? Am I "good enough"? Am I OK?
This isn't a post about obesity or anorexia or even what constitutes a healthy diet. It's about stepping away from comparing ourselves to other people and using what we imagine to be "perfect" as a benchmark for accepting (and maybe even liking) what we already have. It doesn't mean you need to gaze at yourself in the mirror and give daily affirmations to your reflection and blather on about loving yourself. There is a middle ground of OK-ness, and that's a good spot to aim for.
If I can be alright with a missing piece of baseboard molding in my house, maybe I can also be alright with my turnip-legs and my Christmas ham-arms, too. Maybe.