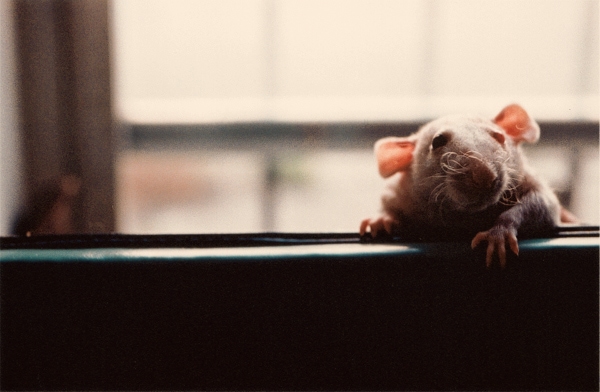 Oliver, 2001 // Photo by Patricia Katchur
Cute, isn't he? No, he's RIDICULOUSLY ADORABLE. That's my old friend Oliver, the last of 20 pet rats that have been part of my life. He died in late 2003. He was quite a character—a hairless rat with Dumbo-style ears, a white blaze on his forehead, curly whiskers, and mismatched eyes (one red, one black). I miss having pet rats. They really are like tiny dogs, disposition-wise.
My to-do list this weekend is limited to a few odds and ends around the city apartment that I've been meaning to take care of for a while now but never seem to have the time, along with the usual errands and such. I only wish the weather were a little nicer. We had a few spring-ish days for a while, but for the past week it's been quite cold again. There was even a bout of snow and hail a few days ago!
SATURDAY:
• change lightbulb in bathroom
• re-mount smoke detector
• grocery shopping
• clean apartment
• buy wood for the top of the fauxdenza
• manicure/pedicure
• freelance work
Okay, yeah, I cheated. I made a list of things I've already done today just so I can cross stuff and feel satisfied. Please, like you've never done that!
SUNDAY:
• laundry
• figure out whether to stain or oil the wood on the fauxdenza
• freelance work
• watch a movie
• freelance work
• freelance work
• go to bed at a decent time