Okay, first of all, I have to apologize to the French—and all other living humans—for unleashing the horrible, hybrid pseudo-word "fauxdenza" on the world. I actually Googled it before starting this post and got no results, so I know it's my fault if it actually catches on. Sorry!
I've been putting off taking photos of the main room of the pied-à-terre (wow, that's two French terms in one post! Fancy!) for almost a year now, mainly because I feel self-conscious showing stuff before it's "done". The thing is, though, showing these unfinished projects winds up being a good motivator.
So! Fauxdenza! We needed something credenza-like in the apartment for closed storage, but I wanted it to be off the floor and shallow. It's a one-room apartment, and being able to see where the floor meets the wall creates an illusion of space.
Enter IKEA kitchen wall cabinets! This configuration is three 24×30″ AKURUM cabinets with APPLÅD white doors. Each cost $52, so the entire thing was only $156. Not bad for 72″ of storage space! IKEA cabinets are really, really easy to hang—you just mount a single steel rail on the wall with the appropriate hardware (I managed to hit a couple of studs by chance, and used concrete anchors for the rest of the screws), then hang the assembled cabinets on the rail.
Including the doors, the wall cabinets are only 12 ½″ deep, so they really don't take up much space in the room. The bottom edge lines up perfectly with the top of the moldings, about 8″ off the floor.
Anyway, back to the "unfinished" aspect of this post…
The top. See, IKEA kitchen wall cabinets are intended to be hung higher up on the wall (obviously), so the top isn't really finished. There are visible screws, and of course there's nothing covering the line where the cabinets meet. That's why there's a table runner on it. For 10 months I've been meaning to do something more finished to the top of the fauxdenza (fauxdenza!), but I haven't had the motivation to really deal with it.
I'm 99% sure I want to buy a piece of the LAGAN beech wood countertop and cut it to fit. I can use the scrap to make a long shelf under the window, another project I've been putting off for almost a year now.
Just as soon as that lease is renewed…
(That huge ampersand? It's from Hindsvik. The great red bear print is by Sarah Edmonds at Banquet, and the cross pillow is from Brin & Nohl.)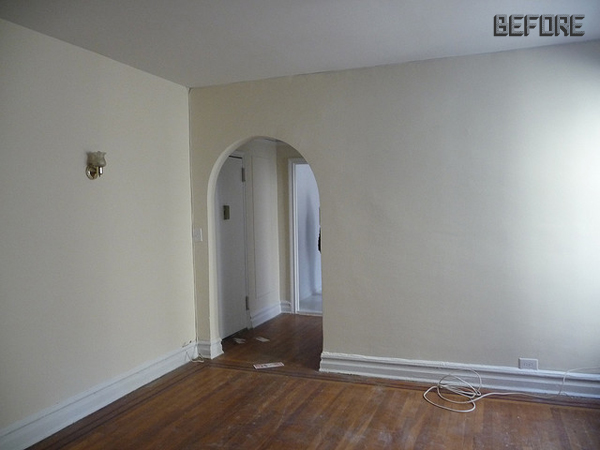 Just for fun, here's a before photo of the apartment. Amazing what the right white paint (and a sconce makeover) can do, isn't it?