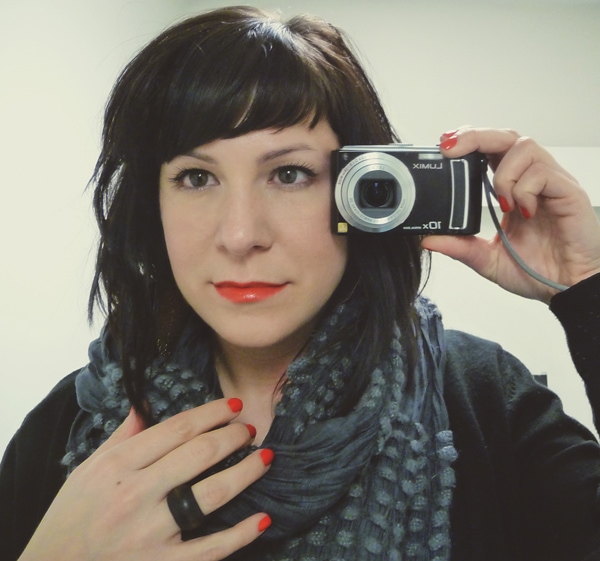 If you follow me on Twitter and you, like me, are generally home alone on Friday nights pretending to have a social life, then you may have read my pleas for advice on how best to color-match the amazing lipstick and nail polish colors in the November 2010 J.Crew catalog.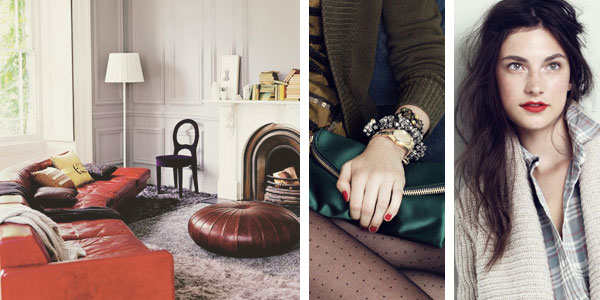 It immediately reminded me of the photo on the left, an incredible living room featured in LivingEtc that I've been obsessed with for ages. Hot-orange-red! Paired with neutrals! Love!
I'd read an snippet of an interview with Jenna Lyons a while back where she mentioned that they used NARS lip pencils in Red Square on their shoots, but after seeing said color in person, I ruled it out as a possibility for the lipstick. After noting that J.Crew sells Essie nail polish in Lollipop on their website, I figured that had to be the nail color.
After a serious misfire with MAC lipstick in Ruby Woo (a lovely color, but far too blue for my complexion and miles away from the inspiration photos), @ClaraJudgypants chimed in to say that she had contacted J.Crew (why didn't I think of that?) to ask about the colors, and that the nail polish is actually Essie Clambake and the lipstick is MAC Lady Danger. Now, I have a bottle of Clambake, and while it's definitely an orange-red, it's also semi-sheer. I love it during the summer, but it's not right for fall. To my eyes, Essie Lollipop is perfect—it's basically an opaque version of Clambake.
On to the lipstick! I'm not usually one to wear opaque colors (I almost always wear a sheer gloss, sometimes with a stain underneath), but I've really been trying to make Lady Danger work for me. I like the way it looks, but I feel really, really weird wearing it. I kind of feel like I'm in drag, to be honest, and as much as I love drag, I have a hard time pulling off this kind of look in a way that makes me feel comfortable. I'm trying, though! In these photos I've sheered it out just a bit with some gloss, because MAC isn't joking around with their matte lipsticks. They are Serious Business for Super-Ladies, and I am…not that.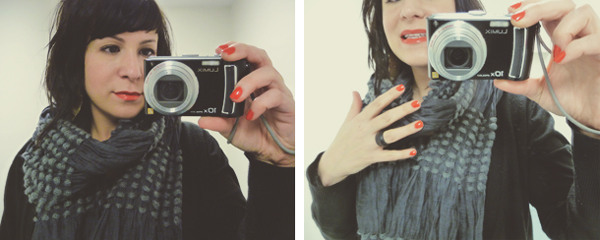 I can't resist throwing in a couple of "outtakes". I always feel like a super-loser when I take photos of myself, which is why I don't even bother trying to hide the camera. And now you know why I don't show my teeth when I smile. I've never learned how to do it right! I always wind up pulling a face like a 2nd-grader on picture day.