I keep wandering over to the Kiitos Marimekko website and obsessively adding things to my cart and then immediately removing them. Yes, I could just walk up to the actual store during lunch, but I suspect that repeatedly putting things on the counter and having them rung up and then putting them back on the rack right away might get me kicked out. Better to do these things online. In secret.
It's hard for me to commit to the price tags, though. I am ridiculously cheap when it comes to buying clothing (I hate shopping for clothes, especially in thrift shops or big discount stores that require effort/"hunting", so I tend to default to easy, boring, cheap places like H&M, Old Navy and Forever 21, which never winds up making me happy with myself in the long run. I basically have the opposite attitude about clothing as I do about décor…but I digress), but considering the last time I owned any Marimekko clothing was 30+ years ago*, I kind of feel like maybe I deserve it.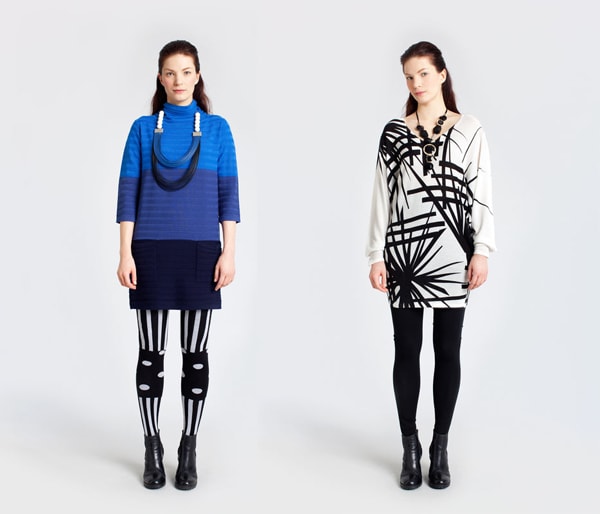 Reuna Dress, Palloraita Stockings // Riimu Sweater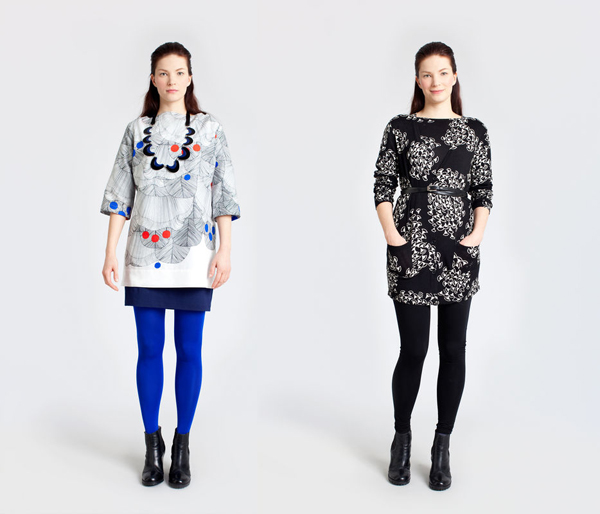 Onneli Kitte Top // Siila Tunic
I'm not really sure what the difference is between what they call a "dress", "top", "sweater" or "tunic", because they all look like they offer roughly the same amount of coverage, but I'd wear them all the same way—with leggings and boots. This is exactly the kind of shape I love in clothing.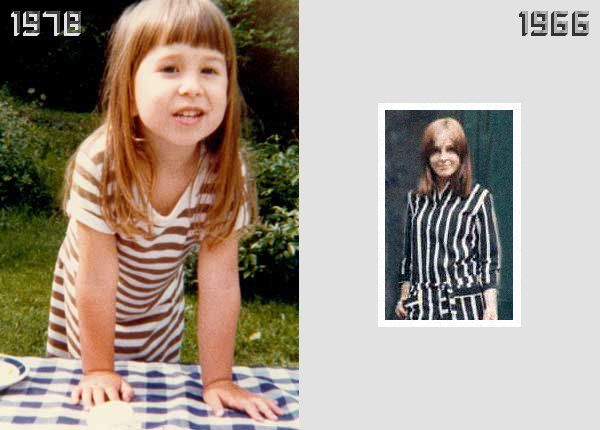 *Yes, that's me on the left, sporting a brown-and-white Marimekko nightgown…and the same unevenly-cut bangs I have today. The photo on the right (I know it's tiny and bad quality, but it's all I have!) is my mother. In an email to me yesterday, she wrote: "That same year I also used to wear an orange and black striped knit dress. And horizontally striped tights. I've always liked stripes." Don't you want to wear that exact outfit right now?! I know I do!
Now you see, this is evidence that no matter how hard you try to fight it, you will eventually become your mother. (Have I mentioned that my mother is a graphic designer?) When Mommy came over to my house last weekend for coffee, we had on virtually identical outfits: chunky-knit charcoal gray cardigans from H&M, black shirts, black leggings/skinny pants, and Frye "Veronica Slouch" boots (mine brown, hers red).
Maybe she and I need to go on a Marimekko unshopping-spree together. Then we can hem and haw over the clothes as a pair, wish we could have everything, then put it all back and walk out empty-handed. Sigh.