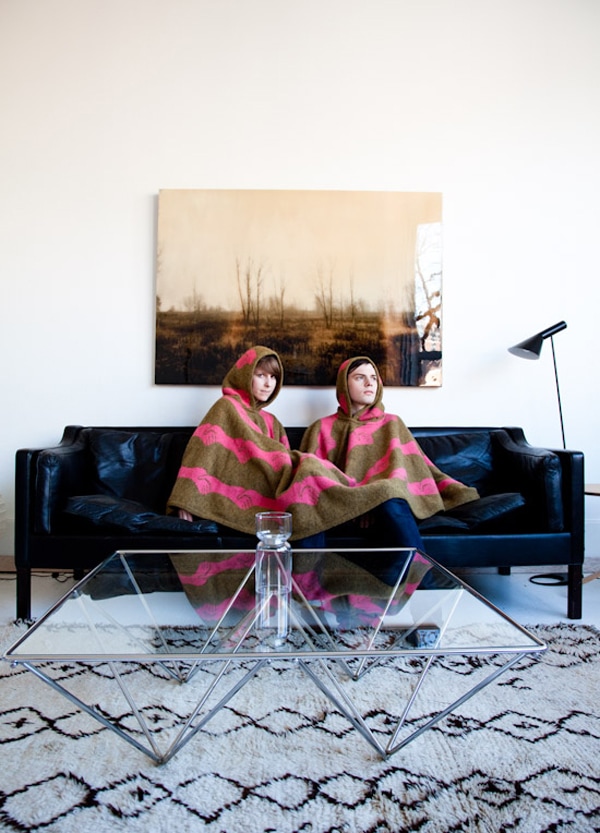 The Twosome Blanket by Vík Prjónsdóttir // From KITKA Design Toronto
Uhhh, so…I completely and totally forgot about my supposed "new category" for Fridays that I announced back in May. Like I said then, I'm not good with schedules or planning when it comes to blogging! This has been an especially good week for tweets, though, so without further ado…
+ Juli and John over at Mjolk Shop did a photo shoot for the blankets from Icelandic collective Vík Prjónsdóttir they're carrying in their shop now, and the result is both hilarious and sweet. I also really, really want a Sealpelt to wear in my always-chilly house this winter!
+ On the day after Thanksgiving, would you consider joining the Carnivalesque Rebellion and observing Buy Nothing Day?
+ Portland-based builder, designer and tinkerer Matt Pierce has a beautiful new blog, and it's called Wood&Faulk. (Check out the wooden crate headboard!)
+ The interview with Loretta Lynn on Fresh Air this week was phenomenal. If you missed it, you can listen online.
+ The new line of fixtures at Schoolhouse Electric is pretty great. (And look! It's Victoria's nook!)
+ This Arne Jacobsen sofa is pretty much the most amazing piece of upholstered furniture I've ever seen in my life. (via Hindsvik Blog)
+ Damn You Auto Correct! I seriously thought I was going to stop breathing and/or vomit from laughing so hard at these iPhone autocorrect FAIL screen captures.
+ If this clip of James Brown performing "Night Train" doesn't make you happy to be alive, then you might already be dead: