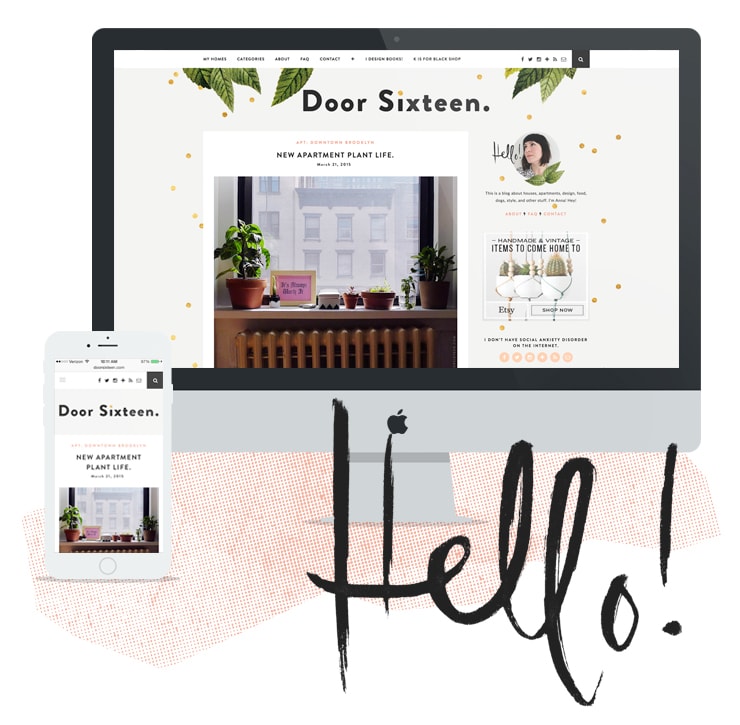 A redesign was long, long overdue here, and with the sale of the brick-and-mortar Door Sixteen pending (we are in contract!), it seemed like the perfect time to do some serious housekeeping.
So what's new? Well, aside from the obvious, I finally implemented a few features I'd been putting off dealing with for much longer than I should have.
✚ Bigger images! After many years at 600px, I've made the jump to 740px. That may not seem like much, but it makes a huge difference—especially with landscape photos.
✚ Responsive design! OK, I'll be honest, I don't really see how this makes any difference (who makes their browser windows that tiny?), but everyone else other than me says it matters, so there you go.
✚ Mobile version! Alright, it matters. I give in! I give up! I can't imagine wanting to read a blog on my phone, but I also can't imagine wanting to go to the beach, so what do I know. The mobile version is cute! If you're a phone-reader person…there you go. Happy now?
✚ Related posts! I should have done this a long time ago. I like it when blogs I read show related posts, so hopefully someone reading my blog will enjoy it, too—even if it means crappy, poorly-lit photos from 2007 showing up from time to time. (Did I really not understand white balance at all?)
✚ Subscribe to new posts by email! It's always been possible to do this via my RSS feed, or any of the various feed readers out there (Bloglovin', Feedly, etc.), but now there's a subscription box in the sidebar. I chose to link it up with Bloglovin' since that's what I use to read blogs, but you do you.
✚ Better categories! I think they're better, at least. They're up there, in the navigation bar at the top. I went from like 9384092384 categories to around a dozen, which was really hard. I also grouped my posts from all of the apartments I've lived in into discernible chunks, so now if you only want to look at posts about Brooklyn Apartment #5, you can do that. (Do you think the categories need to go in the sidebar, too? Does anyone still use category-based navigation to read blogs? Who knows!)
✚ Post excerpts! I'm sure some of you won't like this, but aside from the most recent blog post, everything is displayed as a very brief excerpt with a thumbnail image. I swear this isn't about trying to get more clicks (I don't have any ads on my blog that benefit from extra clicks, FWIW), it's really about trying to make it a little easier to slog through the archives. My posts tend to be on the long side and have a lot of large images, and scrolling through a page of full-length posts can be tedious—not to mention the page load time. I thought about putting a "read more" link in the middle of every post, but that seemed annoying/teaser-ish and maybe confusing? With the little excerpt, you know from the outset that you're going to have to click a link. Anyway, this means there are now TWELVE posts on each archive page instead of five, which is cool if you want to, say, scroll through inspiring interiors quickly and look for something that catches your eye. I would LOVE to hear your feedback about this format. It's a test, and we'll see how it goes. I really just want the blog to look nice and clean and be easy to navigate.
I think that's it! I hope you like the new look and the new features. Let me know what you think! If there's something else I can do to make the experience of reading Door Sixteen more enjoyable, please share. Likewise, if ANYTHING seems glitchy or weird or broken or wrong or anything other than right, TELL ME. I'm sure I overlooked something, or possibly many somethings.
Credits:
Theme: Florence from Solo Pine (FYI, Solo Pine's themes are super-flexible and modification-friendly!)
Header & title font: Brandon Grotesque, designed by Hannes von Döhren (This is the same typeface I've been using on my blog post graphics since 2010—it's so nice to have everything matching, finally!)
Body font: Lato, designed by Łukasz Dziedzic
Leaves: Taken from 18th-century botanical illustrations by Pierre-Joseph Redouté
Hosting: I've been a happy Dreamhost customer since 1998