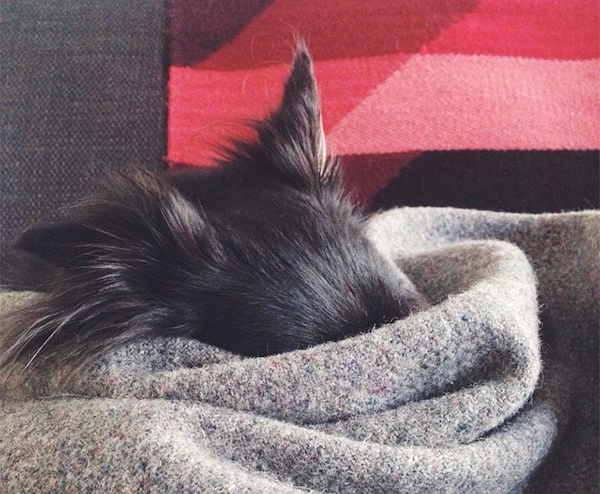 I know, Fritz. Bloggers talking about blogging make me want to bury my head in a blanket, too.
It seems like a lot of bloggers have been writing "What the hell am I doing here with this blog in 2015?" posts lately, and…I get it. Once upon a time, blogging was journaling. And then journaling became blogging, which eventually turned into a job for some people, and then came Twitter, which was like blogging but way easier, and then came Instagram, which kind of started to make blogging on a blog seem, well, almost obsolete. I'm told that there's something called Pinterest taking away from the value of blogs, too, but I don't know anything about that.
But you know what? I still really love blogging. After 17 years, it still feels like a fresh format to me, and maybe that's because of all the things that have come along since those heady early days of LiveJournal. I've never had a grand vision of what I want my blog to become, which is likely the reason why I haven't thrown up my hands in frustration and walked away. That said, my lack of a grand vision (and this is something I tend to lack in my attitude about life in general, not just blogging) means that I sometimes question why I'm posting (or not posting) something on such a myopic level that I wind up saving draft…after draft…after draft. Weeks pass, seasons change. Drafts stay drafts.
I've always said that I won't post about anything unless I feel a compelling desire to, and that I won't let the potential for blog content dictate choices I make in my off-blog life. Both of these things are still true, and while I don't like to throw around the word "never" too lightly, I can come pretty close to using that word here. So, if I'm not posting about projects at my house, it's not because I'm a lazy blogger or because I don't want to share, it's because I'm not doing any projects at my house. The biggest complaint (if you can call it that) I get from D16 readers is that they want to see more of that kind of stuff, and I get that, but…that well has kind of run dry, and I'm not going to dump a bunch of water into it and pretend it came from the earth. (OK, time to leave that metaphor alone.)
ANYWAY. I need some structure. I need a bigger focus. The words "editorial calendar" kind of give me the creepy-crawlies in the same way that "water feature," "window treatments," and "feature wall" do, but I kind of think that maybe possibly an editorial calendar might be the right thing for me. For this blog. And, hopefully, for you, the reader.
Here's what I'm thinking:
Mondays: Yeah, I could live there (other people's houses)
Tuesdays: Greed (stuff I want)
Wednesdays: Vanity (fashion/cosmetics)
Thursdays: Work (graphic design-related things)
Fridays: My photos from the week
Sticking to this calendar, even if a bit loosely, doesn't mean that there's no room for any additional content, it just means that what falls outside of these guidelines would be…a bonus, I guess. Or just super irritating, if you're one of those people who likes to read blogs because you don't like the blogger. Haha.
Let's see how it goes!