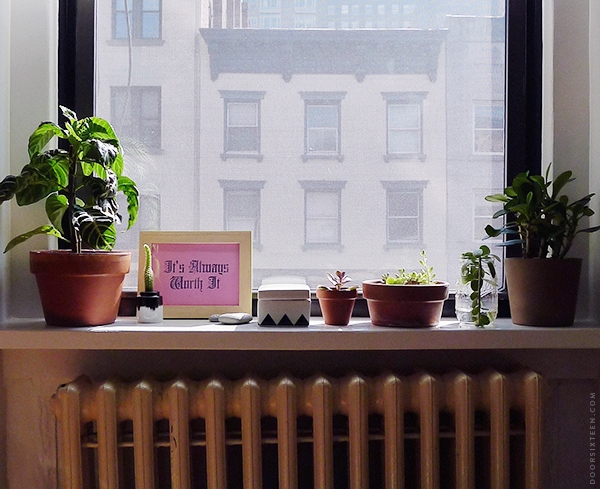 I have a really poor track record with house plants. The air plant that kind of freaked me out? Dead. The jade plant I was "determined to not kill"? Dead. The gorgeous, lush, fiddle leaf fig tree that thrived for almost three years in my dressing room? Dead, dead, dead. (Yes, that last one is particularly tragic, and exactly why you need to make sure your fiddle lead fig tree isn't too close to a radiator during a very cold winter. Sigh.)
It wasn't without a good amount of trepidation that I decided to invest a fair sum of money in buying a WHOLE BUNCH of plants for the new apartment. The daylight here is perfect, though, and the deep windowsills really lend themselves to plant life. So, with a fresh attitude and about $150, I went for it! I bought a few plants at IKEA and Home Depot, but most of them came from Adams Fairacre Farms in Newburgh. If you live in the Hudson Valley and somehow don't know about Adams (they also have locations in Kingston, Poughkeepsie and Wappingers), you're missing out big time. Aside from having an awesome produce department and a full-service grocery store, Adams has a plant/nursery department that never lets me down. They have a great selection, reasonable prices at all times, and excellent seasonal sales. (They also have a great refund policy for any perennials that kick the bucket, so save your receipts.) Anyway, enough about Adams—I've been going there since I was a kid, and it's fab.
Plants pictured above, left to right: Zebra plant, tiny cactus (that's the scientific name, haha), assorted succulents, trailing jade (it broke off in transit and I'm letting it grow roots), crown of thorns.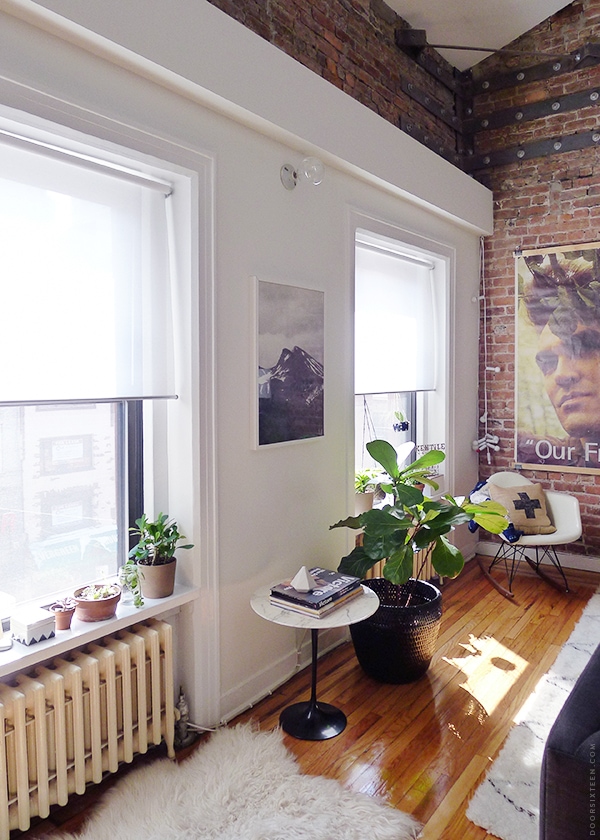 I've had this fiddle leaf fig tree for a while now. It was really small (also: cheap) when I bought it…maybe a year and a half ago? It would probably be bigger than it is now if I hadn't been so stupidly lazy about getting it into a proper pot. I had it in its plastic starter pot until a month ago! The woven bamboo pot it's in now is a larger, black version of the PARANÖT pot from IKEA—it's not on their site, but I'm pretty sure they still carry it.
And hey! There's my Morrissey poster that's been going everywhere with me for the past 24 years. The leafy branch over his head is right at home in the new apartment!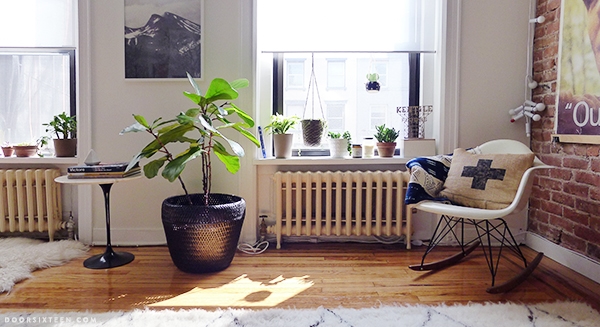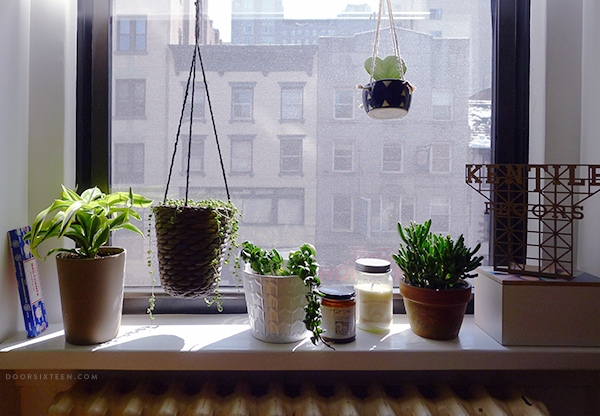 Left to right: Dracaena, string of pearls, hoya rope plant, hoya heart plant (hanging), spoon jade.
The hanging basket is the DRUVFLÄDER from IKEA, and the sweet little ceramic hanging planter is from Small Spells. I am still grieving Brooklyn's loss of the Kentile sign last summer, but this laser cut chipboard model from Boundless Brooklyn is a nice daily reminder of its place in my heart.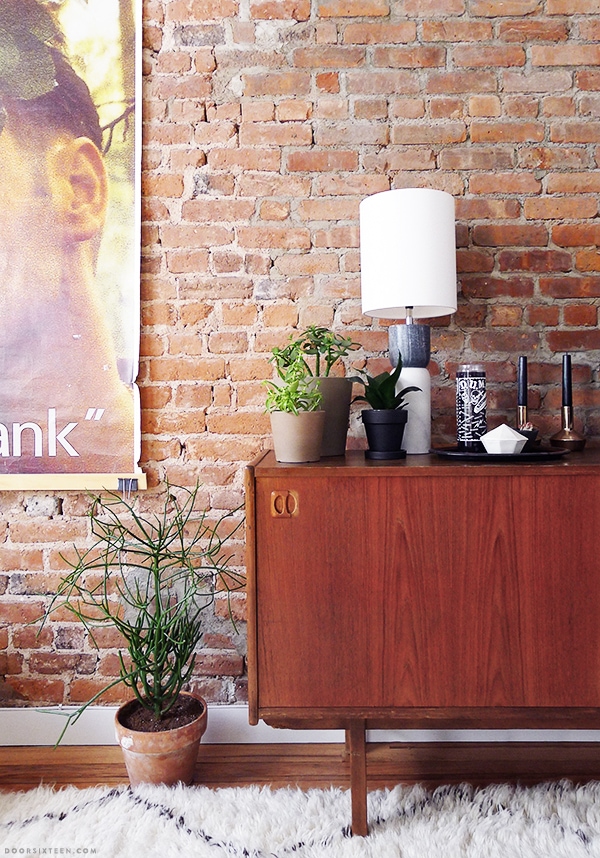 Before I talk about the plants, can I tell you about my new lamp? It's the stacked marble table lamp from CB2, and I love it. CB2 has been killing it all over the place lately, especially with lighting (please buy this sweet pink glass and marble lamp and think of me, because I want it but have nowhere to put it). For some reason I wasn't expecting the lamp to be this big and HEAVY (who knew solid marble would be heavy…), but I'm not complaining.
OK, plants! Left to right: Pencil cactus, something I can't identify, jade plant that's recuperating after being moved from the old apartment, black robusta snake plant.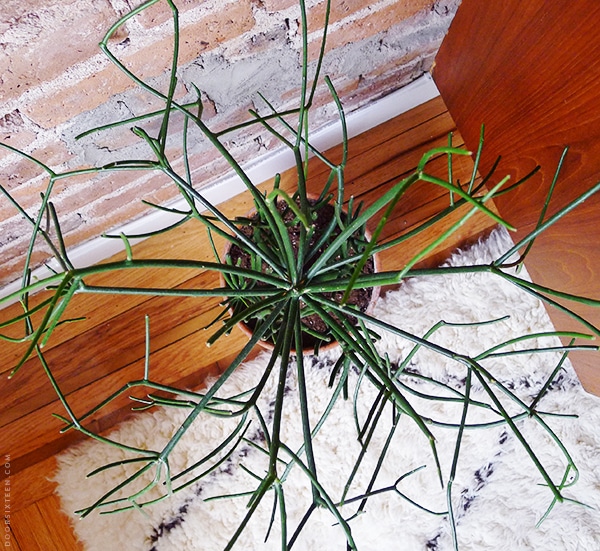 I'm obsessed with the pencil cactus. It looks like a crazy monster and I really hope it doesn't die.
PLEASE NOTE: Apparently a pencil cactus isn't actually a cactus, and it's also super toxic to people and pets. I'll be moving mine out of reach of my pups. (Thanks, Katrina!)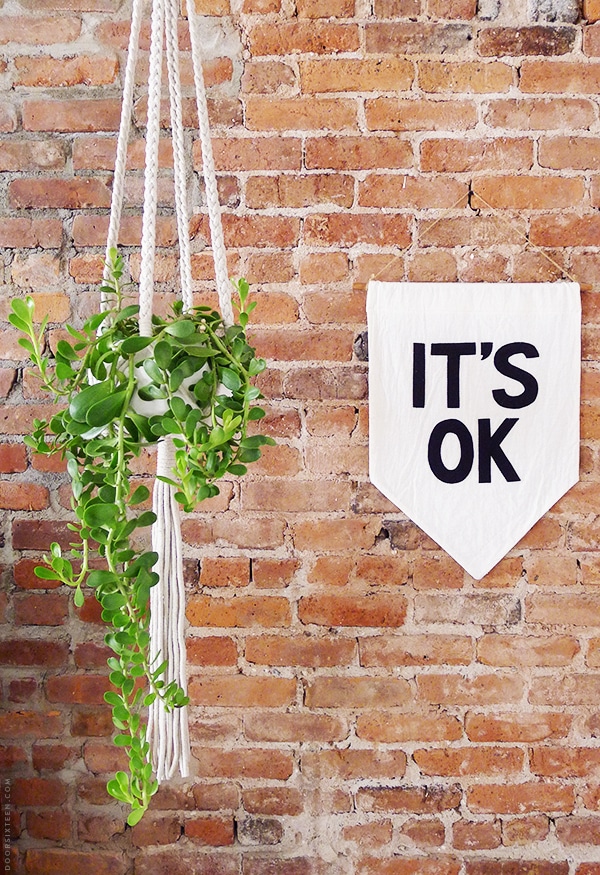 I think my favorite of the new plants in my life is this trailing jade vine! It's doubled in size in the past month, so I'm pretty sure it likes living with me. I bought the macramé planter holder and the faceted pot (now totally obscured by the plant, but oh well) from CB2 at the same time as the lamp, and both are pretty perfect. I've never had any macramé in my life before, but it feels good.
The banner is from Secret Holiday & Co. It's OK!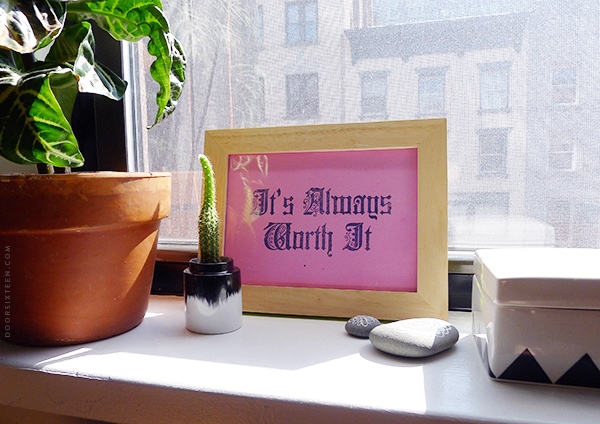 Such a happy little spot! The teeny cactus pot is from Normann Copenhagen, the print is by Lisa Congdon, the rocks were painted by Diana Fayt (sweet tokens from Lisa and Clay's wedding), and the ceramic box is from J.Crew Home.