Yes, this is what you think it is: Another new apartment. Another move.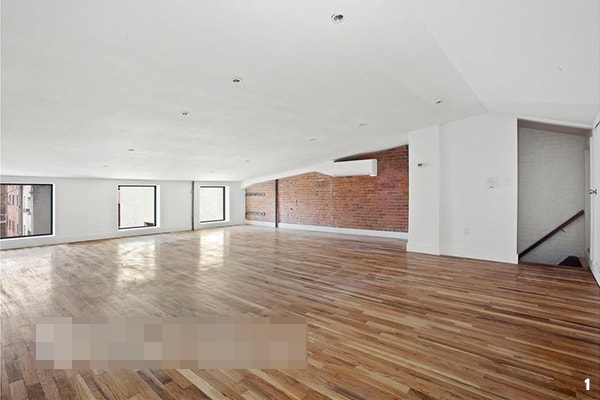 I did a mental count this morning of how many apartments I've rented in the past 20 years, and I came up with 10: Yonkers, White Plains, Brooklyn, Brooklyn, Brooklyn, Beacon, Manhattan, Brooklyn, Brooklyn, and…Brooklyn. That seems like a lot of apartments, I know. And it is, especially when you consider that we took four years off from renting entirely when we were commuting from our house in Newburgh to work every day.
There's always been a reason for moving when it's happened, though—it's not like we're just really into packing. The last time we moved (almost two years ago now, though it doesn't feel like it's been that long), we really, really thought it was going to be the last time for a good, long time, and it's disappointing and frustrating for that not to be the case since there was (and is) so much that we really love about living there. Without getting into specifics, we've been dealing with some pretty serious problems with our apartment for the past year (which I now see is how long it's been since the last time I even mentioned the apartment on the blog, interestingly) or so, though, and as hard as we've tried to resolve them, sometimes you just have to figure out how to improve your well-being and move on. Literally.
We started looking for a new apartment about six months ago, and as much as we knew it was going to be tough to find something we could afford in our neighborhood, I don't think we were prepared for just how few apartments would be available at all. We expanded our search a further south, further east…anywhere in Brooklyn that would still be a relatively easy commute for both me and Evan (who accepted the fact that he might no longer be able to walk to his office in DUMBO). We met with lots of nice brokers, saw lots and lots of apartments that were either too big, too small, too expensive, too noisy, or too terribly renovated.
I knew eventually something would come up, and since we had the luxury of time on our side, we passed on everything that wasn't just right. Finally, on my birthday, we found our new apartment! And it's only three blocks (!!!) away from our current place!! We'll technically be right on the border between Brooklyn Heights and Downtown Brooklyn (right now we're on the border between Cobble Hill and Brooklyn Heights), but what's the difference? All of the subways are right there, the grocery stores are awesome, Evan can still walk to work, and most importantly, it's still the part of Brooklyn that I've known and loved for the better part of two decades now. It's familiar to both of us in the best ways.
We aren't moving in for a while, so in the mean time I'll be looking at the realtor's photos and trying to mentally plan everything out.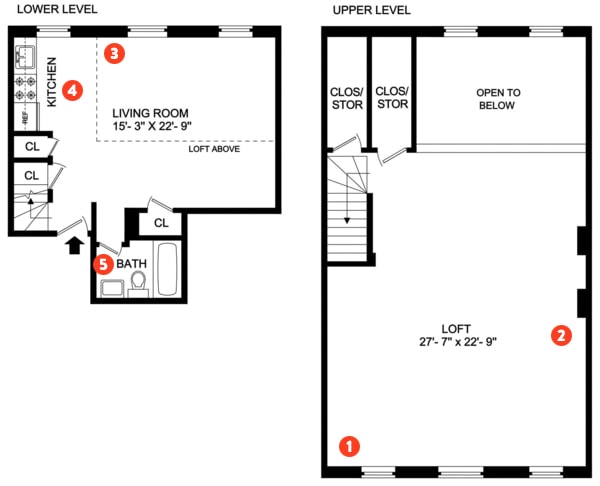 I'm terrible at making floor plans, but the listing for this apartment actually included one. Fancy! It's a little hard to tell what's what in the photos, so I marked out the general areas shown with numbers on the floor plan. It's divided into two levels, with the kitchen, bathroom and a small living area on the first floor, and a large lofted area on the second floor.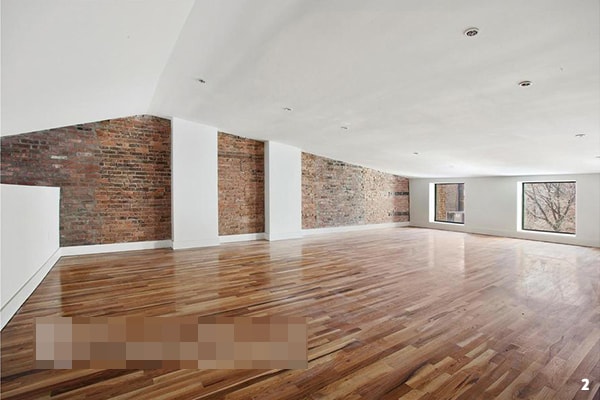 Realtors love to use wide-angle lenses, so this looks a lot more enormous than it really is. It's a big space, yes, but it's not a roller rink. I'm not positive, but it looks to me like the brick walls on the second floor are actually the exterior walls of the buildings on either side. I'm not someone who freaks out in excitement over exposed brick, but I like it a lot here—it's a nice contrast to the brand-new renovation.
The sloped ceiling is pretty low at the back of the building (I think about 4′), so I'll have to figure out what to best use that area for—maybe a bunch of Fatboy bean bags? It seems like a nice spot to do some low-to-the-ground lounging.
(Side note: Take a look at the floor plan again—see how much closet space there is?! Amazing. I heart closets.)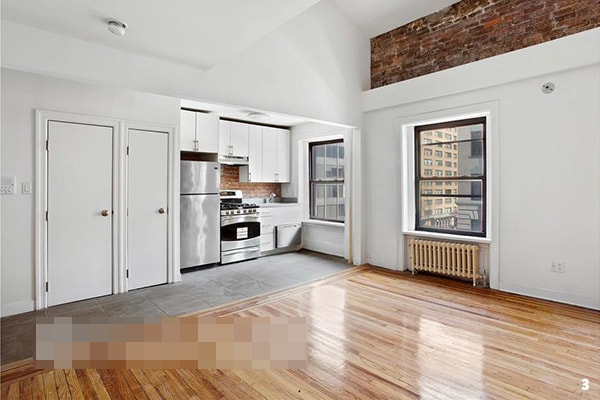 The floor on the first level is old, which is nice. As crisp as this renovation looks, it actually does still feel like an old building because of the floor, the bricks, the window casings, and the steam radiators. I like that. We're going to be the first people to live in this apartment post-renovation!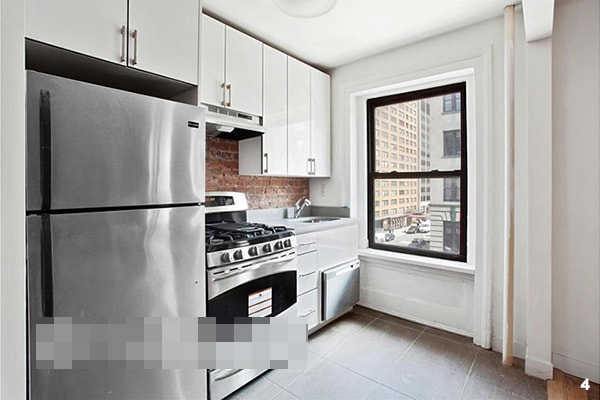 Such a cute little kitchen! Simple gloss-white cabinets, some sort of gray manufactured stone (Silestone, maybe?) countertop, slate floor tiles. It looks a little chilly as it is, but once I add a rug and all of my colorful dishes it'll look so good. There's pretty much no counter space to speak of, so we'll need to buy or build an island—but there's plenty of room for that. Also, did you notice the tiny dishwasher?! I've never really been too concerned about having a dishwasher (we don't have one at the house, and I never think about it), but I have to admit it will be nice to have this little guy. It certainly makes a lot more sense for two people than a full-size dishwasher does.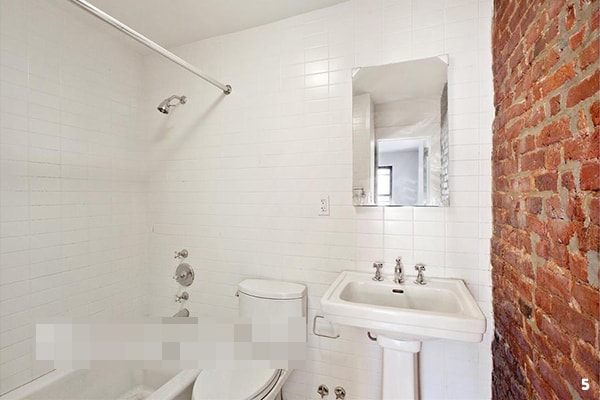 And finally, the bathroom! Cute subway tiles! And…THERE IS NO VANITY CABINET! Woo-hoo! The apartment was pretty much a done deal for me as soon as I saw the pedestal sink. It's new, but it's a classic style and the hardware is very nice. You can't tell from this photo, but I think the tub actually is old—it's in perfect shape, but it's very deep and has a curviness to it that doesn't look contemporary to me. Storage is going to be an issue in this bathroom like it is in the kitchen, but I'll figure it out—maybe the closet right next to it will need to be devoted to hair products and nail polish.
So that's the new place, at least in part! We don't know exactly what our official move-in date will be, but it'll most likely all happen gradually over the course of the next month and a half. Evan and I are both really, really relieved to have found such a great place. We can't wait to show it to Fritz and Bruno—they're going to love it, too.
p.s. I forgot to mention that the new place has CENTRAL AIR CONDITIONING!!!!!! I've never had central air in my life, so I realize I might be overestimating how fabulous it's going to be, but that's OK. Central air in a New York apartment?! Madness!