This is a pretty hot look, right? Yeah, this is my basement-demolition suit. I don't know why it didn't occur to me to buy one of these things five years ago, because it's kind of the greatest thing ever. If you've ever done demo work, then you know how completely filthy you get during the process. It sucks. Dirt and grime and plaster and dust and soot and everything else imaginable get everywhere,including into your hair, down the back of your neck, and into the fibers of your clothing.
This purchase means that I can work in leggings and a t-shirt and just throw my fancy white suit on over them (there's even an elasticized hood to protect my hair!) and emerge, hours later, with nary a speck of dirt on my clothing. Fabulous.
So yeah, I've been working in the basement. A lot. I think I've clocked about 17 hours down there so far, and there are many, many, many more hours (years?) left to come. I'm actually having fun (!) though, in a weird way. I guess because anything I do can only be an improvement.
I know, I know, it still looks like a mess, but when you consider how it looked 20 days ago, it's a pretty major improvement. I've filled up about 20 enormous contractor bags with various types of non-salvageable debris already, corralled an area of things to donate, and organized and condensed all of the stuff we're keeping. Eventually there will be proper storage down there and it will all be put away, but at least you can walk across the room now…and more importantly, you can FIND STUFF.
These shelves under the stairs were here before (I don't think I got a photo of them), but they were a crazy, jumbled mess. I'd still like to see everything stashed in bins on the shelves to reduce visual clutter, but again, at least now I can find a tape measure or a screwdriver when I need it. I'm not sure I'm at a point yet with this basement where I should be talking about "visual clutter", anyway!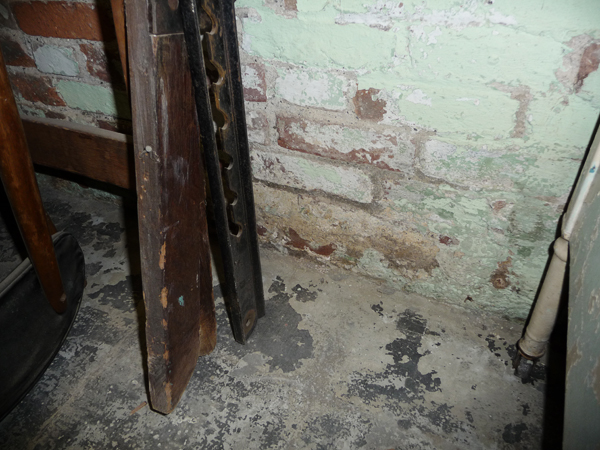 See that? We took down a whole wall of paneling! It was really satisfying…and really disgusting. The basement was flooded with about 3′ of water once upon a time (probably due to a burst water pipe when it was a boarded-up HUD house), and the paneling basically comes down in thin, delaminated sheets. As you can see, the brick underneath is worse for the wear because of the water damage too, but fortunately this isn't an exterior wall.
Evan pulled down all of the furring strips on the rafters left over from the former drop ceiling, but we decided to leave the furring strips on the wall on place in case we want to put up new paneling—we'll see. You can buy pre-painted sheets of white beadboard-style paneling that's rated for moisture resistance in below-grade applications (see link below), and it looks pretty good. Certainly better than the brown stuff that's down there now, and also better than crumbly brick with layers of peeling paint on it!
I also pulled up about 450 square feet of vinyl floor tiles, which was grueling…but again, really satisfying. We're thinking we'll probably just give the floor a good scrubbing and paint it with basement/garage floor paint. I'm not going to worry about the unevenness. We can patch anything really egregious, but we don't want to pour a whole new floor. I figure I can always throw down a few sisal mats to make the space a little less cold.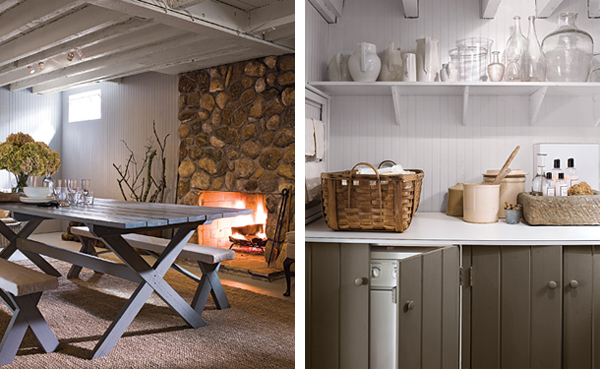 Designer Tricia Foley's basement // Photographed by Eric Piasecki for Martha Stewart Living
Okay, humor me for a minute. I know my basement is never going to be this nice, but I can at least use this as a point of inspiration, right? We're going to be leaving our rafters open, and I think painting everything up there with a fresh coat of white paint will really go a long way toward brightening the whole space up. I also love the way the beadboard paneling has been cut to fit around the rafters rather than stopping underneath, which is what I usually see in paneled basements. You won't be seeing an open fireplace or picnic table in my basement, though, sorry. It's for the best!
ETA: This is the info card for the moisture-resistant beadboard-style paneling I mentioned. The price is for one 4×8′ sheet. We saw it at Lowe's, but I'm sure there are other places that sell it.