I'm a big fan of the coffee station (even though I hate words like "station" in relation to areas of the home—e.g. "gift wrapping station"). Everything all in one place: coffee maker, coffee, sugar, mugs and stirring spoons, all at the ready. I mean, if there's any point of time in the day when you don't want to be futzing around in drawers and opening cabinets, it's before your morning coffee. Right?
It took us a while to settle on a coffee maker for the apartment. We considered a classic glass Chemex pot, Jasper Morrison's beautiful machine for Rowenta, and the super-pricey Technivorm Moccamaster, but ultimately we decided on the very same machine we have at home, a Cuisinart Brew Central. We've always been very happy with ours (my mother and Bernie have one, too, and they also love it), it looks pretty good, and the price is reasonable. It looks okay, too. It's not gorgeous, but it's acceptable. And I like that it comes in flat black.
Both of us love coffee, perhaps a little more than we should. I only drink one or two cups a day now, though, which is a significant improvement over the constant imbibing of caffeine I partook in during the early '00s. Those were crazy days! (Hah. More like those were the days when I'd stay up to watch Conan every night, and then get involved in a craft project at 2:00 AM.)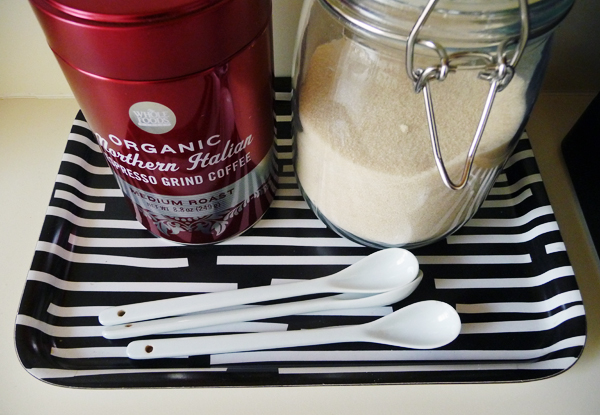 Yeah, we bought more of those porcelain spoons that we have at the house. I love them. (CB2 still has them, I just checked!) The tray is from IKEA, long, long ago.
We've long been devotees of Illy coffee, but lately we've been drinking a much cheaper alternative from Whole Foods. I don't know. The jury's still out on this one. It's okay, but it's not Illy.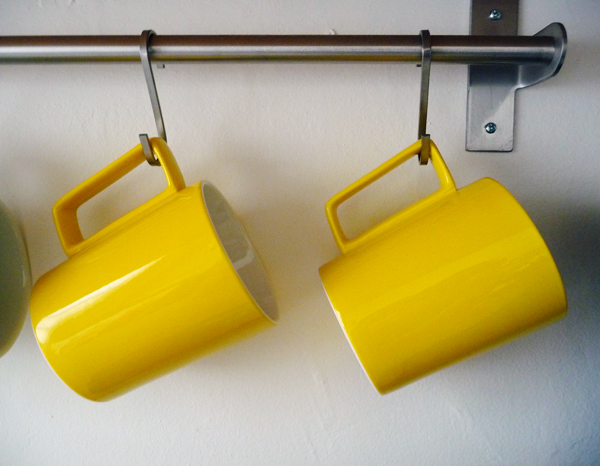 Aren't these mugs just the cutest?!? They came from CB2, too, and the price is, like, practically free. The yellow makes me super happy, and I LOVE how spacious the handle area is. I'm walk & slurp-er with my morning coffee, and I need all the help I can get with my grip.
(Don't worry, I still love my Keep Cup and use it all the time…or at least when I'm running late, which is often!)