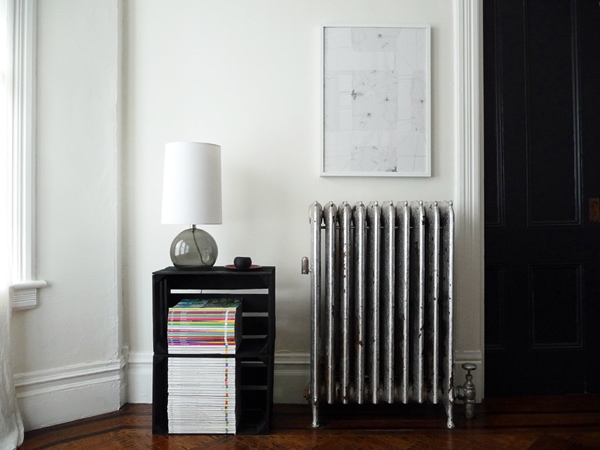 I decided to stain the fruit crates black. At first I thought I'd want to leave the wood bare or oil it, but after giving them a good cleaning and sanding, it was pretty clear that the wood just wasn't cute enough to leave exposed. I used an opaque black stain, the same as I used for the mega-planters and for a million other projects over the years (I'm still on the same gallon!). In my mind that was a 30-minute project, but in reality, it took six hours to paint three crates. The wood was really porous, and there are just so many tiny nooks and crannies and surfaces to cover.
I may still add casters to the bottom crate à la this photo, but for now, I like how these guys look stacked two high in the living room. I took my Dwell magazines out of storage (I'm not a fan of magazine hoarding, but I do love Dwell and refer back to old issues often—I got rid of several years' worth when I moved out of Brooklyn, and I still regret it) and piled 'em up. I love the colored spines on the more recent issues.
I spent a little time cleaning up this radiator, too. We've had it wrapped in aluminum foil (no, seriously) for a couple of years now because the paint flakes off like crazy and we don't want the dogs to eat it, but after a long session with a wire brush, I think I've managed to remove most of the really loose stuff. We still need to have the radiator sandblasted and powder coated—it's really expensive, so that's on the back burner for the time being—but at least it's less of a danger now. I know the scruffy old chipped paint look (I refuse to call anything in my house "shabby chic", sorry) can be nice, but there's a fine line between rustic and health hazard. A rusty radiator covered with flaking paint isn't something anyone should have in their house.
By the way, if you have old cast iron radiators and you're looking for a good way to keep them clean, I highly recommend buying a long, bendable vent brush (this is the one we have, but I'm sure there are plenty of other brands). It's kind of horrifying (but super-satisfying) how much junk they manage to clean out of the fins.
p.s. Did you notice how much we managed to cross off of the to-do list for this weekend? I'm so proud!