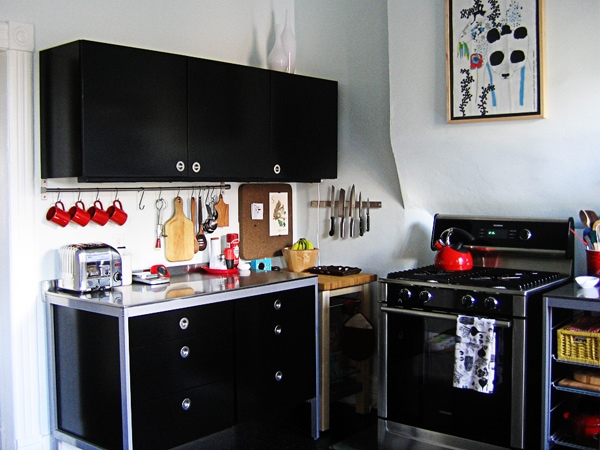 When we bought our house in the wintry beginnings of 2006, the very first thing we did (well, after paying someone to take away all the junk that was behind by the previous residents) was get to work on the kitchen. We had only allowed ourselves three months of time to get the house in livable-enough condition, so having a place to prepare food was a top priority. The existing kitchen was unsafe; nothing in it was salvageable.
The average kitchen renovation in the U.S. costs $45,000. Yes, forty-five THOUSAND dollars. Considering a typical homeowner renovates their kitchen every 10 years, I find that number rather hard to digest.
Excluding appliances, I think we spent about $1000 renovating our kitchen. The freestanding stainless steel UDDEN units we bought from IKEA (now discontinued) were something like $175 each. The VCT floor was $1/SF. Our refrigerator was a floor model. The biggest expensive was our stove, a Siemens/Bosch model that we bought with the intention of keeping it for a long, long time—certainly more than the decade or so most homeowners keep their appliances.
The plan at the time was to do a quick, cheap, temporary renovation on the kitchen, live with it for a year or so, and then move the UDDEN units to the basement to function as work tables and storage space. We would keep the appliances, and then we'd plan our new kitchen "for real". Well, almost 5 years later, the "temporary" kitchen is still in effect, and I concede that it has really worked out much better than I imagined it would.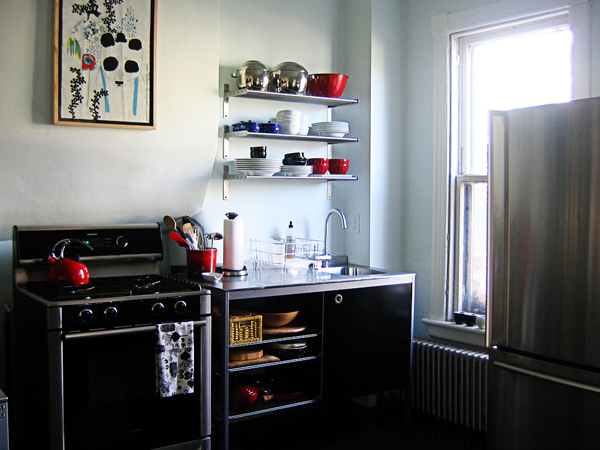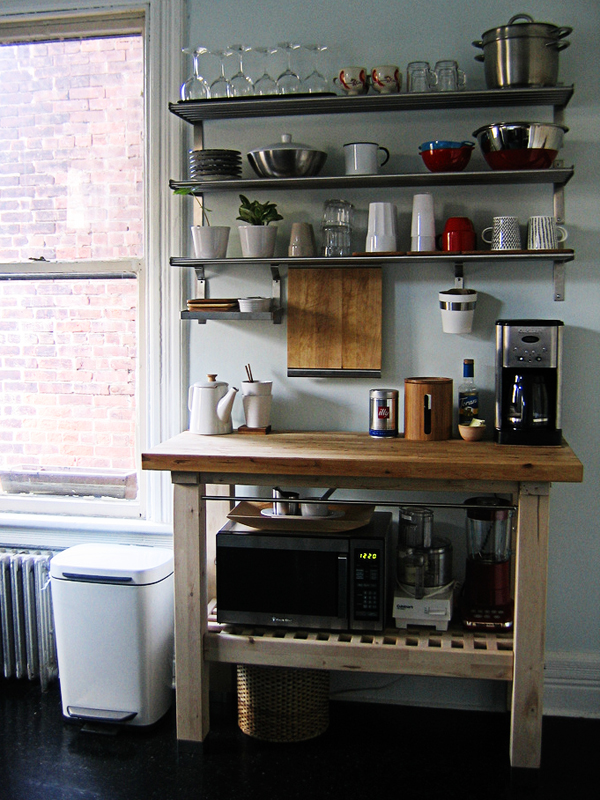 Still, though, I'd really like to do a bit of a semi-overhaul of things in there, just to spruce up what's gotten dingy, and to improve on the areas that aren't working out so well. And so, a list!
We need a backsplash. It's actually less an issue of getting food on the walls as it is all of the scuffing from dishes, hanging utensils, etc. I'm thinking just inexpensive, standard white subway tiles are the way to go. That's what we have in the bathroom that's next door to the kitchen, and it would be nice if the two spaces could be somewhat related.
We need better lighting. Right now we have something very similar to the Tidig lamp from IKEA in the center of the room, and although it looks nice and functions just fine, it wasn't the best choice for a kitchen with a very high ceiling. Recessed lighting is out of the question for practical and budgetary reasons, so I'm thinking track lighting that runs the perimeter of the room might be a good option.
The refrigerator is too big. When we were fridge-shopping, we discovered pretty quickly that the small, slim models we liked were too expensive. We wound up buying an LG floor model (I like it because it doesn't have any visible branding on the doors) because it was cheap and energy-efficient, but it's just…huge. We're only two people, and we don't buy in bulk, so it just seems kind of silly. I think we should sell it and buy a cute little Smeg refrigerator instead. I've noticed the Sears outlet sometimes has them for half price. In a dream world I'd have an under-cabinet fridge, but they're just too pricey.
Fortunately, I don't really mind not having a dishwasher, and I've gotten used to the tiny sink. The only time it bothers me is after we've had a dinner party, and if I'm being honest, that really isn't very often.
The weird corner to the left of stove needs addressing. I've never really known what to do with that space, but I think the right thing to do is wall-mount a slab of wooden countertop at exactly the same height as the stainless counter (maybe with a couple of hidden legs for extra support) so there's a continuous work surface. Right now that corner is just totally useless. Maybe recycling bins can fit underneath. Or a dog bed, since Bruno loves to hang out and pray for scraps to fall while I'm cooking.
THE RADIATORS MUST GO. I hate them. Yes, they are cast iron, which I have in every other room and love very much, but they are not old and not cute. They are enormous and rusty and filthy and off-center under the windows, and they sit too close to the floor to clean under, around, or behind them. I also don't understand why there are two, because the room isn't all that big. I'd like to get rid of them and install a single wall-mounted steam radiator instead. It would be cheaper and more efficient than having the existing ones sandblasted and powder-coated, anyway.
We need someplace to sit. No matter how much I try to herd guests out of the kitchen, everyone insists on hovering while I cook, and there's nowhere for them to put down a drink or have a seat right now. If we can get a smaller refrigerator and move it to the area where the long butcherblock (the one with the coffee maker on it) is, then we can move the butcherblock to the middle of the room and use it like an island with a couple of stools on one side.
I'd like to have a range hood. We've been putting off buying a hood for years, and it's really time to just do it. I'm fine having the kind with a filter and lights—I don't need it to vent to the outside.
The kitchen needs wood. I could see moving the Grundtal shelves to the basement and mounting wood shelving instead (Dan, when are you coming over to work your magic??). Above the sink, I'd like to run the shelves all the way up to the ceiling and use them to display…uh…I don't know. How about the incredible collection of vintage Scandinavian and Japanese pottery I will someday own? Sure. That.
We really need to repaint. I don't even know what color I'm thinking, but I can't live with the pale blue any longer. It's a lovely color, but I just keep wishing it were something else. Gray? White? You know, something wild.
Not so bad, right? Yes, I have dreams of refacing the hearth in brick or installing a tin ceiling, but I want to keep things simple (and CHEAP) for the time being. Now I just need a bunch of free time and loads of energy.