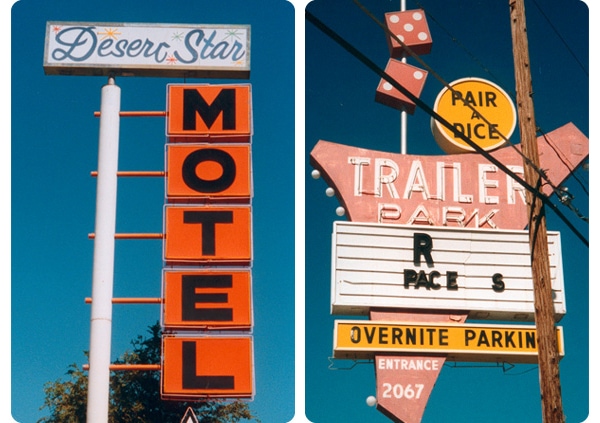 When I was in art school, I had a great professor, Bill Deere, who encouraged me to take notice of "environmental typography"—everyday type on the street, whether good or bad. Salon windows, department store logos, menus, information systems, and so on. He wanted me to think about how design relates to environment, and how typography can dictate first impressions.
I started taking photos of signs in 1996, and quickly got hooked. I continued until 2002, which, not coincidentally, is when I got my first digital camera. It's not that I think I was ever a particularly good photographer, but when I was using a cheap film camera, I seemed to think more about composition and angles and such a whole lot more. Somehow the instantaneous nature of digital photography (not to mention how inexpensive—free, even!—it is to take shot after shot, do-over after do-over) has made me much more careless. That's my own shortcoming, though—I don't blame the tool or the format.
While looking for something on an old backup drive earlier today, I came across a folder of scans of my old sign photos that I had posted on my old blog, Absolutely Vile, back in 2001. They've all been resized to be quite small, unfortunately (hey, I was working on an 800×600 monitor back then!), and the corners are rounded (how very early '00s of me), but seeing the photos made me feel happy. Happy and inspired.
Most of these pictures were taken in and around White Plains, New York and Las Vegas, Nevada between 1996 and 1998.