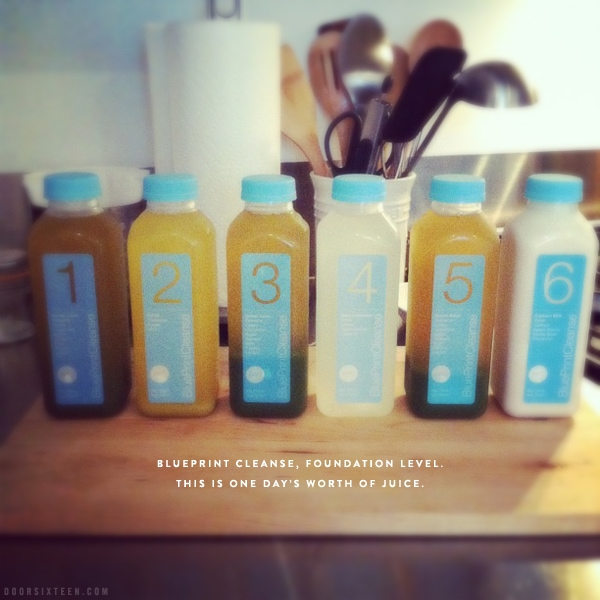 If you follow me on Twitter or Instagram, then you probably already know that for the past few months I've been drinking an awful lot of juice. Green juice, beet juice, carrot juice, pear juice, pineapple juice…JUICE. Not the stuff you buy in a bottle, but freshly pressed, nutrient and mineral-rich whole, raw, unpasteurized juice. I can't get enough of it.
Beyond just drinking an occasional glass of juice here and there, I've actually gone as far as doing two juice "cleanses," each three days in duration. If you're not familiar with the world of juice cleansing, the most basic premise is that for a specific length of time you consume nothing but freshly pressed juices—no solid foods at all. (Note: This is not the same thing as Master Cleanse or any of the other lemon-water cleanses. With a juice cleanse you are typically consuming between 1000 and 1500 calories per day—it's not a starvation diet.)
I'm not sure exactly what initially put the thought of doing a juice cleanse in my head, but the first time I did it I was coming off a run of eating really, really poorly and drinking more coffee every day than I really care to admit. I desperately felt like I needed to "reset" my eating habits, rid myself of cravings for things my body doesn't want or need, and put myself on a generally healthy path of eating well.
I can only speak for myself here, but I know that when I stop consuming something for several days at a time, generally no longer crave it anymore. This was certainly true when I gave up dairy a couple of years ago, and when I gave up all artificial sweeteners a year before that. I basically don't have a sweet tooth anymore. My hope with doing a juice cleanse was that I'd rid myself of the constant cravings for fries, bagels, coffee…all of the things I love that are fine in moderation, but bad news when consumed excessively. If you've hit a point where you're consuming three bagels, a large order of tater tots, and a couple of gigantic iced coffees on a typical Saturday, there's a problem. (Hello, myths of veganism!)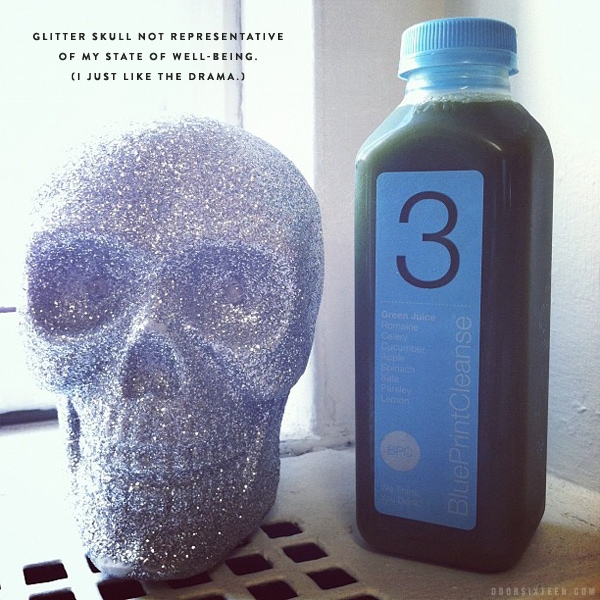 Rather than run out and buy a juicer right away, I decided to see what kind of options are available locally for fresh juice cleanses. The answer is A LOT, at least in New York City. After much Googling, Yelping, Twittering and speaking to actual live humans, I decided to go with BluePrintCleanse. They deliver for free in NYC, and their prices are pretty much in line with the rest of the juicing companies in this area.
I chose the mid-level cleanse, Foundation, and ordered a three-day supply. I scheduled the delivery a few days in advance so I'd have time to prepare (basically limiting my diet primarily to raw fruits and veggies and cutting out caffeine—since I already have a vegan diet, it was really just a matter of eliminating the processed foods, since meat and dairy obviously aren't a part of my life), and had everything delivered to my office. The fresh juices BluePrintCleanse sells are raw and unpasteurized, so they have a very short shelf life—they'll only delivery three days' worth at a time, and it all needs to be refrigerated immediately. They arrived in a cardboard box with tons of ice packs and a free cooler bag sized for transporting a few bottles at a time.
And so I was off! Honestly, it wasn't that big of a deal for me in terms of self-control. I already love green juice so the taste wasn't an issue (if anything, I found the pineapple-based juice a little too sweet, but I'm definitely in the minority), and it's such a large volume of fluids that I really wasn't hungry at all. A lot of people say they feel a desperate need to chew while cleansing, but that didn't happen to me. My digestion was fine as well. The only really torturous part was giving up coffee, but even that was only horrible (headaches, exhaustion, moodiness) for the first two days when I was preparing for the cleanse. By the time I was on day three of drinking juice, I wasn't even thinking about coffee. I wasn't even really thinking about food, frankly—I kind of wanted to just keep drinking juice forever.
How did I feel during the cleanse? The first day I felt a little tired, but I suspect that was lingering caffeine withdrawal. Generally speaking, I felt GREAT. I slept really well, I didn't feel bloated or "stuffed," and more than anything, I had a sense of control. That might sound a little weird, but I don't like feeling like I have no self-control when it comes to food. Either you understand where I'm coming from with that or you don't, I guess. At any rate, I like being disciplined about what I put into my body. Moderation is hard for me when it comes to eating.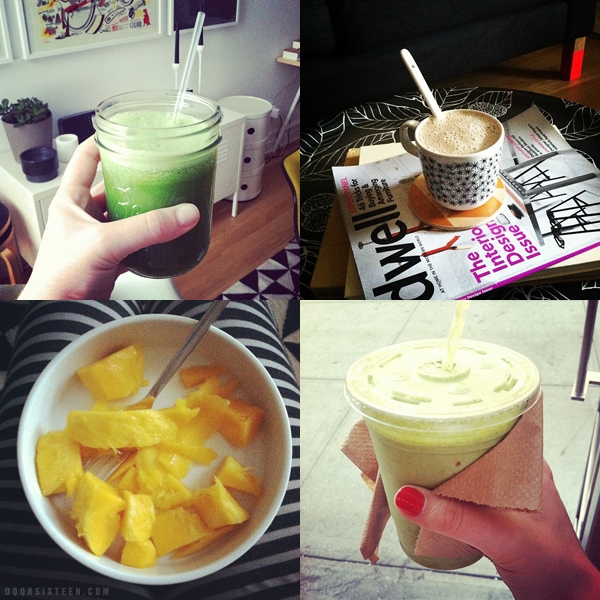 Then day four arrived, the morning after my last juice. Time to break the cleanse! The first thing I ate was some cut mango with sea salt, and it was delicious. It tasted so flavorful and satisfying. I also had a tiny cup of coffee, and let me tell you—if you stop consuming all caffeine for a week, that first cup is an AMAZING thing. I wanted to crawl inside of that cup and live there forever. How nice to actually LOVE a cup of coffee again and not just feel compelled to drink it out of necessity or routine!
How have things been post-cleanse? Pretty great, actually. My diet is incredible now! I eat really, really well—tons of veggies, fresh fruits and whole grains. I constantly crave raw vegetables. Sometimes I lie in bed and fantasize about kale. Really. On the few occasions when I've eaten poorly, I don't feel good afterward. Not sick, but not good. I find myself thinking a lot about what the foods I eat can do for me nutritionally rather than how they'll make me feel emotionally—and that's a good place to be. I've lost about 20 pounds in the past three months (!) without even trying; a nice side benefit for sure, even though that wasn't my goal.
I know there's a lot of pseudo-science out there are about the benefits of fasting and cleansing and "detoxing," and while I don't know how much I buy into some of the more wild claims, I do know what juice cleansing has done for me, and I plan to make it a regular part of my life. I'm thinking maybe once every season? I'm also going to buy a juicer now that I'm confident it won't just sit around gathering dust.
If you have ANY questions about my experience with juice cleansing, please feel free to ask. I hadn't planned to blog about it when I started, but after getting so many questions on Twitter and Instagram, I figured there must be some more interested people out there! I'm definitely not an expert, but I'm happy to share what I do know. I'd also love to hear from others who have done juice cleanses, or even those of you who are just fellow juice fanatics!
✚ SIDE NOTE:
BluePrintCleanse is actually having a 21% off sale on Fab this week, so if you're interested in trying it out at a discount, this is a good opportunity. If you don't already have a membership, this link will function as an invitation to join.
On a related note, have you seen Fat, Sick & Nearly Dead yet? It's basically a documentary about the wonders of juicing. It's a little bit overly-inspirational (what can I say, I'm a born cynic), but sometimes that's a good thing. If nothing else, it'll make you feel like you can have some control over your physical health and well-being by taking very simple and direct measures. It's a good movie, and you can watch it for free. Worth the hour and a half.