I've been thinking about writing this post for a long, long time now. Skin—and, more specifically, adult acne—is something I've touched on briefly here and on my old blog, but never really in depth. It's such a sensitive, personal subject, and it's hard to talk about. The skin on our faces is so intimate, but we show it to the world every day. I'm constantly trying to reconcile that fact.
I don't like having my photo taken. I'm OK taking my own photo (which is why most pictures of me also contain a camera and are in reverse), but the second someone else aims a camera at me I feel extremely anxious. I imagine the photographer at home, hours later, zooming in on my skin and discovering all of the many things that are wrong with it. It feels naked; it feels bad. When I take a photo of myself, though, it's more about the act of taking the picture than it is an examination of my face. It's safe, and if it looks bad, I can delete it and no one else ever has to know.
It really all comes down to skin. Forget the shape of my nose or the color of my eyes or anything at all about my face, because the only thing I'm seeing when I look in the mirror is whether my skin is flaky or red or if I have a pimple or two or seven. The condition of my skin plays a huge role in defining my confidence, my overall mood and even my productivity on any given day. My rational mind tells me this is ridiculous, but my irrational mind has used personal days to stay home from work because of breakouts. So.
My skin was fine when I was teenager, OK in my early 20s…and then it just got progressively worse. I never used to wear foundation, but my the time I was in my early 30s it was a daily operation. Ridiculous amounts of time spent every morning dotting on teensy amounts of concealer over red marks with a tiny brush, all so no one would have to know my terrible secret. It's hard to explain this stuff with anyone who doesn't know what it's like to deal with adult acne, so if you fall into that camp, please try to cut those of us who have some slack. To be 37 years old and battling breakouts and wrinkles at the same time sucks. It makes you feel like you're perpetually trapped in a delayed adolescence while simultaneously running out of the years when you're supposed to look your best. It's embarrassing. It makes you feel inept and unprofessional and dirty. And you will try anything to make it all better.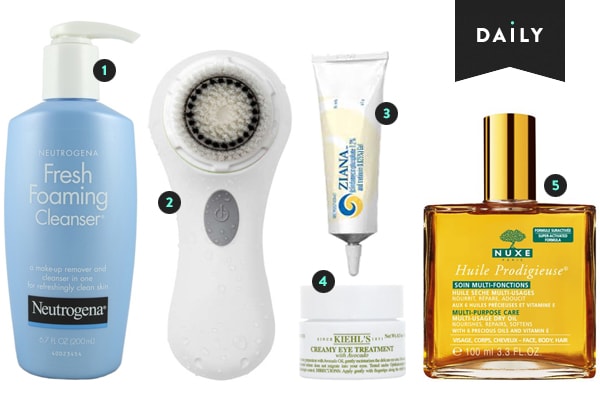 So here's where I'm at right now, and I can say this with confidence: My skin has never looked better. Well, maybe it looked better when I was 15, but this is as good as it's been in the 22 years since. Every now and then I have a minor breakout, but it's generally just one small blemish that goes away pretty quickly and doesn't make my life too horrible while it's around.
Here's the rundown:
1. Neutrogena Fresh Foaming Cleanser
This is the least-glamorous face wash I've used in my adult life, and I admit I was really skeptical when my dermatologist recommended it to me. I like to use things in pretty packages that are only sold at tiny drugstores or fancy department stores. Again, I know it's ridiculous, but I'm biased against a cleanser that's available everywhere for $5. But yeah, my dermatologist was right, and it's the best thing I've ever washed my face with. I actually use it twice at night: Once to do a quick makeup removal, and then again right after to deep-cleanse with my Clarisonic. Speaking of my Clarisonic…
2. Clarisonic Mia
I LOVE MY CLARISONIC. So much. I've had it for a couple of years now (it was a Hanukkah present from Daniel, who understands my quest for pore perfection), and we've been on a journey together. At first I loved it, and then I hated it, and then I really wanted to like it again, and now I love it and can't imagine being without it. The trick is finding the right cleanser to use it with. There's a lot of debate over whether it's better to use it with a foaming or non-foaming face wash, and I really think it comes down to your skin type. For me, a gentle, foaming, soap-free cleanser works best. I use it every single night.
A couple of notes: I use the replacement brushes made for delicate skin. I can't see why the new Mia 2 is worth the extra money, so my recommendation is to just go with the original Mia. It's the cheapest model Clarisonic sells, and it does everything you need it to. I don't know anything about the cheaper facial brushes that Olay and Neutrogena make, so I can't advise you there—but I can say that my dermatologist was adamant that I only use a genuine Clarisonic. I already owned one, so fine by me!
✚ EDIT: Reader Tallin commented that SkinStore.com is having a 20% off sale right now that includes the whole Clarisonic line.
3. Ziana Gel
I realize this might be a controversial inclusion since it's a prescription product that combines a topical antibiotic (clindamycin) with a retinoid (tretinoin), and I hesitated to mention it at all. I'm not big on using antibiotics, and I was initially hesitant to start applying them to my face. I've also had bad experiences with prescription retinoids in the past. I think I just got to a point of desperation, though—I weighed my emotional well-being against the potential risks, and I decided to fill the prescription.
Ziana has been amazing. Aside from inflamed blemishes, I'm really prone to clogged pores and closed comedones. After using Ziana (just a tiny, pea-sized amount over my entire face at night) for a week, the improvement in my skin's texture and clarity was noticeable. After three months, my face was completely clear—and I mean completely. I've been using Ziana for a total of six months now, and my skin just looks so much brighter and smoother and healthier. Some of the reviews I read complained of redness and drying, but I didn't experience any of that. Maybe they were using too much or not using a moisturizer? I don't know, I can just tell you that it's been wonderful for my skin.
4. Kiehl's Creamy Eye Treatment with Avocado
I first wrote about this eye cream four years ago, and I'm still using it now. I usually only put it on at night since it's a bit too emollient to wear under makeup, but it's hydrating enough that the effects last even during the day. I'm careful when I wash my face in the morning to not get cleanser around my eyes, though, so maybe it's just residual amounts that are doing the trick? Whatever it is, I love this stuff. No, it doesn't cure me of my undereye circles, but it does keep the skin around my eyes soft and dewy-looking, and that's good enough for me.
5. Nuxe Huile Prodigieuse
I wrote an entire blog post about how much I love this stuff a couple of months ago, so I won't dwell on it again too long now. The love affair is still going strong! Much like my Clarisonic, this is something I can't imagine ever not having as part of my skin care routine. I'm forever thankful to Ilenia for recommending it to me! No more dry patches, no more irritation…just soft, happy skin.
So that's about the size of it. I do also use a sunscreen daily, of course (a spray from Paula's Choice that was just discontinued, much to my chagrin), as well as Dermalogica Daily Microfoliant when I feel like I need exfoliation, and Peter Thomas Roth Un-Wrinkle Peel Pads if my skin seems dull at all. Nothing else—and yes, that means that my formerly-beloved Mario Badescu is no longer in my life. I have a much simpler routine now, and it's all come down to finding the right products for me.
I still feel a bit hesitant to publish this post since I know very well that skin is an incredibly personal thing and that everyone will react differently to various products, but I also understand how reassuring it can be to know that someone else is dealing with the same issues. I may not be jumping in front of cameras anytime soon and I still have no plans to ever leave the house without makeup, but at least I can look at my face now and not just see the state of my skin—and when I do, I'm mostly OK with it. Happy, even.