It would be a bit of an understatement to say that I tend to lean toward the cynical side of things. I'm a world-champion eye-roller, and nothing gets a heavier sigh of annoyance out of me than a friend posting an "uplifting" status update on Facebook. Positive messages often make me suspicious. That said, even my crabby self finds some affirmational messages inspiring (yes, I just used the "i" word). I love all of these! Enjoy, and remember to HANG IN THERE!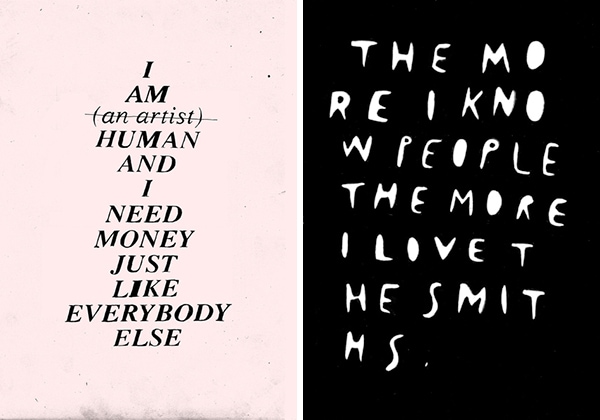 Wasted Rita
✚ I Am Human and I Need Money Just Like Everybody Else Does print
✚ The More I Know People print
Even before I saw these two Smiths-inspired prints from Wasted Rita (the work of artist Rita Gomes), I knew she was my kind of human. Her affirmations are anti-affirmative and pessimistic—as well as totally validating and genuinely uplifting in their honest negativity…much like a certain singer I like a whole lot.


Lisa Congdon
✚ Magic Happens print
✚ Everything Is Going to Be Okay notebook
Pretty much everything in Lisa Congdon's 365 Days of Hand-Lettering project is an affirmation that doesn't make me want to puke, actually! Lisa just introduced these little notebooks today, and I'm smitten. I'm on a lifelong quest for OK-ness, after all.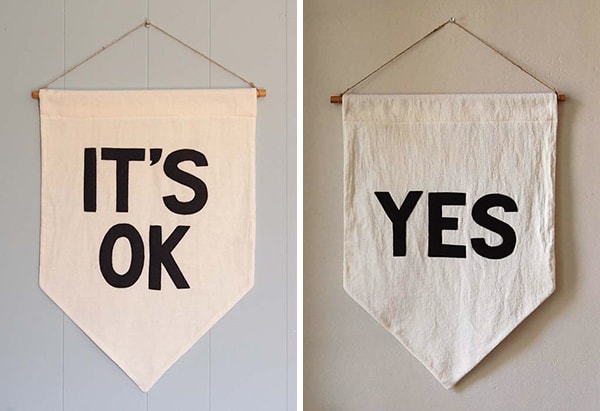 Secret Holiday & Co.
✚ It's OK banner
✚ YES banner
I've had Ashley & Justin Brown Durand's It's OK banner hanging in my apartment(s) for a couple of years now, and it makes me feel good (or at least OK, which is good enough for me) every day. In the new place I have it right on the inside of the door, so it's the last thing I see before heading out into the world.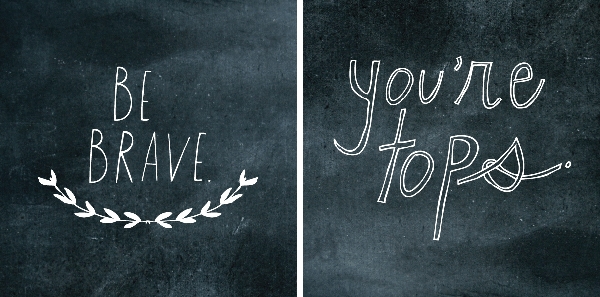 Shanna Murray
✚ Spring Laurel & Be Brave wall decals
✚ You're Tops wall decal
Shanna Murray is the rare exception to my usual rule about wall decals—that rule being "not in my house." I don't think there's anything in Shanna's shop that I wouldn't happily put on my walls! I bought a "You're Tops" greeting card for Evan last Valentine's Day, and I think the wall version makes a really surprise present for a sweetie.