I said I was going to tile, and by golly, I tiled! Oh, what a weekend. I wanted to get these photos up yesterday, but I'm so achy that even editing photos feels like too much. You've heard of "tennis elbow"? Well, I have what's called "tiling thigh." In both thighs. And my back, and my arms and even my fingers. The last time I tiled anything was the vestibule more than two years ago (!), and I'd forgotten how physically demanding it can be.
These photos are terrible (bad lighting, no tripod, hands covered in thinset), but I figure they're better than nothing. I don't understand how some people manage to take great photos of their renovation projects while they're doing the work?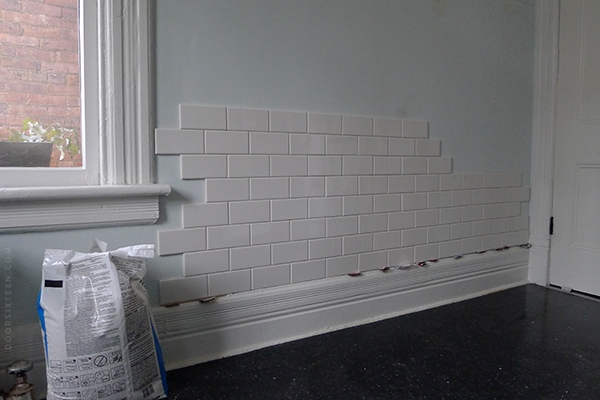 WOO-HOO, lookit all that glorious subway tile! It feels SO good to do this, pain and all. This is 7 years of procrastination paying off, folks. The cool thing about tiling is that once you do all of the prep work, it goes up reasonably fast. I actually really love tiling. It's so satisfying, I think because it's a finite project that usually doesn't cover too massive an area. It's methodical. It's fun. (Really!)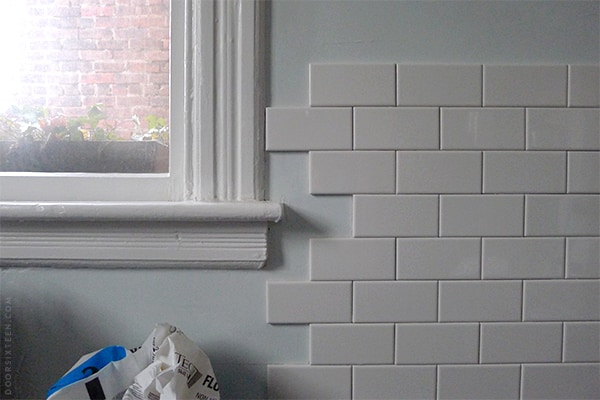 Yeah, this technique I'm showing off here is called "denial and avoidance." I suck at cutting tiles. Evan is the tile-cutting master in our house, so next weekend I'll rope him in to cut all of my edge pieces. I think we're going to have to under-cut the windowsill, though, because I'm pretty sure it's impossible for a normal human to cut a shape like that out of a 3×6″ ceramic tile.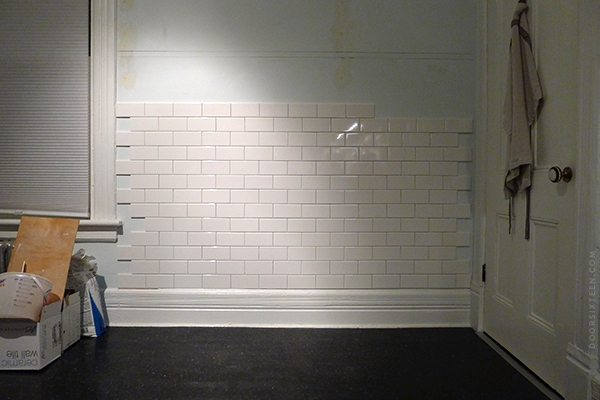 This is about 6 hours' worth of tiling (excluding prep work and supply shopping, obviously). I wish I could've kept going into the wee hours, but the aforementioned "tiling thigh" was setting in, and I knew I had to quit. Saturday morning I'll be back at it bright and squirrely, though. (Side note, how horrible is the current lighting in the kitchen? So sad. As is that stupid cellular shade that barely works anymore.)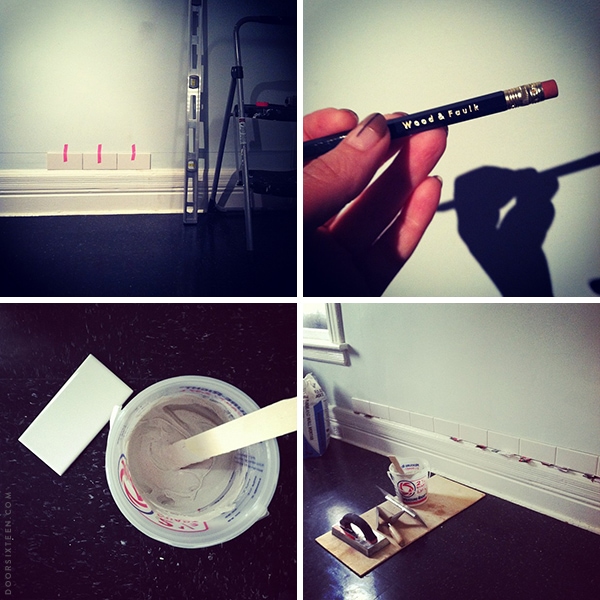 Tilestagrams! Clockwise from top left: I got my level starting line up the night before I started tiling, and yes, I did use neon pink washi tape to hold my template tiles in place; my trusty Wood & Faulk pencil has seen me through a number of renovation projects; first row up, shimming courtesy of a ripped-up LL Bean catalog; mixing up the first batch of thinset.
I expect my kitchen will look like this for quite a while now. I really need to box up the non-essentials and put them in the basement. It was fun to move this counter to the middle of the kitchen! I can't wait to have an island. This thing has been shoved up against the wall for far too long.
I took a few last-minute "after-before" photos (THESE are the real "before" photos) before I started taking down shelving. Here's a last peek at what the kitchen has looked like for the past 7 years: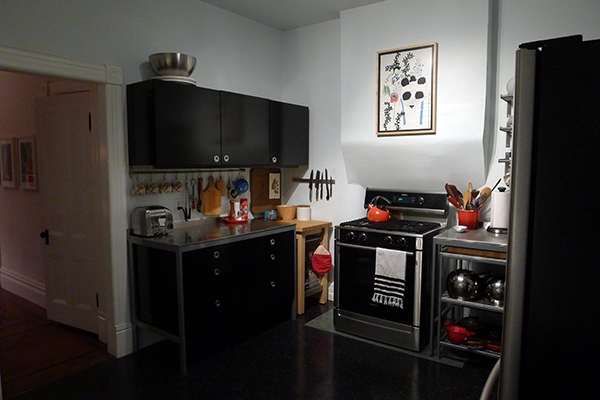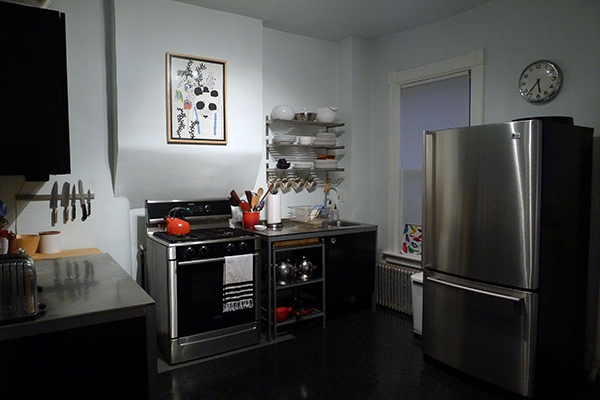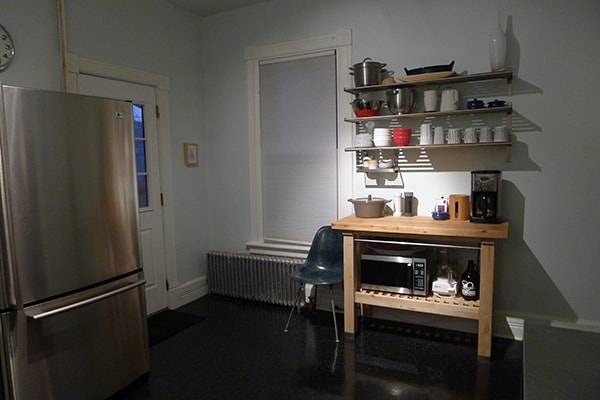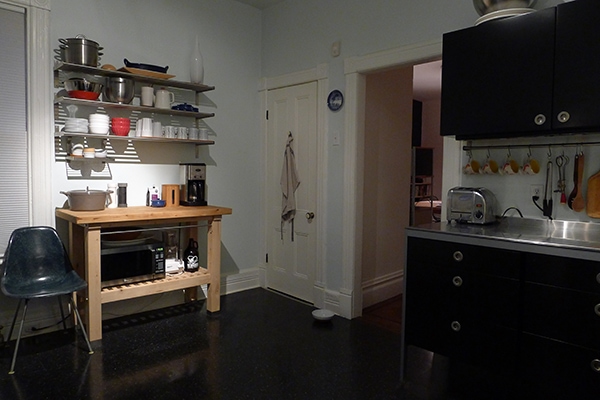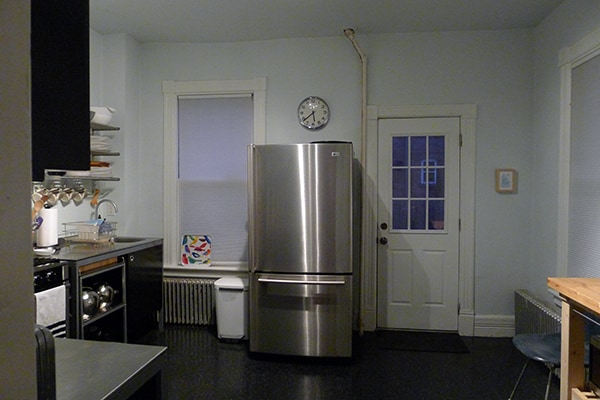 Some answers to questions I got on Twitter + Instagram:
✚ No, I didn't ruin my manicure. I wore gloves, silly!
✚ We're using the same tile we used in the downstairs bathroom. It's just the basic 3×6″ subway tile from American Olean that you can buy off the shelf at Lowe's. It costs 22¢ per tile, which is crazy cheap. What you see on the wall so far is about $30 worth of tile.
✚ Most modern subway tiles (including these) don't require spacers—they're self-spacing thanks to little ridges on the sides. If you try to use spacers your grout lines will be huge and you will be sad.
✚ We'll be using black grout.
✚ Yes, I'm tiling directly onto the wall. It's a plaster wall with flat paint that's in good shape, and it's a non-wet area. I patched any dings and sanded it lightly beforehand.
✚ I'm using a non-modified thinset.
✚ I learned to tile by Googling "how to tile" and also by reading posts on the forums at John Bridge.