Now that the floor demolition is complete, we're in a bit of a race for time to get a new floor in place and have the radiators reconnected. Fall in upstate New York is an unpredictable thing; sometimes that first frost and freezing temperatures sneak up on you earlier than you're expecting. It's already down to 66°F today — I'm wearing a scarf and not sweating profusely! Between busy work schedules, the holidays this month and traveling plans next month (more on that later!), we don't have a lot of weekends free to get the work done. I'm panicking a little, but we'll make it happen.
First of all: We're definitely going to put in new wood plank floors and paint them. That's the vision I've had for the kitchen for a while, and even though salvaging the original subfloor didn't work out, it's what I still want. Aside from painted wood floors looking nice, it's a very budget-friendly option. The pine T&G flooring we used in lieu of beadboard in the upstairs bathroom was about $1/SF — tough to beat. In an ideal world, we'd continue the same black pennyround floor from the downstairs bathroom into the kitchen (the rooms are side by side), but it's just not in the budget. And that's OK.
What I'm trying to figure out now is exactly how I want to paint the floor. For a long time I was thinking solid gloss black, but that might have just been because I'm so used to seeing the kitchen with a black floor already. Now that I've seen the floors with white paint (albeit primer over grossness), I can't stop thinking about other possibilities. I definitely don't want to do solid white, but…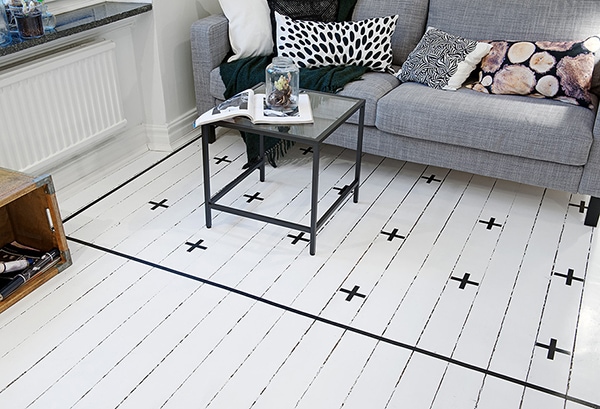 Photo by Frederick J. Karlsson for Alvhem / Styling by Sarah Widman (via sfgirlbybay)
Yeah. That looks really good. I'm picturing a pattern-filled rectangle around the big wood work island, sort of like a faux rug. I even love this exact pattern as-is (surprise, hah). I can see it also looking verrrrrry nice in reverse — white on black — or with colored crosses like the pattern in my sidebar. It would be so easy, too. If I ever wanted a change, I wouldn't feel badly about painting over it and doing something new.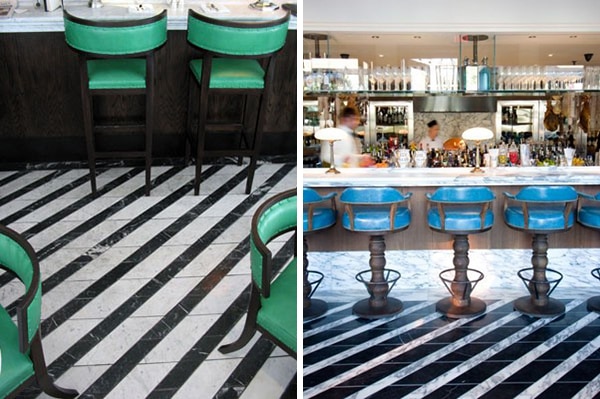 L: Cecconi's Mayfair London, interior by Ilse Crawford / R: Cecconi's West Hollywood, interior by Martin Brudnizki
These floors are actually inlaid marble, not paint, which would also be really nice but would cost 400 billion dollars. I could do something like this with paint, though! I love that the thinner stripes run diagonal to the line of the wider "boards." It would take forever to measure, mark and tape off the stripes, but it wouldn't be particularly complicated. Just time-consuming. I could probably knock it out in an overnight, though, since it's only two colors.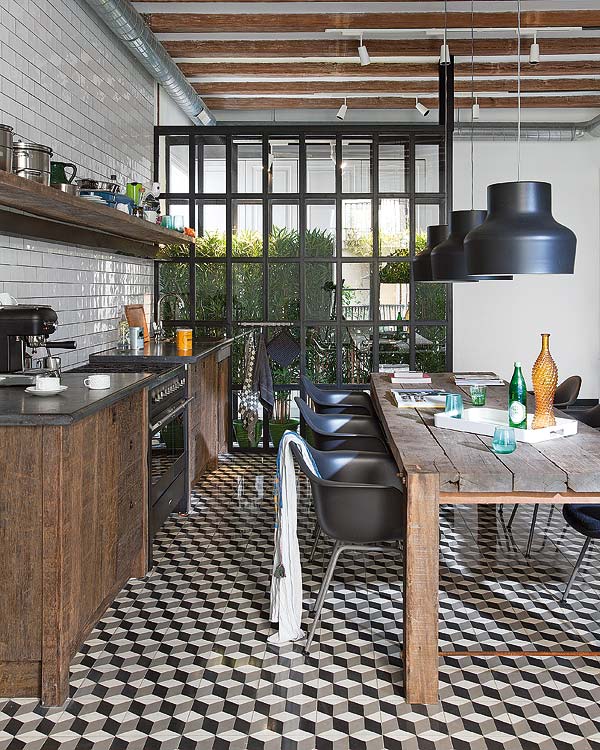 Photo from Micasa / Interior design by Egue y Seta studio
Speaking of time-consuming, can you imagine if I tried to paint THIS pattern on the floor? I posted about this Barcelona kitchen back in January, and I still can't stop thinking about it. We actually priced out how much it would be to use those cement tiles in our kitchen, and it came out to more than $3000…which is obviously just not happening.
Seriously though, could I do it with paint? I mean of course I'm technically capable of doing it, but the three questions that immediately come to mind are (a) Will I wind up spending $3000 on painter's tape?, (b) Will my brain melt out of my head? and (c) Will I ever sleep/eat/talk/laugh again, or is the rest of my life going to be devoted to painting rhombuses parallelograms on my kitchen floor?
In other words, I kinda really want to attempt it.