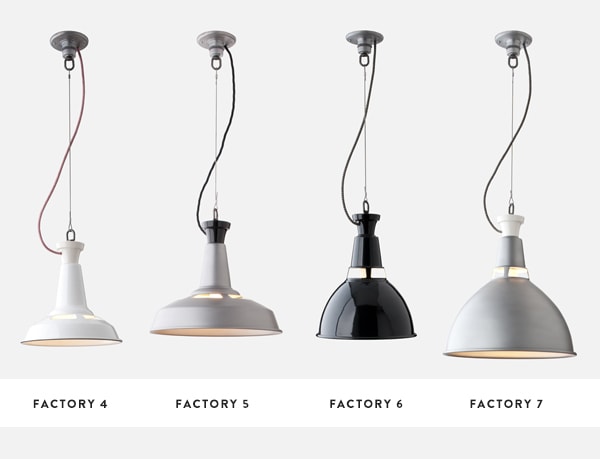 HELLO THERE! Yes, it's been quiet around here. I know you're not supposed to say you're really busy anymore, but you know what? I've been really busy. I am really busy. My work days have been long, long, long…I'm drained, I'm tired, I'm uninspired. We're still chugging along with the kitchen renovation whenever we have a few free hours here and there, though, and it looks like we're probably going to manage to pull it all together before heating season. Phew.
(I'm tired. Did I already say I'm tired? I'm tired.)
The new kitchen floor is underway (more on that later this week!), but I also really need to make a decision about lighting. I know I want to use fixtures from Schoolhouse Electric like I did in the bathroom off the kitchen, but I keep waffling. The weekend before last we finally painted the ceiling, so there are no more excuses.
Kitchen lighting is hard. Unless you're putting in track or recessed lights, it's tough to know whether whatever you come up with is going to work out…especially with high ceilings and a single electrical box. When we first bought the house, we had to swap out three separate fixtures before we settled temporarily (HA! HA! HA!) on the predecessor to this IKEA light. It's ugly, yes, but it really lights up the room well. The lights we rejected either made the kitchen feel like an interrogation room or something out of Jacob's Ladder.
Anyway, I've narrowed my choices down to these four pendants from Schoolhouse's Factory collection: No. 4, No. 5, No. 6 and No. 7.
I am apparently incapable of making a decision about which of the four lights to go with — and whether a single pendant will be enough overhead lighting. Can we all vote? I'm brain-fried. No. 4, No. 5, No. 6 or No. 7?
I'm voting for Factory Light No. 5, with a black finish, black porcelain insulator, houndstooth cloth cord and no cage. And yes, I'm aware that I could just order this configuration without holding a vote, but I keep second guessing myself.
And should I just get one? Or two? Or get one, see if it's enough (there's only one ceiling box, so we'd have to do some electrical work if it's not), then order a second? There's also a sconce on the wall by stove, and I'll probably put a second sconce of some sort on the opposite wall next to the fridge.
Help?
Here's my kitchen in the November issue of German Glamour magazine ("Die Industrie-Design-Küche von Anna Dorfman" sounds so intense, like it should be in a castle or something) if it helps you visualize…hah!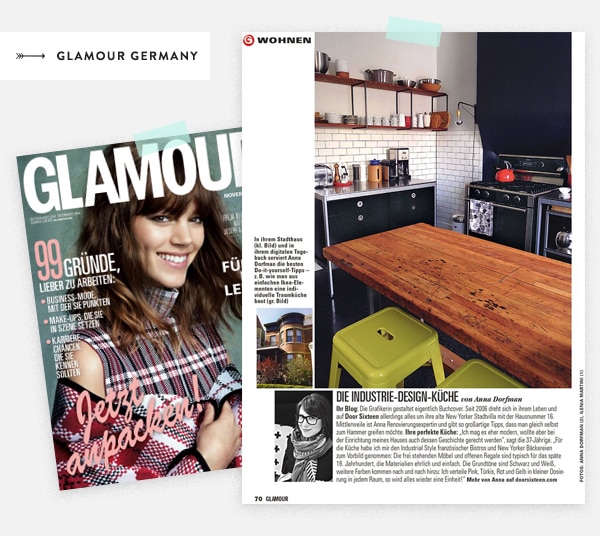 p.s. Yes, I spoke at Camp Mighty, and yes, I survived! What an experience. I'll have a post about the whole thing once I have my photos sorted out…
p.p.s. I have so many posts coming up. SO MANY. You're going to get really sick of me.
p.p.p.s. Lots of great new sponsors over in the sidebar!! Yay!