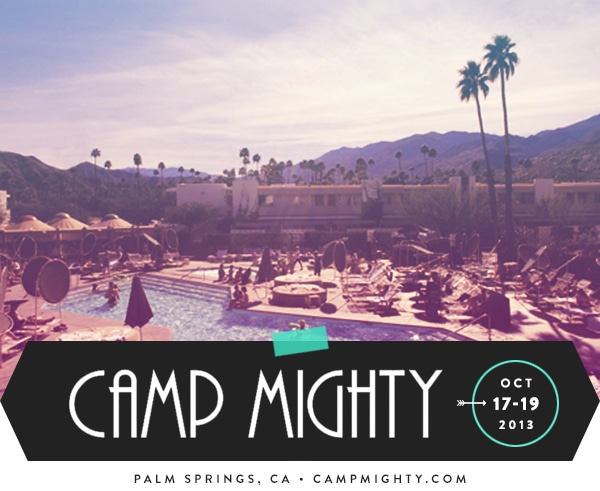 Do you remember a post I wrote recently about being a goat-petter rather than a goal-setter? About how I don't have a "life list," and why I don't feel like making one would make me a happier person? It's right here. When I wrote that post, I truly expected to get a lot of responses from people telling me why I should have a life list, why setting specific goals is important and asking why am I being such a defeatist downer? Well, that didn't happen. Instead, lots of you spoke up to say you felt the same way. I was in equal parts shocked, enlightened and comforted.
If you know about life lists and you read blogs, then you probably know who Maggie Mason (a.k.a Mighty Girl) is. Maggie is the queen of the life list — she even started Go Mighty to help people create their own life lists. My post was absolutely not directed at her specifically, but I was a little concerned that it would come across as an attack of some sort. I was relieved and happy when Maggie herself chimed in to say that despite her belief in life lists, she agrees with me — and that she tends to attract friends who are like me. Goat-petters and goal-setters, co-existing in harmony!
So anyway, you know what wound up happening? Maggie asked me if I'd be interested in speaking at Camp Mighty, an annual retreat now in its 3rd year. It's all about connecting people through panel discussions, workshops and socializing to encourage the motivation and support needed to realize goals. They also raise a bunch of money for Charity: Water in the process. The whole thing goes down at the Ace Hotel in Palm Springs, and by all accounts, it's a good time.
Now, I know what you're thinking: "Anna, aside from the water part, this kind of sounds like your worst nightmare. Isn't this exactly the sort of thing you think is a bunch of nonsense?" And yeah, that's a fair enough assessment. I'm a cynic. I'm a jerk-faced cynic with all kinds of issues about everything. Large groups of people (especially when they're predominantly female), make me uncomfortable. Bathing suits make me uncomfortable. Hugging strangers makes me uncomfortable. Having my picture taken makes me uncomfortable. The idea of public speaking makes me uncomfortable. "Networking" makes me uncomfortable. Why in the world would anyone fly across the country to do something like this when they could be at home on the sofa watching Three's Company reruns with their dogs? And to paraphrase Woody Allen paraphrasing Groucho Marx, I just don't want to belong to any club that would have someone like me for a member.
Here's the thing, though: Underneath the cynicism, I get it. I really do. And I'm really not a jerk-faced cynic all the time. I also understand that Maggie didn't ask me to speak at Camp Mighty because she thinks I'm going to be converted to life list-ism. She asked me because I have a different perspective to offer, and because there are probably going to be at least a few people there with whom that perspective will resonate. I think I can do that — even if I'm not going to make a life list or go swimming.
So I said yes. And it'll be good. Do you want to come? I hope you do.
Camp Mighty 2013
When: October 17–19, 2013
Where: Ace Hotel; Palm Springs, CA
Discount: Register with the code "DoorSixteen" to save $50 off registration
If you're planning to go, please let me know! As uncertain as I know I sound, I really am excited about this — albeit super nervous and full of self-doubt and all that kind of stuff. I mean, have you looked at the list of speakers?! A bunch of my friends (including a few folks I've never met in person before!) will be there, though, and hopefully I'll get to meet some of you, too, which makes it a whole lot less scary. See you there?
(Photo from the Ace Hotel Palm Springs website)