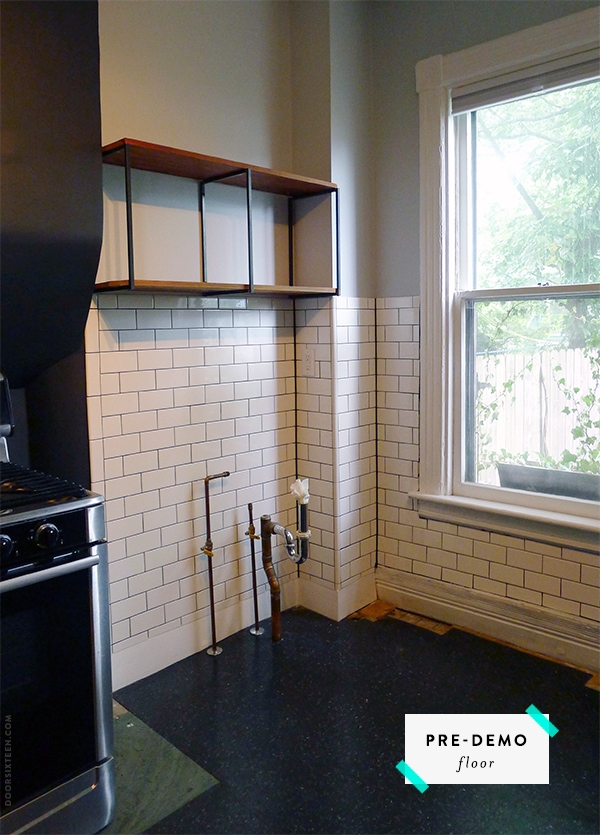 Remember how nice the kitchen was looking just a week ago, with the tile all finished and one yellow stool set ever-so-carefully askew? Well, that day ended as soon as it started, because the floor was awaiting demolition.
We disconnected the sink, stacked up all the dishes and moved everything but the shelving, stove and refrigerator out of the kitchen and into the dining room. We also resigned ourselves to washing dishes in the bathtub for the next month or two. And just like that, the kitchen was out of commission (as was the dining room).
I felt a little sad to say goodbye to the black VCT. We installed it almost eight years ago right after we bought the house, and it was our first real renovation project. We knew at the time that it probably wasn't going to be a "forever floor," but we needed something that was super-cheap (I think it was about 90¢ per square foot), easy for people with zero experience to install and that could go over the existing plywood subfloor, which wasn't in great condition, but was good enough to put off replacing. We would up really loving the VCT, both in terms of looks and durability. The only reason we're ripping it out is because carpenter ants were having a party in the plywood.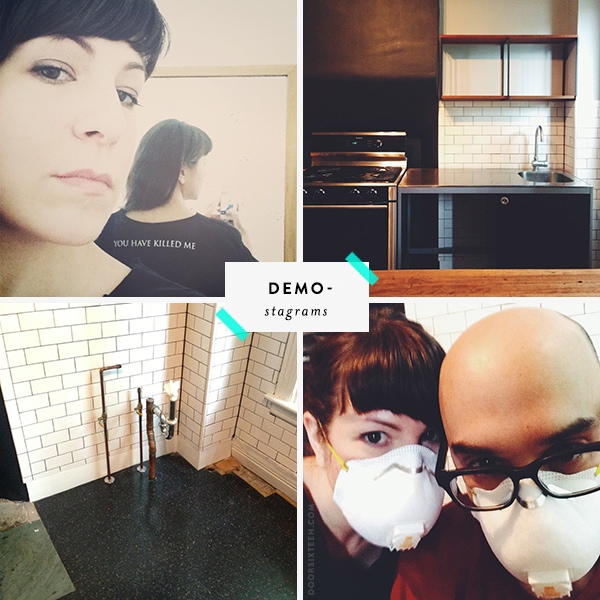 Face masks were donned, floor demolition-appropriate Morrissey t-shirts were selected. Not pictured, but very present: Our dear friend Ilenia, who, it turns out, is a wild demolition BEAST. I don't know if it's the Italian blood or what, but that woman can pry a screwed-down sheet of plywood off the floor like nobody's business. It's a good thing, too, because my back and neck were still in AWFUL shape from dragging radiators around the weekend prior and we really needed an extra set of hands. Thank you SO much, Ilenia!!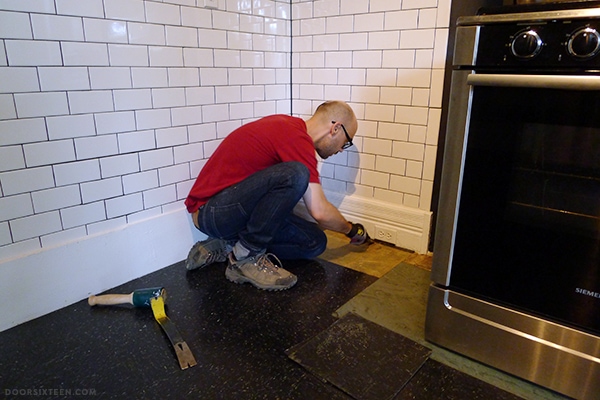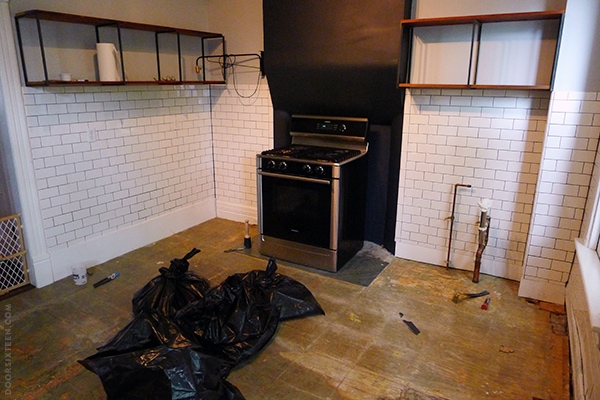 Thanks to the carpenter ants and the shoddy subfloor, the VCT came up really easily. I think it took the three of us about 15 minutes to do the entire room, most of which was spent bagging everything up. It was weird and sad to see the room looking like that, and I admit I did have a few moments of panic (which I kept to myself for the sake of those around me) where I thought maybe we should've just re-glued the VCT and moved on, but I knew that would be stupid. With the radiators out and the pipes being re-routed, this was our chance to fix the floor for real.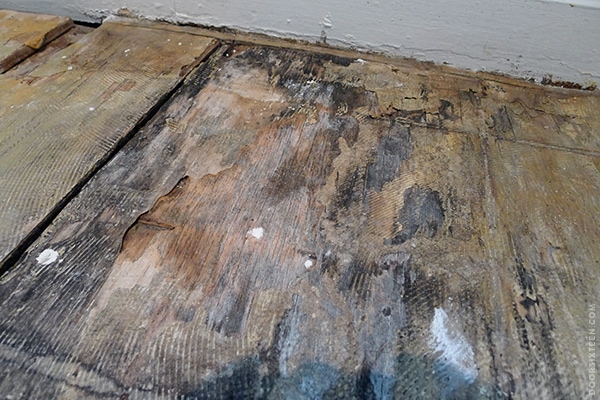 Here's a close-up shot of the rotting plywood and the carpenter ant damage. Yeah, this was the right thing to do.
And then the real demo began — the lifting of the 1/2″ plywood. Because the screw heads were buried under a cement skimcoat and tiling adhesive, it was necessary to use a pry bar, a mallet and brute force to rip up the plywood. I kept myself full of ibuprofen and ignored the searing pain in my neck while I followed Evan and Ilenia around the room with a drill, a wrench and as much energy as I could muster. I still feel badly for not being able to do more, but I tried my hardest to be helpful!
I was feeling really encouraged when the first sheet came up. There were some bits of old white VCT (not linoleum) that came up pretty easily, and the original pine subfloor — which I've been hoping would be salvageable with some patching and paint — didn't look too terrible. We kept going until it was dark out and we were all exhausted and in need of showers and Chinese food.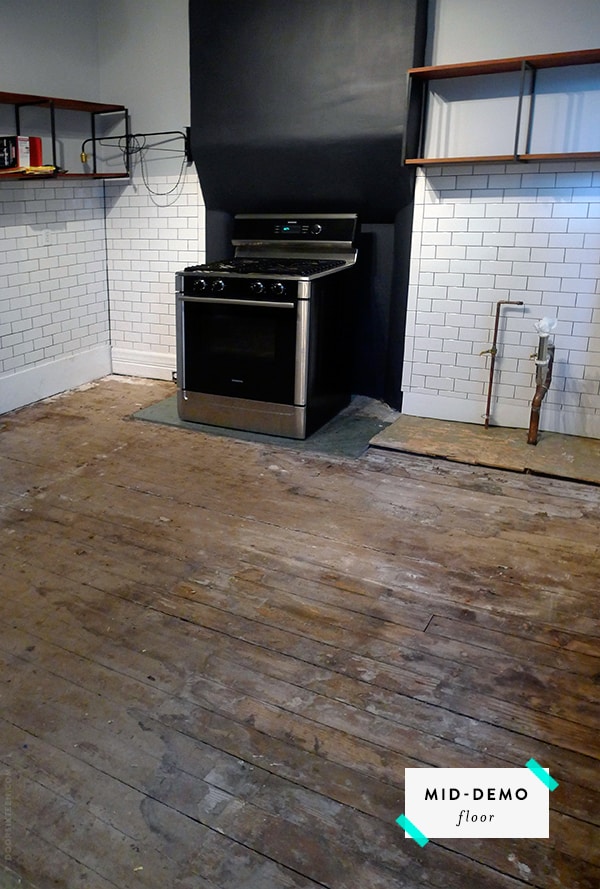 I took this photo right before I went to bed, and I definitely fell asleep that night thinking I'd be able to carefully soak the paper off the floor, fill in the rotted parts with Bondo, paint the whole thing gloss black…Zzzzzzzz.
Then morning came, with fresh eyes and aching muscles and a large dose of realty.
Yeah. That's not good.
I can deal with the water damage and rot, but see all of that papery-looking stuff? That's backing paper and cloth from old linoleum. There are 1–3 layers of different kinds of it in varying thicknesses all over the floor, and I don't need to send off samples to a lab to know that at least one of those layers is chock full of asbestos. Linoleum is made in part from linseed oil, the flammability of which was sometimes countered (at the time) by putting asbestos into the tiles — and also often into the backing cloth/paper and the adhesive. Basically, until the late 1970s, life was just a giant asbestos party.
When you decide to renovate an old house, you accept a few hazards: There will be lead paint, certainly. Possibly lead pipes, too. You might discover mold. It happens, and you deal with it. You start doubling up on dark leafy greens to stave off lead poisoning, you get rid of what you can as safely as you can do it, and life goes on.
The thing about asbestos is that if you leave it alone, it's not going to hurt anyone. The trouble arises when you damage asbestos — breaking shingles off of siding, pulling insulation off of pipes and, you guessed it, sanding it off of floors. Friable asbestos, the stuff that crumbles, is bad news. Mesothelioma has never sounded like much fun to me (go figure), so I'd like to avoid it. Yes, it's true that most people who develop asbestos-related illnesses are people who work with the stuff and are exposed to it over a long period of time, but I'm keeping in mind that there's also probably asbestos in the plaster of my walls, in the dust on the floor of my basement, in my 1940s-era office building and so on and so on. It's everywhere in tiny amounts, really. Do I need to increase my risk of getting sick for the sake of being able to paint this subfloor? Is it that important?
Nope. It's not. It's really, really not. Yeah, I could be super-careful and try to remove all of the paper and adhesive with wet methods to keep dust to a minimum, or we could save up a bunch of money to have professional asbestos abatement done. Again, though, is it worth it? Again, I say NOPE. Time to move on and put in a new floor.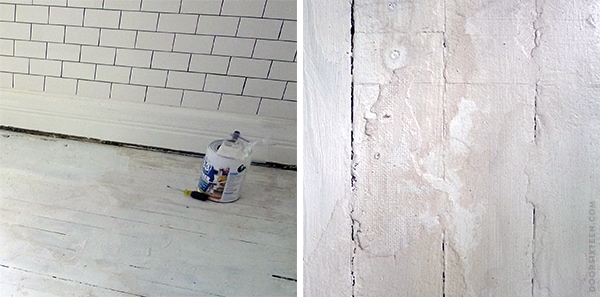 Before we went any further with the floor plans, though, I decided to coat the entire mess with a good coat of primer. I did the same thing when we found a similar situation waiting for us in the downstairs bathroom, and it made me feel a lot better. I don't want to be crawling around on a bunch of crumbling asbestos while we put the new floor in. I used a big brush and a heavy hand to go over the whole mess and seal in all of the dirt and dust.
I feel so much better now.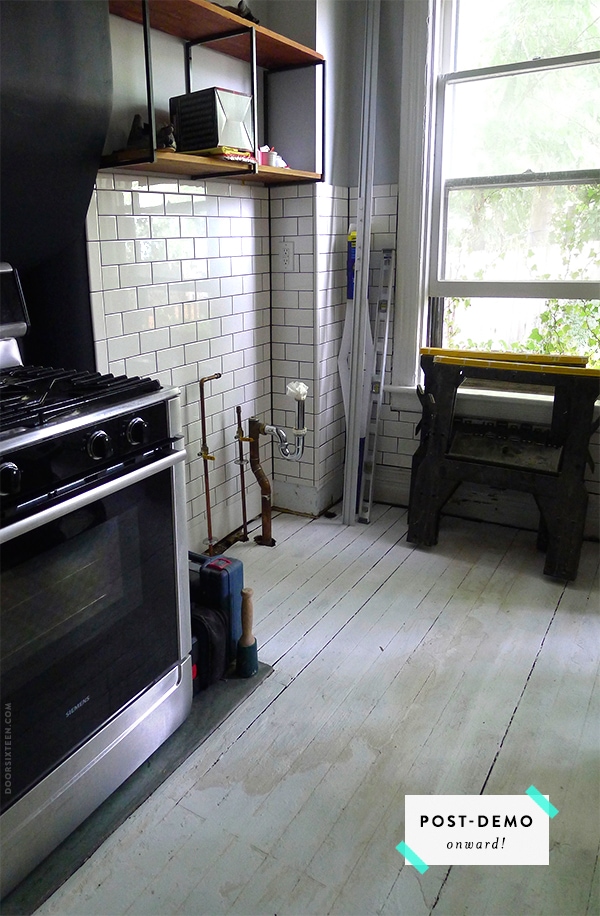 I know, it kind of looks like it could still happen, right? It's just the photo, trust me. Under that coat of primer is a whole bunch of lumpy, flaky paper and glue that's waiting to kill us all. It's just not meant to be. Goodbye, original subfloor! Thanks for hanging in there. You'll still be with us, we're just not going to ever look at you or touch you again.
So what's next, then? We're still trying to figure that out. Our original plan was to install inexpensive new pine tongue & groove and paint it, but we're giving ourselves a little time to think about it. I'm going back and forth between grand visions and budget realities, hopefully eventually finding a middle ground that will work. I have some ideas, but I'll save that for another post!