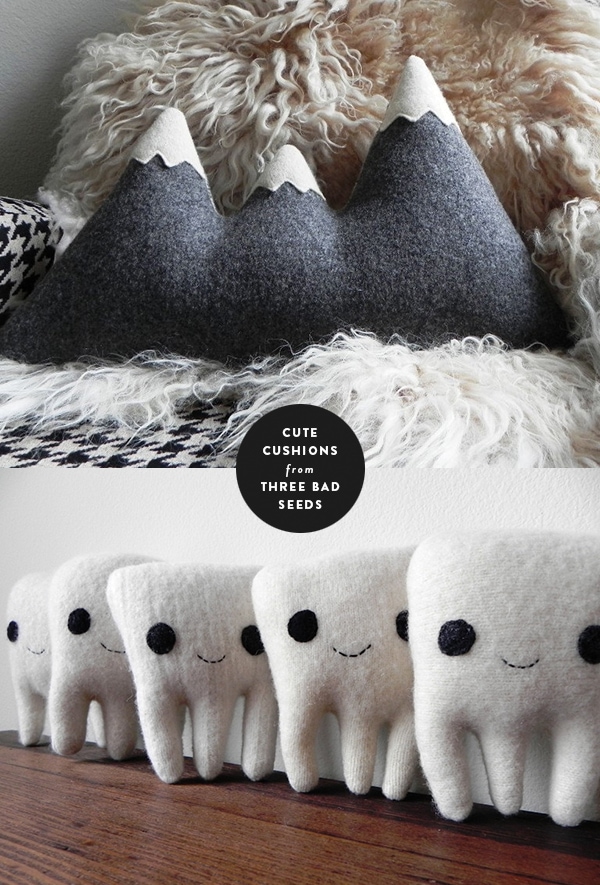 ✚ Mountain and Tooth cushions from Three Bad Seeds
I'm a sucker for a cute cushion, and Three Bad Seeds in Washington make so many good ones! My favorite is their Three Sisters mountain range pillow, inspired by the Three Sisters Wilderness area in Oregon. As you may know from my Instagrams of roadside dentist offices, I have a thing for anthropomorphic teeth. I can't explain it, I just do. Evan knows to pull over when I see a really good one. I'm also kind of horrified by teeth at the same time…it's a complex obsession. Anyway, these Sweet Tooth pillows have a little pocket on the back for kids to put their baby teeth in for the Tooth Fairy (shudder), but I'd really like to have whole row of them lined up on a chair in my house. Just not anywhere near where I sleep.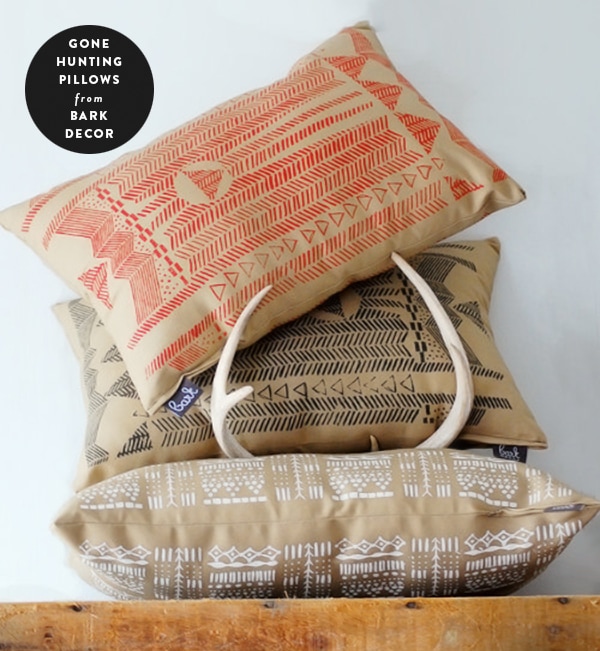 ✚ Gone Hunting pillow from Bark Decor
I've had these Gone Hunting pillows on my wishlist forever, along with a bunch of other things from Boston-based Bark Decor. I keep picturing a big pile of them on a deep, white sofa…they just look so soft and natural. Ideally, I'd be lounging on that pillow pile while wearing a Wild Catalope cardigan. Perfect, yes?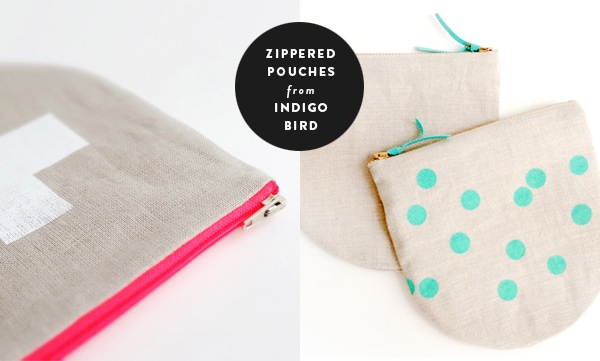 ✚ Zippered linen pouches from Indigo Bird Design
Indigo Bird Design in Toronto make pouches. Lots and lots of pouches. I own pouches. Lots and lots of pouches. Too many pouches. And yet…I still want more pouches. I'd like to have this Emergency linen pouch (with a neon zipper!) for carrying band-aids and aspirin in my bag, and this teal Polka Dot pouch would be perfect for holding my lipstick, cash, ID and MetroCard when I don't feel like taking a whole wallet out with me. Plus it matches my blog. POUCHES.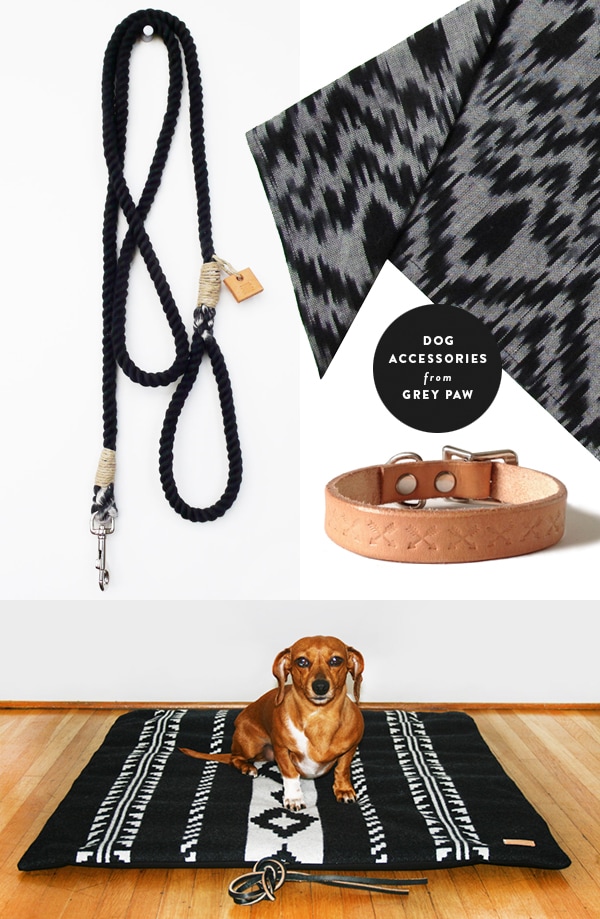 ✚ All kinds of dog accessories from Grey Paw
I tried to narrow down my Grey Paw wishlist to two items, but I couldn't make it happen. Too many nice things! I have to admit that I'm not one of those people who buys a bunch of dog stuff — Fritz and Bruno have one well-fitting sweater each for when it's really cold outside, and they sleep on the sofa, bed and floor. That's kind of the extent of it. Suddenly, though, I'm finding myself wanting to get them (I mean me…) a few nice things. Grey Paw is based in Portland, as evidenced by their use of Pendleton fabrics in much of what they sell — including this Camp Mat, which I'm sure Bruno would love to stretch out on while wearing this ikat-patterned neckerchief. REALLY. I'm also having a hard time resisting these natural leather dog collars, which Grey Paw will custom-stamp in any number of stamp designs. Plus signs for Fritz and triangles for Bruno?? And finally, the rope leash. Nothing says overkill like walking a 7lb dog with a rope, but man, so nice-looking.
OK, now it's your turn: What's on your Etsy wishlist? I always love seeing new shops!