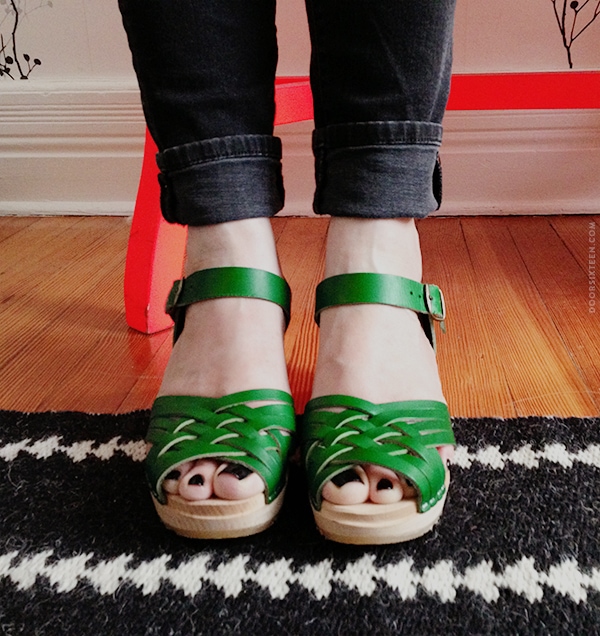 I probably don't even need to write anything after that photo, right? I don't think it's possible to look at a pair of bright green clogs and not immediately want to put a pair on your own feet. At least that's how I felt when I saw first these shoes at Lily, a very sweet little clothing store near my apartment in Brooklyn. It was insanely hot and humid out and the last thing I felt like doing was trying anything on any part of my body, but these green clogs beckoned like only green clogs can. And so they were on my feet, and then they were mine. The end!
For the last few years, I've been making an effort to only buy shoes that will last for many years. To that end, the shoes must be not only well-constructed and made of good-quality materials, but they also need to be repairable (I ♥ my cobbler) and relatively timeless style-wise. To gauge the latter criteria, I usually ask myself whether I would have worn the shoes I'm interested in 20 years ago. Would I have worn bright green clogs when I was 18? HELL YES! That's a pretty good indicator that I'm still going to want to wear bright green clogs 20 years from now, when I'm 58. Orthopedic shoes FTW!
(The other thing I do when I'm looking at shoes is ask myself WWMD? What would Mommy do? If my mother would wear them, they're probably a good choice.)
Two years ago, I bought this exact same style clog in natural leather, and I wear them all the time. That pair was made by the relatively new Swedish company Hasbeens. They took a while to break in because the leather is very thick and hard, but eventually they became very comfortable. I got mine on sale, but Hasbeens are on the pricey side normally. This new Herringbone Green pair was made by another Swedish company, Cape Clogs, who have been hand-making clogs in Småland for 150 years. They are much cheaper than Hasbeens ($89 vs $179 for virtually the same shoe), and they are super-comfy right out of the box. Seriously — I could have walked in these for hours on the first day with no issues. Plus, they're GREEN!!!
In short, there are several Swedish clog makers who are all making their own versions of classic clogs, '70s-style clogs and contemporary designs, and, at least as far as I can tell, they're all more or less the same. I'm sure there are differences in the type of wood used and the grades of leather and so forth, but I honestly can't tell them apart upon visual inspection, not to mention actually wearing them on my feet (podiatric inspection?).
And did I mention they're green??
p.s. As of last week, Lily still has a few pairs in stock in you're in the area! Otherwise, they can be ordered from Cape Clogs.